Asset Allocation: The big picture
Could 2017 be the year developed market economies see the end of monetary easing? Perhaps, although the hurdles to materially tighten monetary policy remain high, even for the US Fed, with inflation expectations still low, and onerous public and private debt burdens to service.
The US economy is at a more advanced stage in the economic cycle than others. Indeed, it is close to 'full employment', according to the FOMC, raising worries of a "sizable undershooting of the longer-run normal unemployment rate" especially if there were a fiscal stimulus, which might force the Fed to raise rates faster than expected. To date, wage increases have remained subdued, suggesting unemployment has not yet reached a level where the Fed would need to – as the FOMC warned – "stem a potential build up of inflationary pressures".
Oil's bear market is over, with the price trending higher throughout 2016 and enjoying a strong December bounce on news that Saudi Arabia and non-OPEC Russia had agreed a deal on reducing global supply.
Accordingly, oil exporting currencies have been strengthening, whilst importers' currencies have weakened. For China, an oil importer, the rising oil price comes when other headwinds for the renminbi may be picking up too.
President Xi Jinping has suggested the 6.5% minimum growth target could be dropped if it creates excessive risk, and the PBoC is hinting at tighter monetary policy, to restrain asset bubbles. With the dollar strengthening, there is mounting pressure on the Chinese authorities to raise USD/CNY fixings to keep the currency stable in its trade-weighted terms.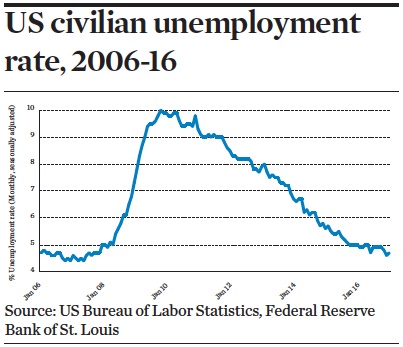 Though China's outward capital flows, recently tightened, may be under more control, the authorities are on alert. President Trump has chosen a hawkish trade team. Should China be targeted in the new administration's trade negotiations, it might not take much to damage sentiment and trigger a sharp rise in volatility.
Bonds
Whilst market predictions for Fed rate hikes in 2017 have stayed constant, the reflationary themes have triggered a re-rating of long maturity yields, which have risen across the developed market universe, most markedly in the US. 
Before the summer of 2016, there was little doubt that low yields had dipped well below 'fair value', based on macro fundamentals. But, so long as central banks continued to flood the global system with liquidity, fundamentals mattered less. 
The turning point for yields was in early July 2016, not long after the Brexit vote. At that point, economic activity indicators began surprising to the upside, as did inflation data and future expectations. Also, expectations of looser fiscal policy grew in Japan and Europe, and in the US after Trump's election win.
US Treasury yields – some 100bps off their lows – are now nearer to 'fair value', more closely discounting the macro economic health of the US. That said, there may be a danger that markets have got ahead of themselves in their upbeat assessment of the US, or that some of the post-Trump optimism surrounding corporate America fails to materialise into actual investment or activity.
For Europe, inflation remains below targets, and the ECB is still doing its utmost to keep yields (and term premia) low in order to bolster inflation expectations. Accordingly, bond yields are still below 'fair' values. Whereas the ECB will be buying fewer bonds compared to previous years, the balance sheet is still to be expanded by some €500bn and its influence on yields will remain considerable. 
Currencies
Investors are wondering whether the dollar bull market will experience a correction, as happened early in 2016. There are similarities and differences between now and then, and the key is to identify the factors that matter most now.
A year ago, oil was still falling, as were inflation expectations, and equity markets were experiencing turbulence. In China, as 2016 began, the authorities were battling to gain credibility in the face of capital outflows, which then triggered intervention by the PBoC in the FX markets, in its efforts to shore up the renminbi and restore faith. 
Now, oil is steady, inflation expectations are rising, and China appears in control of capital outflows. Recessionary fears have further abated as global – not just US – purchasing manager surveys print positive outlooks.
Of course, the most obvious non-macro difference is the presence of a new US administration. Although, uncertainties abound as to future US trade policy, with a real threat of tariffs and protectionism, Trump is interpreted as pro-business and, as such, good for a stronger economy. 
Compared to the previous dollar surge as we entered 2016, this move has seen the currency strengthen not against high-yielders such as emerging market currencies, but instead against the low-yielders, like the euro. When inflation rates are rising, FX rates will move according to central bank behaviour. There can be little doubt that the ECB is not close to raising rates, despite inflation edging higher, hence real interest rates are falling. In this new reflationary world, the dovish ECB is making the euro less attractive.
Focus: Green bonds
In early January, Agence France Trésor (AFT), announced the launch of a 15-25 year green OAT. Although Poland issued a green bond in 2016, this OAT will be the euro-zone's first. 
The proceeds of these green bonds should be spent on environmental projects. For example, the green OAT framework is guided by climate change mitigation; biodiversity protection; air, soil and water pollution reduction; and climate change adaptation. 
The green bond market was launched by the European Investment Bank in 2007 with a climate awareness bond. It took several years for issuance to grow, and only recently has growth taken off. 
Today's largest outstanding bond, a multi-tranche $3bn (€2.8bn) issue, was launched by the Bank of China in 2016. Over 2016, China raised the most capital via green bonds. 
The market could have grown more, but green bonds have been eyed with caution by investors. A recent European Commission study* is sympathetic to this scepticism. The report suggests that the lack of market standardisation, a dearth of green project pipelines, as well as frameworks which help "ensure the proceeds from green bonds are used for genuinely green projects with clear and measurable environment" may be holding back the market. 
Trump is known as a climate change sceptic, and appears unlikely to turn into a supporter of green bonds. While 2017 may not signal US green bond issuance, it will be interesting to see how the sector develops globally.
*Study on the Potential Green bond Finance for Resource Efficient Investment, European Commission, November 2016.