The euro-zone crisis of 2010-11 was characterised by a massive flight from the 'peripheral' sovereign bond markets – Spain, Portugal, Italy, Ireland, Greece and Cyprus – by just about everyone except domestic investors. And yet, by early 2014, Greece had managed to issue €3bn of debt at a yield of less than 5%. Just two years earlier markets had pushed Greece's 10-year yields up towards 50%. Greece is the most extreme example of the re-rating of peripheral euro-zone debt, but it also reflects the changing fortunes of all peripheral euro-zone countries. Peripheral bond yields are now not only back to pre-2011 levels, but in some cases back to historic lows. Are such changes justified?
Prior to the euro-zone crisis, there was comparatively little difference in yields between euro-zone bonds. Northern European pension funds with portfolios of euro-zone bonds generally allocated capital as if there was no significant credit risk so the euro-zone crisis came as a surprise, says Kommer van Trigt, head of the fixed income allocation team at Robeco. The response was to reconsider the investment framework, sell all peripherals and, in many cases, move to just owning German and Dutch sovereign debt.
"In the Netherlands, pension funds split assets into those that are return-seeking and those used for hedging liabilities, where they did not expect to take any credit risk at all," says Van Trigt. "Sovereign debt from Spain and Italy used to be in the liability-hedging bucket but that changed."
Despite the recovery, Van Trigt has not found pension funds returning to peripheral sovereign debt. "In most cases, these pension funds have not changed their minds and would, in any case, find it very difficult to return to holding peripheral debt, having exited it at such painful levels," he says.
But, as Bill Street, global head of fixed income alpha strategies at State Street Global Advisors says, this creates problems for investors only holding low-yielding debt from Germany. The weight of peripheral debt in the benchmark index is around 40%, but it accounts for 55% of the running yield of shorter-duration debt and 70% at longer durations. Moreover, European peripheral debt was the best performing of all markets in 2013.
The key turning point in the fortunes of the peripheral European sovereign debt markets was ECB president Mario Draghi's statement in July 2012 that policy makers would do "whatever it takes" to preserve the single currency. That led to a wider recognition by the markets that the EU is, at its heart, a political rather than an economic construct – and that ultimately the long-term political idea of the EU would trump shorter-term economic or financial considerations, at least as long as Germany subscribes to that vision.
As a result, as Michael Krautzberger, head of euro fixed income at BlackRock says, an important factor behind peripheral bond yields losing some of their 'risk-on, risk-off' characteristics is that global media have turned their attention from euro-zone break-up fears to geopolitical and monetary policy risks outside of the euro-zone, which is partly the result of the reforms that have taken place in the peripheral countries.
"It is undoubtedly the case that the fruits of the reform efforts that have taken place in the periphery – with the help of the Troika – are now coming through in terms of competitiveness statistics and fiscal performance," says Krautzberger.
"This process is far from over and a stalling of the reform cannot be excluded. But, for now, it means that the euro-zone crisis is no longer the centre of attention."
Street concurs: "I have never had much angst about Greece, he says. "It is too small to fail, given the risks of destabilisation of the EU if it did. If you know you have a developed economy supported by the ECB with low financing costs, the story becomes clear and I don't have issues over the yield levels of Greek debt."
At a glance
• Euro-zone peripheral bond yields have fallen, in some cases historically low.
• Draghi's "whatever it takes" promise, and tangible reforms, have shifted risk perception around peripheral bonds from euro-zone-specific issues back to broader macro risk.
• While northern European pension funds have not come back, ratings outlook has improved and the investor base has otherwise been growing, bringing down volatility as well as yields.
• Peripheral sovereigns are perceived to be less risky than emerging market ones.
• Low growth/inflation and prospective ECB easing give further technical support.
Street is also very positive about the outcome of restructuring in some of the peripheral countries, particularly Spain.
"Youth unemployment has reached 50% which has had a dramatic effect on nominal labour costs and made Spain far more competitive," he observes. "Its exports are predominantly to the rest of the EU, with Spain being the second-largest car producer after Germany. We would expect to see unemployment drop in the next few quarters."
A key factor for the changing fortunes of the peripheral sovereign debt markets is the extent of their reliance on foreign investors, particularly given what appears to be a permanent absence of many of the northern European pension funds.
This varies significantly; Spain is heavily reliant on foreign investors, while Italy, with the fourth-largest bond market in the world, enjoys a large domestic investor base. This clearly makes a crude ranking of risks based purely on debt-to-GDP ratios potentially misleading.
"The debt dynamics for a self-funding country like Italy are very different from those for countries reliant on foreign investors like Spain and Portugal," says Street. "During the whole of the financial crisis, Italian insurance companies did not stop buying Italian sovereign debt."
Since Draghi's announcement, the investor base for peripheral debt has been constantly enlarging, explains Laurent Crosnier, CIO of Amundi London. While peripheral debt has been supported by domestic investors, mostly banks, over recent years, the breakdown of interest in new issuance shows increased participation of foreign investors – albeit still not back to pre-crisis levels. While global institutional investors remain under-invested, their gradual return creates positive momentum.
"This has led to an on-going and significant decrease in volatility which, in turn, is attracting new investors," Crosnier says. "Even for US investors, investing in peripheral debt can make sense. If they fear an increase in US yields, peripheral debt may be a way to immunise their portfolios from capital losses while maintaining a similar yield. Currency hedging would be neutral and potentially positive once the Fed begins rate normalisation."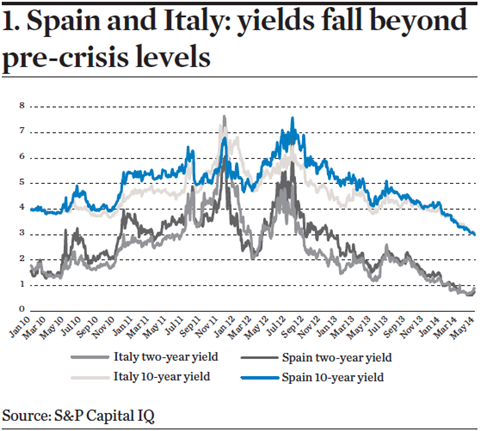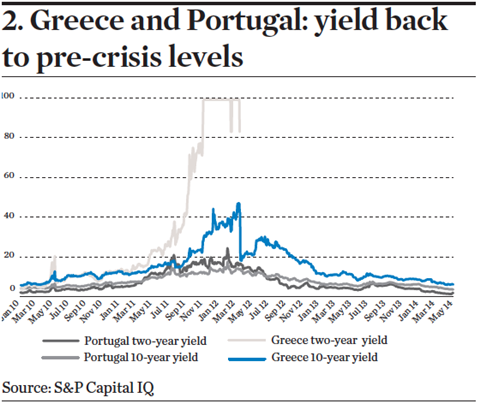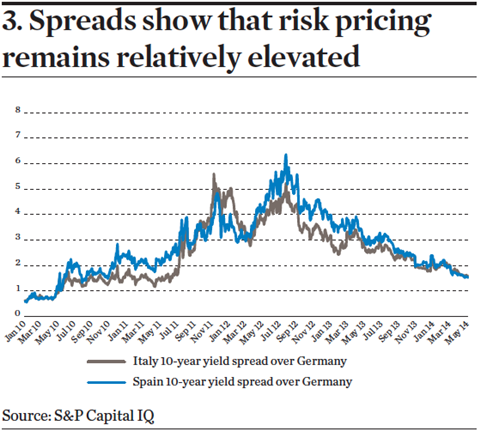 Investors were also reassured in late 2013 by better economic results, signalling a move from deep recession to moderate growth with fewer and less extreme imbalances than before the crisis.
"Spain has dramatically increased average maturity at issuance, auctioning a 30-year bond in late October 2013, which is a clear sign of market confidence and appetite," Crosnier observes.
Another positive signal that Crosnier points out is the round of upgrades by the rating agencies. The likelihood of Spain and Italy falling to sub-investment grade in the coming months has disappeared. As a result, attractive yields with low volatility were the ingredients behind semi-core spread compression, and they are currently on the cards for peripheral economies.
Cosimo Marasciulo, head of European government bonds at Pioneer Investments, adds that emerging markets are now considered less risky than emerging market debt.
"A 'herd' mentality is also contributing to the recent rally and the ongoing hunt for yield is a contributing influence," he says. "It is a question of liquidity. At the peak of the euro crisis you could easily trade Spanish and Italian government bonds, while the liquidity is not guaranteed in the emerging or high-yield bond markets."
Of course, few regard one quarter of growth as the start of a full-scale economic recovery. But the residual pessimism can be advantageous itself: low growth and low inflation, with a still accommodative central bank, should be quite favourable for high-yielding assets like peripheral bonds.
"A number of technical drivers also create a tail wind for peripheral bonds," as Krautzberger puts it. "One is the anticipation of potential ECB QE."
In April, the ECB gave its strongest hints so far about using quantitative easing, but with no agreement yet on the timing.
"Unlike the Fed, which likes to fine-tune, we see ECB actions as likely to be binary," says Marasciulo. "When they go for it, it will be full on. On the euro rate, there could be some more upside due to the pressure on the ECB to do something against too-low inflation, whereas with the Fed it is the opposite."
There is still a tendency for investors to make a distinction between core and peripheral countries, which tends to obscure the actual and potential discrepancies in growth between European countries. The problem is deciding which peripheral countries offer the best risk-return trade-offs – to some extent beauty is in the eyes of the beholder.
"The remnants of the euro crisis are still very much visible in the euro bond market and this creates potential for alpha," says Krautzberger. "Different segments of the euro bond market still price similar risks in a different fashion, and it is these valuation differences that active management can exploit."
Indeed, Van Trigt says some of the investment grade corporate issuers in Spain and Italy, such as Banco Santander, are able to issue debt at lower levels than their respective sovereigns.
"This is a result of debt-market segmentation," he explains. "There has been a big rise in dedicated credit funds that are desperate for yield and some are not allowed to invest in sovereigns; even those that are allowed would not be happy with 80% of their credit fund being in sovereign debt, even though sovereign debt has a better risk-reward trade-off since governments can raise income through taxation and have the ECB backstop."
Opinion can vary widely. BlackRock's Sovereign Risk index ranks 50 countries based on four measures: 'fiscal space' (metrics such as debt-to-GDP; debt-term structure; tax revenues and dependency ratio); 'willingness to pay'; 'external finance' (foreign currency exposure and the current account); and 'financial sector health'. On this basis, the Czech Republic, Poland and Russia come out above the UK, Greece is at the bottom and Portugal comes 47th, with Hungary, Spain, Slovenia and Italy also in the bottom 10.
But it is not difficult to find cheerleaders for Portugal. "Lisbon's response to the crisis has been impressive – Portugal has not only hit Troika fiscal targets, but beaten them," says Nick Andrews, an economist with market analyst Gavekal. Despite returning 45% over the 12 months to April 2014, its bonds still offer the second-highest yield in the euro-zone. "The case to stay long Portuguese assets is that early promise can be turned into sustained recovery."
David Zahn, head of European fixed income at Franklin Templeton Investments, owns neither Portugal nor Greece. Both countries suffer from a lack of industry and few exports, while lacking the low-wage advantages of emerging markets, he argues.
"I am surprised at how well Greek bonds have done," he says. "The fundamentals in Greece still have some way to go and it will eventually have to get its budgets in balance to produce a sustainable recovery."
Instead, Zahn sees better opportunities in Italy, his biggest peripheral holding. Looking east, he favours Poland in particular, but also Lithuania and Bulgaria. "Their fiscal credentials seem underpinned by a shared desire to join the euro-zone, which may also speed the pace of their structural reforms compared with the slower progress within the euro-zone, where political consensus is often harder to achieve," he reasons.
"Their track record on growth has generally looked equally superior, auguring well for continued strong economic performance," Zahn says.
Even after their terrific rally through 2013, peripheral euro-zone countries are still attractive, although they are far from cheap. As long as there is an environment with growing global liquidity and core countries such as Germany continuing to show low yields, they should remain attractive – with opportunities for the more discerning investor to add alpha on top of the general recovery trade.