Asset Allocation: Defining Europe for investors
Investors looking to invest in European equities have to decide on what countries to include as well as exclude, as their choices could have significant impacts on portfolio performance, finds Joseph Mariathasan 
At a glance
• Europe is hard to define from an investment perspective.
• One debate is whether emerging Europe should be included.
• Pan-Europe provides a significantly broader investment universe than the euro-zone.
• Most of the interest in euro-zone specific equity portfolios comes from in the region itself.
Investing in US equities is a straightforward concept as the US is a unified political entity. Europe, in contrast, is not. So what exactly does investing in European equities mean? The adopted definition can have an enormous impact on the nature of the risks and rewards for the investor. The Union of European Football Associations (UEFA) includes Kazakhstan in its definition of European countries. Israel has won the Eurovision Song Contest three times and hosted it twice. Investors would be unlikely to see either within a European equity mandate. However, what a European mandate consists of is highly flexible.
For investors and indeed fund managers based outside Europe without any pre-occupations about the euro-zone or home bias, there is an incentive to consider as wide a definition as possible. "We think of Europe as the whole package including the UK, Russia, Hungary and even Turkey as part of Europe," says Luiz Sauerbronn, a portfolio manager at San Diego-based Brandes Investment Partners. 
As a reference, the MSCI AC Europe index includes Greece and Turkey but unsurprisingly not Israel. But the index also excludes smaller countries such as Estonia which are not only members of the EU but also of the euro-zone. For an active manager such as Brandes, the benchmark is clearly just a guide since Brandes would happily consider allocations to Slovakia and Romania, even though there are no allocations to them within the benchmark. In contrast, says Sauerbronn, there would have to be another reason to justify Israel (clearly the Eurovision song contest does not count) although, even here, his firm has considered it in the past.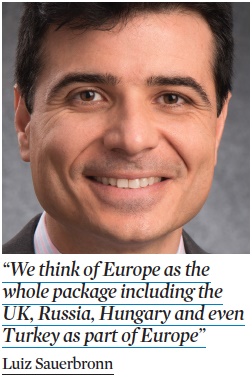 Managers and investors within Europe would be less likely to include European emerging markets within any mandate. But the definition of what a pan-European mandate covers can vary. "Europe for us means euroland, [the] UK, Switzerland and Scandinavia," says Dylan Ball, manager of the Templeton Euroland fund. But the pan-European strategy at Hermes Investment Management includes Russia and eastern European countries as well, explains Martin Todd, European equities portfolio manager. 
For Amundi, a few European funds have stipulated the EU, which means that Brexit will require them to change their documentation in to maintain the UK without a cap in European portfolios, says Romain Boscher, the firm's global head of equities.
Including emerging Europe can make sense at one level, since the economic ties with developed Europe can be close. Austria has a high exposure to countries in Eastern Europe, many of which it had historical ties with from the days of the Austro-Hungarian empire, while parts of southern and eastern Europe have long-standing religious and cultural ties with Greece dating back to the Byzantine empire. Some countries, though, are controversial. "From a pure geographical standpoint, Turkey is 90% in Asia so can hardly be seen as part of Europe," says Boscher.
But although 77% of Russia's land mass is in Asia, Brandes includes Russia as part of Europe, says Sauerbronn. As he points out, Russian oil and gas companies sell heavily into Europe, with Germany the biggest buyer. Many investors, though, see emerging markets as carrying a different set of risks to developed. However, given recent political developments, it can be argued that the only difference between the two is that the risks in emerging markets are open and discounted in the price. Russia is the cheapest market in Europe by some way. "We can find companies that are very attractive," Sauerbronn says. "We are very aware of the issues and the political uncertainties. But at a certain price, investors are being compensated for taking on those risks." 
The compromise that Brandes has adopted here is to limit exposure to emerging markets within Europe to 10% and it currently is 8.5% exposure, with Russia accounting for 6%. That is heavily overweight when in the MSCI AC Europe, emerging markets account for less than 4%, with Russia accounting for slightly more than 2%, and the Czech Republic, Greece, Hungary, Poland and Turkey accounting for less than 1%: "Only Russia, therefore, is material outside core Europe. The effect is small but it does skew the universe in terms of market cap. Sector-wise, it skews more into oil and gas, given the weight of Russia, and also a little bit more in banks and less in pharma, as they don't have much there," Sauerbronn says.
If one excludes emerging markets, that still leaves several choices and, in particular, euro-zone mandates versus developed Europe and also developed Europe ex-UK. Few investors outside the UK would ever consider a European ex UK mandate: "Even the possibility of the UK not being part of any European mandate does not make sense to me," says Sauerbronn. Why would that even be considered? If you exclude the UK you may have to exclude Switzerland and Norway as well. Almost a third of our portfolio is in the UK." 
It is also the case that institutional investors in France and Germany would never seek Europe ex-France or ex-Germany strategies, says Boscher. "Firstly, because the domestic markets are not big enough; and secondly, because, apart from the Netherlands, European countries have not developed large pension funds who would be natural buyers of equities. Instead, savings are channelled through insurance companies who have tended to focus on bonds." 
"In Asia, there is still reluctance to invest in Europe. They would usually look at pan-European strategies and are reluctant because of the politics in Europe and that applies to the UK as well as Europe" 
Martin Todd
Pan-Europe and Europe-ex UK provide different sector exposures and the sheer size of the UK market at about one third of a pan-European index means any decision to exclude the UK has a critical impact on any portfolio. As Todd explains, the UK market includes big oil, big mining, staples companies and three heavily Asia-exposed financials – HSBC, Prudential and Standard Chartered. 
The UK's two Asia-focused banks tend to perform differently from continental European banks, particularly peripheral European banks. "Peripheral banks are far more volatile, so when you have a day when there is banking news, you see a more pronounced impact on euro-zone benchmarks than you do on pan-Europe. The weight of the peripheral banks which are much more volatile is much higher, so their impact is exaggerated." Unsurprisingly, clients are mainly in the pan-European strategy, it is mainly UK investors who opt for European ex-UK as many have separate UK mandates says Todd.
What is perhaps a more recent development has been increased interest in pure euro-zone mandates. Ball says: "We genuinely see more demand for [the] euroland asset class. The interest is growing. It used to be an esoteric asset class because investors usually wanted the UK and Switzerland as well in any European mandate. But more and more, people are wanting a clear currency class.
"A lot of clients see it that way. But not only is it a pure currency play, you are also taking away the two most expensive markets in Europe anyway, which are Switzerland and the UK which really dance to their own tune, whether it is Brexit or negative Swiss bond yields. It makes rational sense for euro-zone clients to want euro-zone-only equity strategies." 
Hermes is also seeing more interest in euro-zone-only strategies. This is across the board, probably more from North America says Todd. It does appear, though, that most of the euro-zone-specific interest is coming from within the region itself. "In Asia, there is still reluctance to invest in Europe. They would usually look at pan-European strategies and are reluctant because of the politics in Europe and that applies to the UK as well as Europe," says Todd.
As a French company, it is not surprising that Amundi would see more scope for euro-zone mandates than US and UK firms. Amundi manages euro-zone equity mandates for two reasons, says Boscher. First, the currency, as some investors do not wish to take on currency exposures. Second, some clients have regulatory constraints limiting their investments outside the euro-zone.
What is clear is that, for investors anywhere, deciding on investing in European equities is just the first step in any allocation process. They then need to agree on what constitutes Europe.