Joseph Mariathasan considers the likely effects of dramatically cheaper oil and the euro on European earnings and equity market prices
Will the oil price shock and a weakened euro give the European economy a much-needed kick? Many commentators believe that it will. But can investors expect to see this reflected in European equity performance? That is a trickier question, because figuring out the impact of these big macro effects on individual European companies is not easy.
Europe has many companies, both large and small, with significant global operations whose fortunes are more tied to global or emerging market GDP growth than their country of domicile.
"The resemblance of the European equity markets to the European economy is not that great," says Andrew King, head of European equities at BNP Paribas Investment Partners, pointing out that less than 50% of revenues of European companies are derived from within Europe, with 33% coming from emerging markets and 18% from the US.
A weak euro ought, on the face of things, to be a huge tailwind for such businesses. Moreover, European GDP has now swung into modest growth, and there is a historical link between GDP growth and earnings per share. But has EPS growth in Europe picked up in tandem with GDP growth? No. Market EPS growth was the same in January 2015 as two years earlier.
At a glance
• Despite cheap oil, a cheap euro and a return to economic growth, Europe's companies are posting declining earnings.
• But the earnings per share picture is very different for 'free' as opposed to 'administered' sectors of the corporate economy.• Country effects may also be felt, especially in Germany, the Netherlands, Norway and Europe.
• In the 'administered' sectors, banks stand out as a potential exception to prove the rule – and they will determine the fate of many of the smaller companies in the 'free' sectors.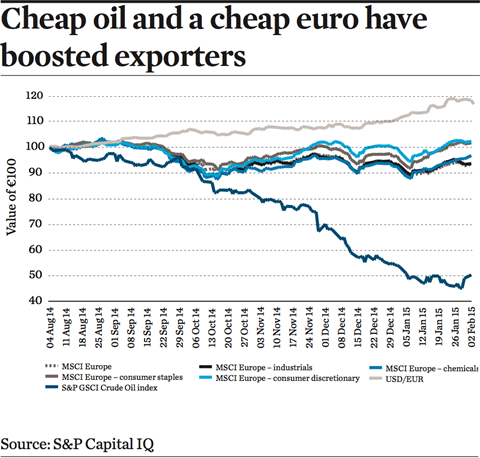 Europe has apparently disappointed, then. However, François-Xavier Chauchat, the European economist at GaveKal Research, suggests that this overall figure down plays the success of certain sectors in the European economy.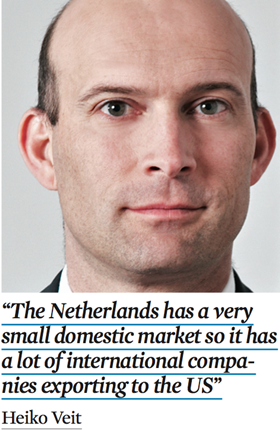 The European equity markets can be split in many different ways, but particularly interesting today is the separation between the prospects for exporters versus domestically-focused companies. This separation overlaps to a great extent with the distinction between what Chauchat calls the "free sectors", in which companies develop in a "normal", competitive, globalised environment; and the "administered sectors", such as utilities, financials, energy and telecoms, which he describes as "national victims" – oligopolistic, rent-seeking enterprises that operate under heavy regulation with frequent government intervention. Take Germany's utility sector as an extreme example, for which regulation changed virtually overnight after the Japanese Fukushima Daiichi nuclear disaster in 2011. Chauchat's distinction also has size implications given that several of these industries profit from economies of scale and the tendency for governments to try to create national champions.
Götz Albert, a partner at Lupus Alpha Asset Management, recognises this kind of characterisation.
"We try to avoid companies and sectors with a high degree of regulation," he says. "It is really hard to make money from banks and utilities. We concentrate on European small and mid-caps, which are mainly in the free sectors. The administered sectors like banks and utilities that are heavily burdened by regulation do not have much of a presence in small and mid-cap stocks."
Investors understand implicitly a phenomenon that Chauchat points to explicitly in his analysis of the share of recent European EPS growth: the overall figure masks the dramatic divergence between the administered sectors – which used to make up 50% of the market but has now shrunk to 35% – and the free sectors.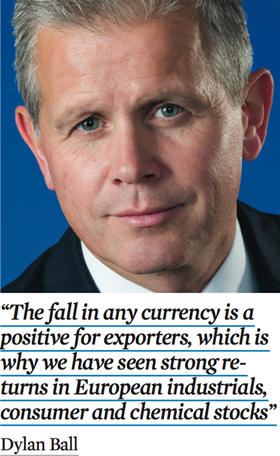 Chauchat finds that since the euro-zone economic recovery started in early 2013, corporations in the free sectors have shown modest positive forward EPS growth of 5% per year. In contrast, the administered sectors – "Europe's corporate Jurassic Park", as he puts it – saw forward EPS decline by 8% in 2013 and by another 2% in 2014. As a result, profitability in these sectors, measured by return on equity, is now the lowest in recent history outside the dotcom crash in 2002-03, when the telecoms sector recorded huge one-off losses.
False dawns
The big swing factor for analysis is of course the impact of the price collapses in both oil and the euro. The former has halved and the latter was knocking on the door of $1.40 (€1.20) and threatening even more extreme new highs just a few months ago, as the ECB allowed its balance sheet to shrink, constituting a major headwind for corporate Europe.
"The fall in any currency is a positive for exporters, which is why we have seen strong returns in European industrials, consumer and chemical stocks since the euro began its decline in April 2014," observes Dylan Ball, portfolio manager in the Templeton Global Equity Group. "Stocks like Siemens and Akzo Nobel have enjoyed a re-rating on this basis. As we approach Q4 reporting, we see the decline of the euro and the oil price as on-going issues not yet fully priced into European EPS growth."
The effects of the oil price fall have clearly hit the major oil companies and their service providers. But for the rest of Europe's companies, the effect is generally positive. IMF calculations suggest that global GDP will rise by between 0.3 and 0.7 percentage points, while for the euro-zone the figures are between 0.3 and 0.5 points. Currency weakness should provide a boost equivalent to 0.6% of European GDP, enough to add 3% to European earnings just by their exposure to GDP growth; corporate currency exposures could add a further 10 percentage-point benefit to aggregate European earnings.
"There are two benefits from euro weakness in European markets," explains King. "First of all is a benefit to growth in the European economy and secondly there is the translational benefit of offshore earnings coming back at a higher rate."
A clear winner from both phenomena is Airbus and all its suppliers.
"Most of its costs are in euros and their sales are priced in dollars, which are never fully hedged back into euros," notes Albert. "They also profit from the fact that lower kerosene costs will benefit the airline industry leading to a greater spend on new aircraft."
Against this backdrop, many analysts are predicting 10-12% EPS growth for 2015. Still, the last few years have seen many false dawns for Europe.
"During each of the past three years, we have started the year looking for double digit earnings growth, and seen those estimates totally disappear and turn negative," says King. "In 2014, the estimates at the start of the year were for 13% growth and the year finished on -3%."
Andrew Parry, head of equities at Hermes Investment Management, agrees that markets struggled with over-excitable forecasts about normalisation of the European economy and the opportunities in peripheral Europe in 2014.
"Everyone was thundering into Spain and Italy because they were looking the cheapest for 100 years, and so on," he recalls. "But we were scratching our heads as to this recovery everyone was talking about because when we saw companies we got a different message. The crisis may be over but things were only stabilising or at best, growing modestly, and no-one saw a surge in demand."
Profitability
If we maintain an optimistic outlook – or at least accept that euro and oil-price weakness represent significant new tailwinds in the economy – who wins and loses, beyond the obvious dichotomy of aeroplane manufacturers and oil companies?
At country level, Heiko Veit, head of the European growth-team at Metzler Asset Management, sees Germany as the major beneficiary of both the weak oil price and a weaker euro, with GDP growth set to be one percentage point higher. Albert sees the Netherlands and Italy as major beneficiaries of a weaker euro.
"The Netherlands has a very small domestic market so it has a lot of international companies exporting to the US, while Italy will benefit from its strong luxury goods sector with costs priced in euros and demand from Asia and the US priced in dollars," he explains.
Stephen Macklow-Smith, head of the European equities strategy team at JPMorgan Asset Management, thinks the core euro-zone will enjoy more opportunity than the periphery.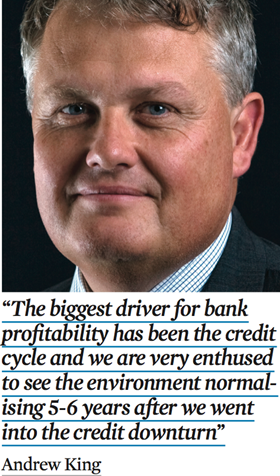 "We have yet to see the real benefits of reform coming through in places like Italy and Portugal," he says. "We are therefore more inclined to look at Spain and Ireland, but if you look at our exposures to peripheral countries as a whole, we are underweight."
However, the real losers might be on different European peripheries than most would expect – Norway and Switzerland.
"The whole of Norway depends on oil," says Albert. "While the price collapse should not cause problems for such a rich country, growth rates will slow. Elsewhere, the Swiss franc's overnight appreciation will cause immense problems for Swiss exporters. A lot of medium sized specialist companies such as machine tool builders will face competition from the euro-zone and Japan."
At sector level the free-versus-administered split is probably a good guide, but it is not wholly or universally accepted.
While Albert agrees with the basic distinction, for example, he is relatively positive on telecoms, which share a lot of characteristics with the administered sectors.
"In comparison to banks and utilities, the underlying business activities – things like internet access – are growing and profitable," he says. "More significantly, telecoms companies are not the subject of political debate. No-one thinks that telecom companies are morally bad in the way that they do banks."
Despite this – or perhaps because of it – European banks are the part of the administered sectors that proves most controversial. Having gone through an existential crisis, some would argue that the prospects now look very attractive, despite the heavy regulation.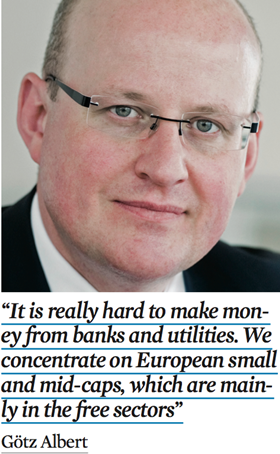 "The biggest driver for bank profitability has been the credit cycle and we are very enthused to see the environment normalising five to six years after we went into the credit downturn," says King. "There have been huge provisions set aside and that provisioning cycle is now declining, which will provide very strong growth to profitability. Stripping aside provisioning costs, banks are looking more profitable than pre-2007."
Macklow-Smith – who at this point is still willing to wait for more evidence of a genuine upturn in earnings, agrees that most people simply do not appreciate the extent to which the region's banks profitability has been crushed over the past five years.
"Any return to profitability at more normal levels will have a disproportionate impact on earnings," he argues. "There is cash around. There is no longer a need to compress their asset base. They have almost unlimited access to liquidity from the central bank at a very low rate and there is growing confidence across the economy that should result in a greater uptake of credit. In addition, the ECB's comprehensive assessment has examined the sector in enormous detail and applied common standards, so there is a lot more visibility in the banking sector with the ECB as the top regulator."
Stepping back from it all, while the oil price collapse may only be a temporary phenomenon, prices are likely to remain low for at least a year or two – and even then they may not revert to the levels seen at the start of 2014. Meanwhile, Europe has little choice but to keep the euro low as it attempts to generate growth and inflation. The key factor that will determine overall equity markets performance is, as Chauchat describes, the behaviour of the administered sectors of Europe. Within that, the behaviour of the European banking sector is critical not only to potential investors but to the small and medium sized companies, predominantly in the free sectors that are providing EPS growth today, that still rely to a major degree on bank finance.
Cheap oil and weak euro: Impact on European equities
1

Currently reading

Cheap oil and weak euro: Impact on European equities

2

3