Europe's automotive industry faces global challenges ranging from emissions standards to trade disputes and radical transformation of the industry
Key points
The auto industry is facing both short-term and structural challenges
A slowdown in car sales to China and the trade dispute with the US are both causing problems
The diesel emissions scandal is still having an impact
Switching to electric cars will have a big effect on the industry
The European automotive sector faces a slow-motion car crash, according to some observers.
The ramifications extend way beyond the returns to investors. Given the role of the sector in creating jobs across Europe, and the pre-eminence of auto exports for the German manufacturing colossus, it conceivably threatens the stability of the EU itself.
There are two sets of problems hitting the sector, says Scott MacLennan, a portfolio manager at Schroders. First, there are short-term problems of a cyclical or one-off nature. These include geopolitical ructions such as US trade disputes with Europe and China as well as Brexit. The implications of the Worldwide Harmonised Light Vehicle Test Procedure (WLTP) laboratory test, used to measure fuel consumption and CO2 emissions from passenger cars as well as their pollutant emissions, do not help either.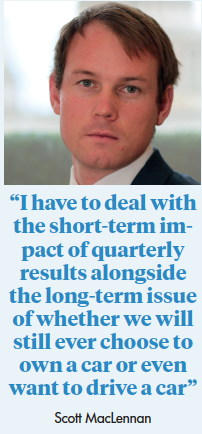 Second, there are structural changes including problems such as the potential end of diesel, the rise of electric vehicles and autonomous cars, and a changing ownership model to one of shared ownership.
"I have to deal with the short-term impact of quarterly results alongside the long-term issue of whether we will still ever choose to own a car or even want to drive a car," says MacLennan. What is clear is that, as announcements of closures of car factories in the UK by Honda and Nissan indicate, Europe is in the midst of a radical transformation of a core industry so investors will need to buckle their seatbelts if they wish to enjoy the ride.
China has driven much of the last decade of growth in the sector, with the German industry in particular benefitting. But Europe's volume automotive manufacturers – including BMW, Daimler, FCA, Peugeot and Volkswagen – have arguably become complacent behind huge barriers to entry to new players. They face a dramatic slowdown in car production which is only partially a result of a 6% drop in car sales in China in 2018, with a bigger decline in 2019 forecast by Goldman Sachs.
A key problem manufacturers face is that the move towards electrification is causing consumers to delay purchasing decisions, while the established automotive leaders are still some way from offering a full range of electric powered vehicles.
Even in China, European manufacturers face problems as the Chinese market becomes more sophisticated and less willing to accept five-year old European models. The result is a move towards more production locally at a time when European economies are themselves suffering a growth slowdown. US President Trump's trade disputes with both China and Europe may hit Europe badly, with $40bn (€35bn) of auto exports to the US and only $12bn imports.
European car producers with production facilities in the US are clearly better placed. Volkswagen is moving up a gear in the US with plans to upgrade its plant in Chattanooga, Tennessee, where it will build its first electric vehicle facility in the country.
The $800m investment is expected to create another 1,000 jobs, with the first electric vehicle expected to roll off the Chattanooga production line in 2022. Volkswagen has also announced plans to form a global alliance with Ford jointly to build pickup trucks and vans from 2022. Ford will design and build the pickups and larger commercial vans while VW will develop a light 'city van'.
While exports to the US may appear to be getting more difficult, China shows signs of opening its domestic industry to Europe more, with BMW increasing its 50% stake in its main joint venture to a controlling 75%. However, MacLennan says manufacturers with production facilities in the UK could suffer interruptions to supply chains as a result of Brexit.
Emissions targets
The most pressing immediate problem facing automotive businesses is reducing fleet CO2 emissions to comply with the European Union's challenging 2021 target, says Saul Rubin, automotive analyst at Wellington Management. "Until the diesel emissions scandal, manufacturers had banked on the superior fuel economy of diesel engines to help them attain emissions targets," he says. The headlines on the falsification of diesel emissions by Volkswagen and others have caused an accelerated decline in the demand for diesel. What the diesel controversy has done is to increase the probability of electric vehicle sales rising to meet CO2 emission targets.
While Tesla has achieved the equivalent in the auto industry of the iPhone in terms of the 'coolness' of the brand, the large manufacturers are all investing heavily into electric vehicles. Mass manufacturers sell smaller, more fuel-efficient vehicles on average, and therefore have less work to do to fulfil their obligations, says Rubin. "These companies will largely turn to forms of 'mild hybrid' (a low level of electrification), which will bring modest improvements in fuel economy (of the order of 10% or so) at relatively low cost." Premium manufacturers by contrast, will have to turn to more sophisticated forms of electrification (plug-in hybrids or full-electric automobiles) for a sizeable volume of their vehicles. "The costs associated with these forms of electrification are today quite significant — vehicles that use them will certainly carry lower margins, at least in their first iteration," he says.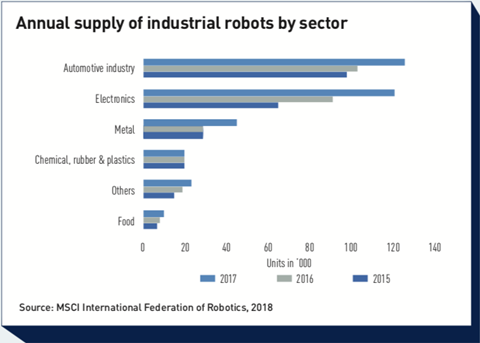 Volkswagen, in the light of the diesel setback and the opportunity given its size, has been the most aggressive in its strategy to become the market leader, according to MacLennan. Its competitors such as BMW, Daimler and Mercedes Benz are smaller, so the scale required to make electric vehicles economically is harder to achieve. They are therefore trying to produce co-production lines with petrol and electric power trains being made together.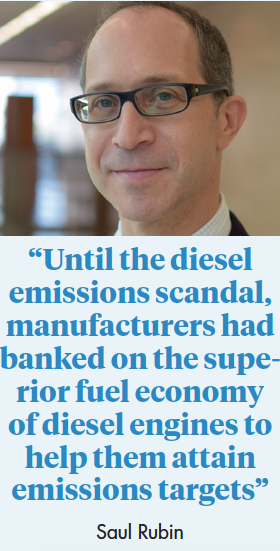 Tesla may be the current market leader in electric vehicles but its flagship model S retailing at $70,000-$100,000 is not profitable and is expensive to make. Traditional car companies have the expertise in production line manufacturing but, argues MacLennan, they will also find it difficult to manufacture any cheaper currently.
Streamlined production
In 15 to 20 years' time when battery capacity has been raised sufficiently to lower costs substantially, electric cars will not only be much cheaper to manufacture but will require far fewer steps – 60 versus 400 for a typical petrol vehicle. "That could have massive ramifications on employment if up to 80% of jobs are no longer necessary," says MacLennan. Moreover, European manufacturers will face increasing competition from China, where automobile manufacturers realise they have the potential to capture the power train manufacturing technology for the next generation.
The longer-term challenge of autonomous cars is an issue that has to be faced at some stage. It is not in the interests of car manufacturers to produce purely autonomous cars, says MacLennan, as they are in the business of producing cars for people to drive. In the US, however, they face disruptive technologies not only from Tesla, but from the likes of Google with its Waymo autonomous technology.
But if consumers are willing to buy cars to enjoy driving themselves at times, they may refrain from buying second cars where shared ownership instead makes sense. That suggests there will still be demand for European cars but the industry may need a lot of restructuring to survive at a time when the economic cycle is working against them while they face existential challenges. This is already being seen with GM's sale of Opel to Peugeot.
"Massive ramifications on employment if up to 80% of jobs are no longer necessary" Scott MacLennan
Fiat may look to sell its EU business in the same way as GM to focus more on the profitable segment of large pick-up trucks in the US.
Daimler and BMW are increasingly looking at alliances across a range of activities. "The difficulty is that there are egos involved, locations and legacies that create hurdles that need to be overcome," says MacLennan. They may not have much choice, though, with Google, Uber and other new players increasingly showing their strengths.
Investors face challenging decisions when selecting winners in the future auto industry. Yet there are compelling common themes that will underlie all successes in an electrified industry. The most obvious is the development of battery technology which itself is reliant on sourcing key commodities such as cobalt, lithium and manganese. Like the gold rushes of old, it may be the battery equivalent providers of picks and spades for gold diggers who end up being the real winners in the electrification of the auto industry.
European Equities - Auto sector: Rough road ahead
1

Currently reading

European Equities - Auto sector: Rough road ahead

2

3