Financials regain some lustre
Investors are becoming more positive about financials as they stand to gain from stronger growth and higher inflation, finds David Turner  
At a glance
• Investment managers like European financial stocks much more than a year ago.
• Reasons to like banks include rising interest rates and higher economic growth.
• Some managers see particular appeal in insurance stocks, which they judge as safer.
• Investors are no longer worried about banks' financial stability in most countries.
Investing in European bank stocks in the first half of last year was akin to bull-leaping, that notoriously dangerous pastime of the ancient Greeks. It involved spectacular somersaults that might end in cheers from the crowd or lead to a grisly demise. Greek bank stocks were arguably the most hazardous of all.
Rupert Welchman, fund manager for European Equities at UBP, an asset manager and private bank in London, has identified "six distinct patterns of big underperformance followed by sharp outperformance" between 1 January and 6 July, when comparing the Euro Stoxx Banks index with the broad Eurostoxx 600 share index. The most dramatic underperformance was the sixth instance, when bank shares fell by as much as 40% after the UK voted for Brexit on 23 June, before bouncing back to a degree a few days later. 
"If you have eight different opportunities to make a fool of yourself in six months by timing the market wrong, the natural answer is to say: 'I'm no longer going to try to beat the market in that sector'," says Welchman.
However, in the second half of last year UBP and many European asset managers either went overweight European banks and other financials, or switched from safer to riskier banking stocks. What has made them change their mind?
One particular word is on the lips of these asset managers – Trump. From Trump's name comes another portmanteau word to rival Brexit – Trumpflation. This is the inflation which many commentators expect the new US president to generate through his plans for expensive infrastructure spending. Higher inflation, and the higher fiscal deficits resulting from greater government outlay, will raise US government bond rates, particularly at the long end of the curve, a process known as curve steepening. Investors say this will probably produce a knock-on effect on European rates. 
Higher European rates would increase bank profitability by fattening banks' net interest margin. This is largely because banks borrow at the short end of the curve and lend at the longer end – making a profit from the spread. A wider spread means a bigger profit. 
Paul Vrouwes, who manages global financial stocks at NN Investment Partners, the asset management arm of NN Group in The Hague, sees another benefit for European banks from Trump's plan. "If the US decides to build more infrastructure, including walls, European construction companies will benefit and they will borrow money from banks in Europe," he says.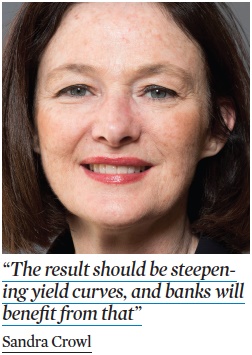 Vrouwes adds that by boosting global economic growth, Trump's spending will create new revenue opportunities for banks.
Responding to this positive outlook, Vrouwes has shifted money away from safe Scandinavian banks and into banks that he deems "undervalued" because they are a little less safe. 
At the same time, investors do not attribute the change in outlook entirely to Trump. "Before the election of Trump, signs of higher inflation, including a rising oil price, were beginning to work their way through the markets," says Welchman.
Sandra Crowl, Luxembourg-based member of the investment committee at Carmignac in Paris, notes that, as well as the rising oil price, many European countries are experiencing other inflationary pressures, such as salary growth and fiscal stimulus. "We think inflation is rising more quickly than what the market is expecting," says Crowl. "The result should be steepening yield curves, and banks will benefit from that."
Receding fears about the financial stability of European banks are also removing a reason to avoid them. "Last year I had near zero concern about financial stability," says Vrouwes. "This year I have even less because banks have a lot of fat on their bones," he explains, referring to the large capital buffers banks have built up since 2008 at the behest of regulators. 
Philippe Waechter, chief economist at Natixis Asset Management in Paris, sees another potential structural reason for optimism about European banks; the digitisation of services allows banks to dispense with expensive branches. "This will clearly improve the profitability of banks because the old networks of retail banks will no longer be in every town," he says
The prospect of rising interest rates makes insurers attractive too, because their liabilities are shorter-term than their assets. Insurers also hold a couple of advantages over banks, say some investors. One is that they are cheaper. Since July last year European banks are up about 50%, whereas insurers are up only about 30%, says Knut Gezelius, portfolio manager at Skagen Funds, part of Skagen, a €9bn value-driven equities manager based in Stavanger, Norway. Skagen Funds holds three European financial stocks, all of them insurers, including NN Group, a Dutch company trading at only 0.4 times book value. 
Another advantage insurers have is the greater clarity about the sector's future when compared with banks. Alexei Jourovski, head of equities at Unigestion in Geneva, says there are fewer question marks about the future of insurers; investors do not have to worry about whether individual companies face fines, and the regulatory regime is clearer. Europe's big global banks, by contrast, could be working against a different backdrop in the US if Trump's plans to repeal the Dodd-Frank Act are realised. Jourovski also says that insurance stocks are inherently less volatile than the larger bank stocks, whose inclusion in stock indices used by ETFs makes them vulnerable to whipsawing in the broader stock market.  
There are, however, dissenters that have resisted beefing up their exposure to European banking stocks. Carmignac, which is slightly underweight the sector, is one of these. "Because of the combination of derisking and deleveraging we have chosen to be on the debt rather than the equity side," says Crowl. By selling bad loans, reining in new lending to riskier clients and shoring up their capital base, banks are improving their financial strength. This is good news for bondholders but also caps return on equity.
Even those investors which, like European banking stocks, have learned – after seeing previous gyrations in value – to curb their enthusiasm. Most remain wary of banks in Italy, which has not fully reformed its banking system; even more are still shy of Greek banks.
"When you pick a stock in another sector, you go along to meet the management to hear about their market position, barriers to entry and so on, and say to yourself: 'I can see that in five years' time the company is likely to generate this much profit and, after discounting to create net present value, I think this is a good buy and hold'," says Welchman of UBP. "But you shouldn't do that with banks because they're too unpredictable." He adds: "I need to have a little bit more of a trading mentality towards bank stocks than I would normally opt for, as a stock picker who likes to hold for the long term." 
But Welchman also points out that banks may become suitable buy-and-hold stocks within the next three years, as all the work by regulators to make them safer bears fruit.