Pure Group: Sensitivity of selected European equity funds to macro factors
The chart data shows the sensitivity of the five largest European equity funds to changes in economic factors: European default spreads, European term spreads, European inflation and volatility of European stocks. IPE and PureGroup selected from the largest domestic and cross-border institutional funds (euro share class) registered for sale in UK, in terms of assets, from the Morningstar database.
The selected funds are:
• Allianz Europe Equity Growth
• MFS Meridian Funds - European Value
• Henderson Horizon - Pan European Equity
• JPMorgan Europe Equity Plus
• UBS European Opportunity Unconstrained 
The higher the sensitivity of each fund to the macro factor, the higher the probability that performance will respond to changes in that factor. The graphs show the sensitivity of the funds to the factors, while the bottom bar charts show the monthly year-on-year change of the factors over the past five years. The data was analysed using PureGroup's Forward Perspective Model, a macroeconomic factor model built for the investment industry, covering open-ended, closed-end and exchange-traded products. The model analyses an investment product's positioning. 
European default spreads
Default spreads can be used to indicate periods of increased short-term market risk and equity market underperformance and an adjustment in the pricing of risk. In this case, we have used a composite of European BBB – AAA corporate bonds to represent European default spread trends. European default spreads have recently widened, driven by renewed concerns around the stability of the euro-zone and domestic political uncertainties.
Looking at the sensitivity of the peer group selected, it is clear that Allianz, Henderson and JPMorgan have positive sensitivities. An increase in European default risk would positively affect their performance. The impact would be most significant on the Allianz fund. The UBS and MFS funds, while broadly neutral, show a small negative sensitivity.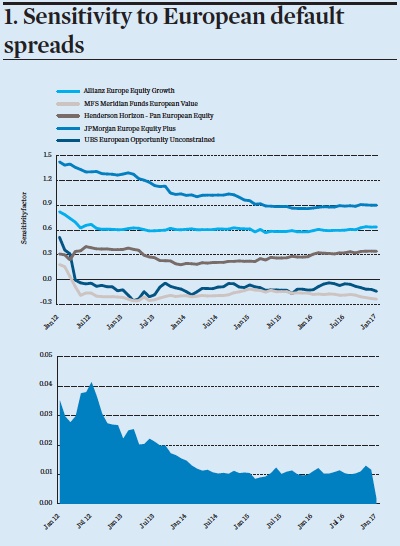 European term spreads
Term spreads can be used as measure of long-term pricing of risk and changes in economic cycles. We used a European long-term sovereign bond index yield minus the equivalent short-term sovereign bond index yield as an index to represent global term spread trends. Towards the end of 2016 European term spreads expanded. With the return of inflation, there is pressure on the ECB to rein in its extensive of monetary easing programme. The chart shows that, with the exception of UBS, the cohort is all positioned with a negative sensitivity to European term spreads, although the MFS fund is more neutral. This cohort of funds will experience a positive contribution to its performance when term spreads contract, as they are at present.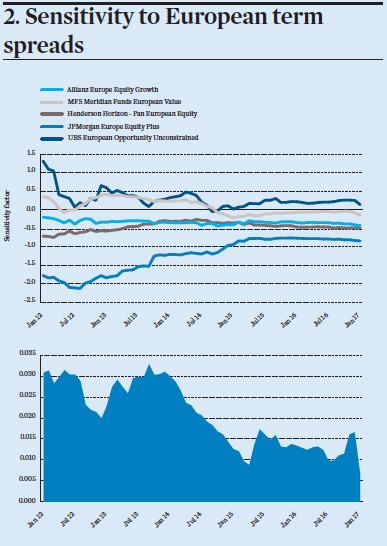 European inflation
Moderate inflation, measured through a European consumer price index (CPI) in this case, can be an indicator of future economic growth. After a sustained period of low inflation across Europe, inflation returned sharply in the second half of 2016. This is partly the result of increases in energy prices, which are back to January 2013 levels. The chart shows that while the UBS and JPMorgan funds have had negative sensitivities to inflation in the past, all funds are current positioned with a slight positive sensitivity to inflation. Rising inflation is therefore expected to contribute positively to their performance during the cycle.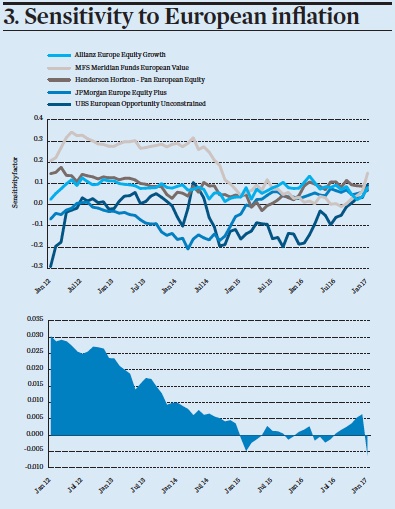 European volatility
As a proxy for European volatility, we used a combined volatility measure of European stocks. While this has been less significant in the past year it is likely that domestic elections will have a material impact in 2017. The chart shows that most funds are defensively positioned. They would be expected to experience a positive contribution to their performance in market cycles with higher-than-expected volatility, with Henderson and MFS benefiting the most in these cycles. Conversely, the UBS fund would be expected to perform well in a market environment characterised by a reduction in overall volatility. 
Patrick Murphy, director, PureGroup puregroup.io/academic-research