Case Study: Local Pensions Partnership
LPP's Richard Savage describes his approach to running an in-house global equities portfolio
Cost reductions were a motivating factor in late 2014 when the London Pensions Fund Authority (LPFA) and the Lancashire County Pension Fund announced an asset and liability partnership. Some £32m (€36m) of savings were anticipated from back office efficiencies and contract renegotiations. 
At the time, half of Lancashire's assets were with 12 external managers with fees and costs of £11.3m, while LPFA used 38 external managers, running most of its assets at a cost of £32.8m and £495,000 for the in-house team for the 2013-14 financial year. 
Eight asset pools for LPGS in England and Wales were launched in April this year.
The London and Lancashire asset and liability collaboration has now become the Local Pensions Partnership (LPP), with Susan Martin, formerly of LPFA, as CEO. Berkshire Pension Fund has since signed up.
Richard Savage is investment director for global equities at LPP, running a £6bn (€6.9bn) public equity platform structured as an Authorised Contractual Scheme (ACS). 
Savage describes the ACS as a multi-manager platform with exposure to equity factors or styles LPP believes are "persistent and underpinned by sound economic rationales" – namely quality/defensive growth; value; 'smaller' cap; and low volatility. 
If cost savings were an important motivation behind the original pooling exercise, generation of risk adjusted returns through the cycle is a key rationale here. 
LPP acts as a form of fiduciary, working with clients to generate a strategic asset allocation. Integrating the LPFA and Lancashire portfolios meant changes in the equities  manager roster. Two Lancashire appointees were retained by LPP – Magellan for quality equities and Robeco for a low-volatility multi-factor equity mandate.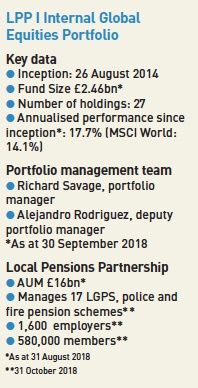 Wellington, First Eagle and Baron were appointed for smaller-cap, value and emerging market equities respectively. Finally, LPP last year terminated a mandate with MFS, which had previously been retained by both LPFA and Lancashire. This was because the approach overlapped with what LPP was trying to achieve internally.
Savage's team monitors external managers on a regular basis with monthly and quarterly calls. "We are not in the habit of flexing that exposure or hiring, firing managers at every interval," he says. "That's just not how we believe equity portfolios should be run."
The bulk of Savage's time is spent on the internal portfolio within the ACS structure, known as LPP I Internal Global Equities Portfolio (IGEP), and which was seeded by LPFA in 2014 as a low-turnover, concentrated portfolio of large-cap equities. The stated aim is to identify "high quality businesses with sustainable business models that are able to compound shareholder returns over a full business cycle". 
Savage describes it as running a "quality at a reasonable value approach" and IGEP aims to generate a total return in line with LPP's overall equities portfolio as managed in the ACS structure. 
The MSCI World universe is screened and reduced to about 150 possible stocks. This list is then analysed to determine each company's competitive factors and to assess how they have maintained their performance over time.
Savage explains: "What we're trying to find is what we believe are high-quality companies that have shown an ability to compound their intrinsic value at attractive absolute rates over long periods of time and then have long-run rates of growth and sustainability around that ability to compound. It's usually some sort of competitive advantage which is derived from high switching costs, economies of scale, network effects and brands."
IGEP has grown into a £2.46bn (€2.82bn) portfolio with between 25 and 30 global stocks. Overweights (as of September 2018) were consumer staples (more than 20%), industrials (about 6%) and technology (about 5%). Healthcare, financials, communication technology and energy were all significant underweights.
"We have clients who truly understand the long-term approach and the philosophy we're putting in place"

Richard Savage
Top holdings as at the end of September were Accenture, British American Tobacco (LPP's responsible investment strategy does not mention tobacco), Colgate-Palmolive,  Nestlé, and Visa. IGEP has outperformed the MSCI World by 360bps annually since inception. 
Savage distinguishes LPP's cashflow-based approach from those of other managers, some of which can be simplistic, he says. "They try to forecast out next years earnings and apply what they call a reasonable multiple on earnings, but that multiple is driven in the short term by sentiment and market psychology, which is extremely hard to predict."
These shortcomings are partly behind the growth of passive approaches, because unsuitable approaches to active management are increasingly becoming evident. As Savage puts it: "I don't think it's necessarily a difficult thing to do, it's just not easy to do it in a disciplined, consistent way because of the other factors that come into play."
Asset gathering is also a handicap for managers, as are mandates or investment targets that specify a top position in leading databases over short time periods. 
IGEP's performance will fluctuate and will doubtless underperform its MSCI World benchmark over some periods. Here, Savage is less concerned.
He concludes: "I think the benefit of working here is that we have clients who truly understand the long-term approach and the philosophy we're putting in place. I don't need to spend my time going to the four corners of the world marketing the fund or spending time with clients on quarterly catch-up meetings, so we can actually just get on with the day job."