Emerging markets lag in software
Despite the huge size of emerging economies they have yet to produce global leaders in software
Key points
• Emerging economies have yet to create global leaders in IT software.
• The giant size of the domestic market means that Chinese software companies have an advantage in developing their own ecosystems.
• Emerging markets companies are gaining a greater share of the world hardware market.
Emerging markets have an important advantage over developed markets in that labour costs remain substantially lower. But while several emerging economies, most notably China, have become powerful forces in manufacturing, they have not yet created global leaders in IT software. This, at first sight, appears surprising, given that wage costs are substantially lower in the emerging world. Indeed, increased automation in developed markets is enabling manufacturing activities to be brought back onshore.
There is no doubt that economic development creates the potential for attractive opportunities in the IT sector in emerging markets. Indeed, Carlos Hardenberg, lead portfolio manager at Templeton Emerging Markets Investment Trust, finds the past decade has thrown up more than existed prior to that. In the past, Templeton had concerns over the robustness of some of the business models and quality of management. Hardenberg says the valuations were exceptionally high, with a great deal of speculation with high expectations and euphoria which was inevitably followed by disappointment.
In the past decade or so, he has noted a dramatic change both in the sophistication and quality of business models. There is a wider acceptance by local consumers, particularly the young, of IT-driven solutions in areas such as e-commerce, fintech and so on.
PwC's top 30 emerging market software companies are all regional players which have grown into global players over the past decade or so. Some 13 are based in China while almost a third are in Eastern Europe and Russia, while seven are from India and South Korea.
The Eastern European/Russian contingent, PWC says, represents a holdover from the Soviet era when students had rigorous training in maths and science, which continues to this day, while countries placed a high emphasis on security. PWC also notes that the prevalence of manufacturing in Asia has led to Chinese software companies succeeding in areas relating to manufacturing and logistics.
What also characterises the list is that they are all leading companies in their local software industry. They have global vision and co-operative ability and they have been operating for more than a decade and so have passed the risk period for software companies.
But Gary Greenberg, head of emerging markets at Hermes Investment Management is sceptical about whether any of PWC's list will ever become global giants in the manner of the US FANGs (Facebook, Amazon, Netflix and Google) or companies such as Oracle and Microsoft which have essentially produced global standards.
"Asia has good manufacturers but, until recently, it never had any global dominators," Greenberg says. "Everyone was waiting for Indian software firms to come up with a package like Windows that would have a global appeal. But they never did." The world has now moved on from pure software to networks and eco-systems. Companies in PWC's list, Greenberg argues, are all niche specialists such as Kaspersky Lab in the security sphere.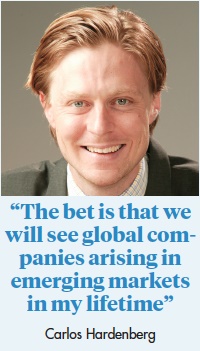 Indian IT companies such as Infosys have seen growth rates fall to single digits recently, with their business models suffering as their corporate client base moves to cloud-based computing requiring less in-house IT support. They are certainly not sunset industries and the rise of the 'internet of things' will continue to provide a steady stream of work for them, but price/earnings multiples are down from the 20s to the mid-teens as expectations of growth come down.
No emerging market pure software company has a consumer product, says Greenberg. All of them are focusing on business-to-business activity. The companies that are already competing with the FANGs are the few that have managed to establish their own strong ecosystems. China dominates in this respect with the BATN companies – Baidu, Alibaba, Tencent and Netease which are all consumer-facing.
Yandex is the largest search engine in Russia and has managed to create a powerful ecosystem around this – Uber gave up trying to compete in taxi hailing in that country and has spun off its Russian operations to a new company majority-owned by Yandex.  
WeChat, owned by Tencent, has become ubiquitous in China and its functionality is far greater than any product such as WhatsApp used in the West. It is extremely well tailored for the domestic China market, which has made it so successful. Yet few would see WeChat making great inroads outside of China. But companies such as Tencent and Yandex have such huge domestic markets that they do not have an incentive to move outside in the short term.
For Hardenberg, the largest opportunities for rapid growth in emerging markets are on the hardware side of technology. In the past, 85% of patents were produced in the US and Europe. Now more than half come from emerging markets. Many countries, such as China, have developed industrial policies to support local companies exploiting new technologies: "The bet is that we will see global companies arising in emerging markets in my lifetime," says Hardenberg. Few would disagree.