Global Equities: The search for global opportunities
Finding attractive companies in the current market environment is no easy matter even within the entire universe of global equities, says Christopher O'Dea 
At a glance
• The sharp drop in bond yields is pushing more investors towards equities.
• Investors are emphasising particular themes including a wariness towards sectors where low bond yields have helped push up valuations.
•  Equity managers tend to be good at analysing companies but are less skilled at selecting regions or countries that are likely to outperform in the short run.
• In a lacklustre market environment there is more emphasis on fund manager skill and less on market-related returns.
In The Merry Wives of Windsor, Shakespeare captured that binary risk-reward trade-off with the classic line "the world's mine oyster". The phrase aptly characterises the situation facing global equity investors today: just as the rogue Pistol declared his intention to seek his fortune in the wide world when Falstaff refuses him a loan, institutional investors are looking globally for opportunities to offset their own financial shortfall – the steep drop in bond yields engineered by central banks staving off recession.
As with oysters, so it is with stocks. While some may bear pearls, it takes plenty of hard work to find those few. But successful investing inevitably comes down to making the most of the opportunities at hand at any given time – and that is just what global equity managers and consultants are doing at present.
Global equity investors face plenty of cross-currents. The primary challenge is coping with capital allocation distortions caused by near-zero interest rate policies that central banks have adopted to rationalise the massive liquidity injections undertaken to boost demand after the crisis. That has prompted investors to pour capital into dividend-paying stocks as a proxy for bond yields. Some managers say this strategy has run its course. But that is not before prompting some management teams to divert capital from corporate investments to share buybacks in an effort to attract institutional investors by creating a financial profile akin to a safe, steady dividend payer.
That has helped boost the S&P 500 to record highs. Although investors are wary of US equity valuations, with some counselling clients to buy significant dips and sell rallies, the overall view is that global equity markets will remain in trading ranges. These are constrained by monetary policies, slow economic growth, weak profits and low recession risks. All are accompanied by increasing volatility.
"It is somewhat confusing to see equity markets continue to move higher, especially US equities, while earnings are under pressure," says Robeco CIO of investment solutions Lukas Daalder. "Estimates are still being downgraded, mostly, so why do stocks continue to move higher?" Daalder contends the answer is clear: "It's because there's not that much of an alternative out there."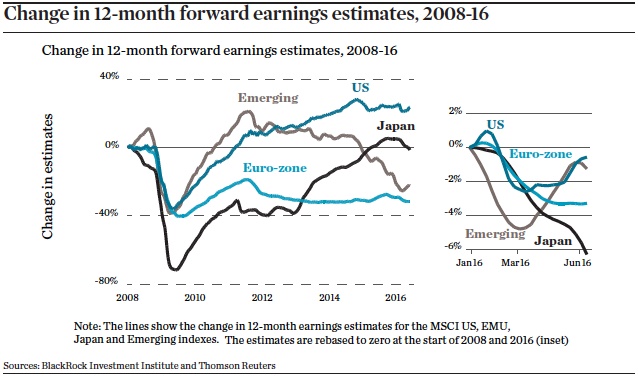 Despite the challenges, global equity investors see several strategic opportunities for the asset class. The primary effort is a search for equity investment themes that are not dependent on continued quantitative easing, or linked to expectations that some central banks might enact even more aggressive monetary stimulus measures to boost their respective economies. 
Those themes are described by a variety of terms, including future quality, high-quality return on equity, and resilience. They share some common traits, chief among them casting a jaundiced eye on bond-like equities and sectors that have been bid up to lofty valuations by yield-starved institutions. A corollary of this is a preference for active management based on the underlying fundamentals of companies and their respective economies, in contrast to the passive vehicles that have channelled capital flows rapidly between regions and sectors over the past few years.
The new themes are emerging opportunities in markets with younger populations, urgent demand to modernise local property or build public infrastructure, limited credit penetration and rising needs for cost-effective healthcare services. While some are found in Asia – and often in more advanced emerging markets – the new investing concepts cut a global path, offering investors robust rationales for allocating capital, and potentially a re-boot to the equity-risk premium as a source of return to pension portfolios.
Despite historically high levels of quantitative easing, global economies remain stuck in low gear, a state of affairs that Russell Investments calls "the new mediocre". It features lacklustre profits, increasing pressure on profit margins and a slowing rate of improvement in employment in the US. Still, recession risk remains low, and Russell expects a modest tightening in the labour market to put enough upward pressure on US inflation to trigger at least one increase in US base rates in the second half of the year.
Russell assesses global equity markets in light of valuation, business cycle conditions and sentiment, weighting each indicator differently in time horizons of 12-months, one to five years, and more than five years. "We see some interesting developments in global equities at the moment," says Wouter Sturkenboom, senior investment strategist at Russell. "Most importantly, in the value and cycle space, where we see some real divergence globally."
In terms of valuation, "it's pretty clear, to us at least, the US market, which is 60% of the index, is horribly expensive," Sturkenboom says. "We are deeply concerned that the valuation re-rating that we've seen in US equities is not going to be sustained on a three-year time horizon, or on a five-year time horizon." In addition, he says, "we are worried about the cyclical outlook for earnings in the US." The upshot, Sturkenboom says, is that "there's a big valuation gap, in our opinion, between the US and the rest of the world. In our asset allocation, both tactically and dynamically, that is driving us away from the US and into the rest of the world, where we have an overweight to EAFE [Europe, Australasia and Far East], and underweight to the US." 
The US Commerce Department reported in August that although corporate profits rose 4.9% in the second quarter, gains this year have not been enough to offset a drop from 2015, and second-quarter profits were down 2.2% compared with a year earlier. The data indicate the US corporate earnings and profit margins are under pressure.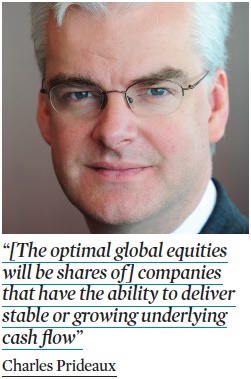 Profit margins "are clearly past their cyclical peak" and "set to compress further over coming quarters," Richard Moody, chief economist at the Regions Financial Corporation, said in a note to clients. That suggests "the risks to business investment remain tilted to the downside". Although not every downturn in profit has been followed by a recession, Moody notes, "historically, declines in profits have tended to precede recessions".
While recognising the deceleration in profit growth, "there's little risk of a recession in the US", says Ed Campbell, portfolio manager at Quantitative Management Associates (QMA), the quant multi-asset class management unit of Prudential Financial. "I don't see a tremendous amount of downside," he adds. "That's the benefit of a slow-speed expansion."
Return expectations are modest. Campbell says: "The best we can expect are 5% to 6% returns over the next few years, given the high valuations and the high margins," on US equities as represented by the S&P 500. For the world ex-US, Campbell expects a "small premium" over the S&P 500, with a good portion of that coming from emerging markets in the short term. QMA's overweight in emerging markets is a tactical allocation, not a structural shift, Campbell says, reflecting the low valuations of  emerging market stocks and the stabilisation of economic growth prospects in the 4% to 4.5% range. 
Those modest return expectations illustrate the effect of loose monetary policy: with corporate revenue growth low, and profit margins elevated, "capital gains are tough to come by", Campbell says. Increasingly, investors have allocated capital to stocks whether or not the shares offered capital appreciation potential commensurate with the risk being taken. That has driven investors towards "income-generating equities that look like bonds", Campbell says.
That is not likely to change any time soon. "Let's be clear; the big driver has been the fact that monetary policy globally continues to be benign," says Charles Prideaux, head of active investments for BlackRock in EMEA. "The inference continues to be that if policy is lower for longer, that, on a relative basis, will continue to buoy equities."
In the low-yield world, Prideaux says, the optimal global equities will be shares of "companies that have the ability to  deliver stable or growing underlying cash flow, and in that sense have a level of resilience in an environment where we are not expecting, anywhere in the world, a rapid acceleration of economic growth."
That leads to bias towards quality, in which the objective is to "focus on companies that have the ability to do just fine with the prevailing level of growth," says Prideaux. "From an underlying analytic standpoint, that gives us confidence that they are able to grow their dividend through time." At the same time, BlackRock is striking a note of caution, he adds. "Markets have made quite a lot of progress against an earnings backdrop that hasn't. So there's been multiple expansion, and therefore relative to history, US equities are not that expensive but the valuations, compared with history, are rather full.
"The one caveat I'll put with that," Prideaux adds, "is that if you look at history, at times where you've had a forward-looking multiple of 17 to 18 times earnings, about where we are now, the quality of underlying balance sheets is better than you have typically seen at the end of long bull runs." That, he says, is because "corporate managers have been using the interest rate backdrop to conduct a lot of refinancing."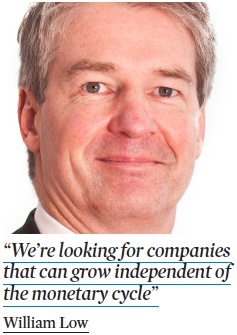 Finding stocks that can deliver earnings growth in a low-growth world is pushing global equity managers to identify stocks based on insightful investment themes that do not depend on the central banks continuing to provide monetary stimulus, says William Low, a global equity portfolio manager at Nikko Asset Management.
Nikko's "future quality" strategy looks for companies with strong management teams capable of growing cash flows and consistently delivering returns that exceed the cost of capital, where that projected growth is undervalued, or at least fairly valued, in the company's current share price. "We're looking for companies that can grow independent of the monetary cycle," Low says.
Recently, that strategy has included moving capital out of a stock where the price had been bid up owing to the company's bond-like features. Assets have then been redeployed into companies with fundamental growth prospects. 
Nikko recently added a position in French electrical component manufacturer Schneider Electric, funding the purchase with proceeds from the sale of the UGI Corporation, a holding company whose businesses distribute propane in the US, primarily Pennsylvania, and liquid petroleum gas in Europe, primarily France and the Nordic countries. UGI had become a bond proxy, Low says, which pushed up its valuation despite no change in the company's fundamental outlook.
Schneider, in contrast, stands to benefit from significant exposure to rising infrastructure investment in emerging markets, Low says. Nikko sees opportunity in several Asia markets, both emerging and developed. In Japan, for example, the manager has invested in two property companies, one which acquires and redevelops older concrete buildings that house smaller hotels and offices for sale to larger real estate investment trusts in Japan, and the other which develops small apartments to house people moving to Tokyo.
Healthcare is Nikko's biggest overweight globally, consisting of "businesses that benefit from the reality of increased demand for health care", Low says. LivaNova, for example, recently merged with an Italian competitor, and now stands to benefit from merger integration savings and a stronger new product pipeline. The company, which is listed in the US, provides a variety of equipment for treating conditions such as sleep apnea, which insulates it from the political pressures on pharmaceutical companies over drug prices. "That quality of growth is crucially important," says Low. It is also far-removed from yield-chasers. "This is the type of company that is out of sight, out of mind," he adds. "It is not part of exchange-traded fund products, and not included in benchmarks."
Stock selection through unconstrained, active global mandates is the way forward for global equity investing, says Stuart Gray, director of equity research at Willis Towers Watson. The firm constructs global equity portfolios of eight to 10 managers running highly concentrated strategies that invest in about 20 stocks in different markets around the world. "We believe quite strongly that manager skill exists from an active equity perspective," Gray says, and "we generally think that go-anywhere, up and down the cap spectrum, anywhere around the world is the best approach to global equity investing."
The rationale, Gray says, is that equity managers tend to be good at analysing companies and their long-term business prospects relative to competitors, but have less skill at selecting regions or countries that are likely to outperform in the short run. "It's very difficult to time regions relative to each other," Gray says. "We select managers that are significantly different in how they think, and we get diversification at the portfolio construction level so all of that active stock selection comes through to performance."
Under that approach, "each individual manager is giving us their best ideas," Gray says. That is especially important today. "In a lacklustre growth environment, investors are struggling to rely on beta for the returns they need," he adds. "They are more in need of alpha now than they have ever been, at a time when many are giving up on alpha."
Giving up may be short-sighted. Gray says the firm's research suggests a well-diversified portfolio allocated to a roster of concentrated active equity managers can generate a return premium of about 2%, net of all costs, over a five to 10-year cycle. The key is to maintain an even keel – Willis Towers has an average holding period of seven to eight years for global equity managers it selects. Over time, he adds, "it starts to have a meaningful contribution to your portfolio results".
Pages in: Global Equities: The search for global opportunities