Global Equities: Valuations face a structural shift
It is not easy to predict where markets are heading in this era of great economic disruptions but there are big opportunities for skilled investors
Key points
• Historical comparisons of market valuations are fraught with difficulties.
• Technology, including artificial intelligence and robotics, is leading to important structural shifts.
• Such developments could create opportunities for active managers.
Global investors are living in an era characterised by massively disruptive economic changes in both developed and emerging countries. The latter are experiencing huge economic growth as their economies, led by China, take over global manufacturing. The increase in wealth of their own populations is driving rising domestic consumption.
Meanwhile, in developed nations there is not only a shift of manufacturing to emerging economies, but also a loss of jobs through increasing automation, robotics and the rise of artificial intelligence. The growth of populist political movements in the developed world is one reaction to these trends.
For investors, it also means any comparisons between markets and across time is fraught with difficulties. In emerging markets, for example, earnings from commodities have shrunk from 44% in 2003 to 15% today while financials account for 35% today versus 15% in 2003.
In the US market, the growth of the FANG stocks (Facebook, Amazon, Netflix and Google) has proved to be virtually unstoppable, with no competitor able to encroach on their space. What does this mean for equity valuations?
Equity returns can be broken down into four parts. Dividends, in the form of current dividends and future growth, account for two components.
The other two are from multiple (P/E) or margin expansion. Investment manager GMO, in a recent paper, argues that over the past seven years, the P/E multiple expansion has provided the biggest boost to US equity valuations. On a historical comparison of valuations, the US is currently at its third most expensive valuation in history, beaten only by the tech bubble and the pre-1929 crash valuations, says Tommy Garvey, a member of GMO's asset allocation team.
GMO's philosophy is that asset classes generally revert to a long-term equilibrium valuation which, over a seven-year horizon, would imply a real negative return of 3.9% a year for the S&P 500, implying the market is 45-50% over-valued, Garvey says. Forecast returns for Europe are still negative at -0.8% a year and Japan even more so at -1.5% a year.
Emerging markets, by contrast, look much cheaper on a relative basis  – based on current valuations using a mean-reversion framework, they are forecast by GMO to generate 2.9% a year with value stocks within emerging markets forecast to generate 6.2% a year over the next seven years.
The headline numbers all look as though the world is heading towards the end of a bull market, says Tom Record, global equities portfolio manager at Majedie Asset Management. Figures such as market capitalisation/GDP or corporate margins, are all at historical peaks with labour markets also tight in the US. These all paint a negative picture for global valuations and US in particular. "We would not advocate to our clients that they should buy the US market as a whole," says Record. But it is questionable whether historical comparisons the right way to make valuation judgements.
There are some who argue that the future will look different from the past. BlackRock approaches stock valuations via the concept of the equity risk premium (ERP). The ERP represents the excess that return equities will generate over the risk-free cash rate. BlackRock says the US ERP will settle at 4% over the long run, which is lower than historical values.
"We would not advocate to our clients that they should buy the US market as a whole"

Tom Record
The ERP has declined, says Vivek Paul, a director within BlackRock Client Solutions, with the new valuation supported by the adoption of credible inflation targets by central banks that anchored inflation expectations during the 1990s. This policy shift had led to a significant and persistent decline in economic volatility. Adopting real US growth assumptions of 2% a year and real interest rates of 1% gives them an equity multiple of 14.7 times forward earnings. That would imply US equities are over-valued by 23% – still expensive but much less so than by GMO's estimate.
Anik Sen, global head of equities at Pinebridge, argues that there is another fundamental set of reasons why the future will be different from the past and valuations less expensive than might appear at first sight. For the first time since 2008 there is synchronised growth in the US, Europe, China and most of the emerging markets.
Second, he argues that markets as a whole are systematically underestimating earnings in the future by failing to appreciate the capacity of companies to use technology.
During the past decade, capital expenditure has generally been unrewarded. Pre-crisis, most companies spent capital investment on areas such as adding capacity in terms of production lines or bricks and mortar. That generally produced relatively low returns of 10% or so on the investment. But the capital investment that companies are undertaking now is being spent on utilising technology. The payback period for this is relatively short at two to three years, with return on capital between 23% and 100%.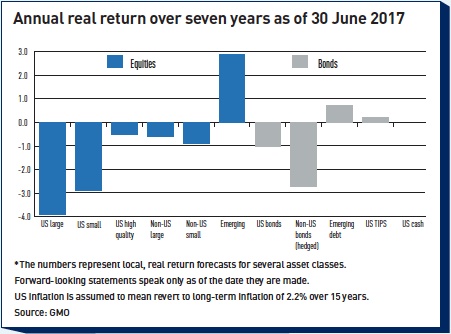 Sen argues that the IT-driven capital investment is meaningfully increasing corporate earnings and analysts' earnings upgrades are only just starting to reflect this. "The 2017 Q2 earnings figures showed the best upgrade in earnings in probably eight or nine years," says Sen.
Technology is starting to drive structural changes through – and the use of robotics – while many of the old economy companies are facing ageing workforces and are struggling to replace skilled retiring workers. Moving people from the shopfloor to behind the glass has become the new mantra, says Sen. Traditional measures of productivity such as GDP per head do not reflect such shifts, Sen says. It also has implications for the job market. Jobs that are in demand are those in sectors where there are skill shortages such as engineering. As a result, Sen argues, companies are becoming more productive but countries are not.
"The 2017 Q2 earnings figures showed the best upgrade in earnings in probably eight or nine years"

Anik Sen
Another effect of the harnessing of new technology is the increase in inequality in many developed countries. Those with capital have benefited from rising markets, while those reliant on earned income have often struggled. Whether one believes that the future will be sufficiently different from the past to justify higher equity valuations or not, the alternative of the debt markets is not appealing, given low sovereign bond yields. It does mean that relying on narrow benchmark-driven approaches to investment could be risky.
In emerging markets, for example, GMO points out that the main index has significant embedded risks. There is high single-country earnings risk with China-related earnings constituting over 41% of index earnings, while financials represent 40% of the index's book value, giving rise to the risk of buying a highly levered earnings stream. As GMO points out, when investors buy the emerging market index or compare absolute valuations, they gain little actual exposure to what truly drives emerging markets – the rising consumption of the middle class and favourable demographics and evolving socio-political institutions.
Conversely, even in the US, the most expensive market by most measures, Record argues that by active stock selection, it is still possible to buy companies that look attractively valued. "These are within a market dominated by huge companies with low growth accounting for a large part of the index." Large parts of the markets are now dominated by passive investment through exchange-traded funds (ETFs). If, as Record argues, that has led to low volatility, low beta stocks being forced higher, that does create opportunities for focused active managers willing to move away from expensively priced benchmarks. The challenge is finding those with ability rather than luck.
Pages in: Global Equities: Valuations face a structural shift