With 30,000 potential stocks in the global equities universe, picking the right investment approach may be more important than the right manager, argues Joseph Mariathasan
At a glance
• There are numerous ways in which investment in global equities can be approached.
• The costs associated with different approaches vary considerably.
• Some clients and consultants are using active share to gauge whether fees are justified.
• Although value strategies have fallen out of favour they could offer a good deal.
The global equity universe is massive. There are 30,000 stocks to potentially invest in. It is difficult to argue with the view of Nick Samuels, head of equity manager research at Redington, that it is beyond human capabilities to cover the complete universe using a fundamental approach. He does add the caveat that most of the universe consists of stocks that are illiquid and uninvestable for institutional investors. Nevertheless, the remaining stocks still leave investors in a quandary.
Global equity markets can be approached in numerous ways, including passive indexation, smart beta, quantitative systematic strategies, broad fundamental active strategies, focused active strategies, market-neutral hedge funds and 130/30 funds. Each approach has its own trade-off between cost and return. What are these trade-offs? Who takes the benefits – fund managers or owners of capital? What should be an equitable fee structure?
These questions are not only important for investors, they are also critical for fund managers in determining their business strategy. For the largest multi-strategy firms, it may be less relevant though, as they can cover most, if not all, of the options. Charles Prideaux, head of active investments EMEA at BlackRock, justifies this on the grounds that investors are ultimately trying to find solutions for different needs. Any investor will have specific views on return aspirations, acceptable volatility and a fee budget; and for asset classes outside equities, they would also have a liquidity budget.
Devising a framework to help choose between approaches to global equities is a useful exercise. Not only does it educate investors but it also helps to determine where the best trade-offs are likely to be between fees and potential returns.
Stuart Gray, director of equity research at Willis Towers Watson, says the consultancy looks at all equity products ranging from index funds at one end to hedge funds and private equity at the other in terms of return drivers. Embedded within all equity approaches is what it describes as bulk beta – the typical market capitalisation weighted equity beta.
On top of this, there are elements of alpha. That is manager skill and probably elements of other types of beta, which can be described as smart beta and represent systematic factors that have strong evidence of outperformance. When the consultancy looks at the return potential of a strategy, it does so by exploring how much beta is involved in the strategy. The managers can then be quizzed as to what sort of return they expect to be generated from each of these building blocks.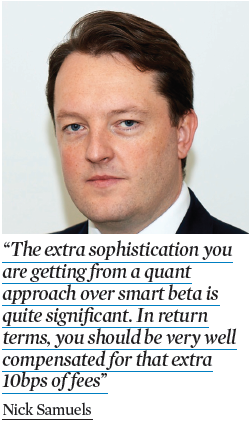 The simplest and cheapest approach to global equity investment is clearly via passive indexes. Samuels sees them as particularly useful if exposures are undertaken synthetically via derivatives. Such an approach allows better balance-sheet management for pension funds, enabling them to gain a bit of leveraged exposure to equities.
Slightly more expensive would be smart beta products which allow investors to access particular investment factors. Gray also sees them as reasonably good value for money. They are also competition to many conventional active managers.
Willis Towers Watson is finding that many of the traditional diversified global equity portfolios are starting to shrink. Moving up the complexity and fees scale from smart beta are quantitative managers, between which there is a grey area, argues Samuels. Many quant managers have been running factor-based strategies for 20-30 years and been doing so relatively successfully.
Large pension funds investing a couple of hundred million euros or more can hire quant managers for 25-30bps a year, whereas smart beta costs would be 15-20bps, with the more basic end at 10bps. "The extra sophistication you are getting from a quant approach over smart beta is quite significant. In return terms, you should be very well compensated for that extra 10bps of fees," argues Samuels.
The next step up would be a long-only fundamental strategy. A smart beta strategy would have 1,000 stocks, a quant manager would have 200, while a fundamental manager would have between 30 and 80, depending on strategy.
Each step involves a reduction in the number of stocks, increasing the tracking error and potentially increasing the return. Active managers would charge between 40-60bps for a developed global equity. Adding emerging markets would add 5-10bps on top for all strategies.
Beyond this lies the hedge fund world. Willis Towers Watson is finding big differences between institutional long-only industry and hedge fund industry approaches to equities. Gray says the long-only industry has responded to the competitive pressures within the industry and has seen costs falling. "A lot of firms are reacting to the new reality of the industry, which is essentially a lower cost base in a lower-return environment," he says.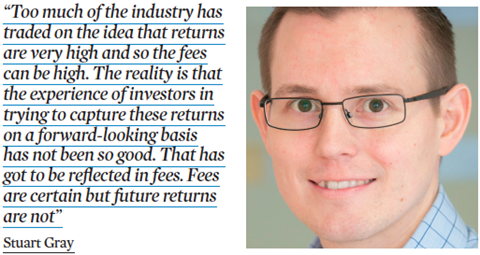 Gray finds that long-only fees have probably halved for active managers over the past decade. "Too much of the industry has traded on the idea that returns are very high and so the fees can be high. The reality is that the experience of investors in trying to capture these returns on a forward-looking basis has not been so good. That has got to be reflected in fees. Fees are certain but future returns are not."
He argues that hedge funds have not felt as much pressure to readjust high fees, justifying them with the promise of high returns. That is coming under pressure and several large asset owners have moved out of hedge funds. "If you can get a very unconstrained long-only equity investor who genuinely delivers a lot of alpha at 30-50bps in fees, investors need a very compelling reason to pay '2 and 20' [a 2% annual management fee and 20% performance fee] to a hedge fund where you may end up paying 4% in fees. The hedge fund fees are 10 times higher," says Gray.
So where lies the best trade-off between fees and potential returns? Some institutional clients and consultants are using active share as a tool to help determine whether an equity strategy justifies its active management fees, says Dylan Ball, a portfolio manager at Franklin Templeton. "Such an approach makes intuitive sense – paying up to be different, especially when the market is polarised as it is now."
But, Ball adds, it is possible to have too much of a good thing. Similar studies also show that too high an active share can lead to greater levels of return dispersion. Samuels suggests that it is worth taking a view on relative valuations. Certain strategies have done well in recent times. Anything that has been quality-focused has attracted assets on the back of good track records. But that has been going on for several years and there does not seem much point trying to get a good deal with products that are close to capacity and after a strong run.
In contrast, he argues, value strategies have underperformed. The managers have probably lost assets but the style works. It simply goes out of favour for long periods and then comes back. Samuels is finding investors can get a good deal on fees and access products that are not close to capacity constraints.
For institutional investors, picking the right approach may be more important than picking the right manager.
Global Equities: The search for global opportunities
1

2

Currently reading

Investment Approaches: Reasons to be cheerful

3

4