Inflation-linked government bonds are back in demand as investors seek protection against rising inflation
KEY POINTS
An increase in inflationary pressures is causing renewed interest in inflation-linked debt.
The largest issuers are the US followed by the UK, then France.
Rising inflation has led to increased demand for linkers.
Pension funds with significant allocations to UK Gilts may need to look at how they are being managed.
Inflation-linked assets fell out of favour with investors following the global financial crisis. Low growth and wages plus central bank asset purchase programmes combined to produce a low-rate and low-inflation environment.
Over the past few months, however, things have changed: inflationary pressures are building and institutional investors have once more turned to that cornerstone of inflation hedging, the inflation-linked government bond, or linker.
Antoine Lesne, head of SPDR ETF research and strategy EMEA at State Street, says: "We could be returning to a more normal inflationary environment, where linkers serve a purpose in pension fund portfolios."
Demand is picking up. While there has always been an intrinsic home-market bias, given that domestic linkers tie in with liabilities, it does seem that others further afield are cottoning on to the potential advantages of linkers in this market. Adam Skerry, investment director, fixed income, at Standard Life Investments, says: "There's been a lot more interest in linkers from non-traditional investors in the asset class – for instance, from the Far East and Australia."
The coupon of an inflation-linked bond is calculated by adding inflation to its real yield. Nominal fixed-income securities react negatively to expected inflationary pressures. Yields, therefore, are high when inflation expectations are high. Linkers, however, protect against unexpected inflation as their coupon and principal change in line with the underlying inflationary index – in the UK, for instance, the Retail Prices Index.
If average inflation falls over the life of a linker, its holder would get back less than its face value, if held to redemption. On the other hand, if inflation increases over the life of the linker, coupon payments will increase. In this way, holders of linkers have their returns maintained in line with inflation. The break-even rate is the difference between the nominal yield on a fixed-rate bond and the real yield on a similar inflation-linked bond. If inflation averages more than the break-even, the inflation-linked investment will outperform the fixed-rate, a nd vice versa.
The main issuers, in order of volume, are the US, UK and France. Germany, Canada, Japan and Australia are also significant issuers, along with some emerging markets such as Brazil and India. Linkers play the most important role in the UK, with a long-term average of 22% of government issuance being inflation-linked.
Since the middle of last year, inflationary pressures have increased. Looser Chinese monetary policy from the summer, took several months to feed through, and then combined with the trough in energy prices at about the same time and optimism over US-led growth. "Breakeven inflation has increased significantly across the board," says Lesne.
As a result, says Tim Foster, fixed income portfolio manager at Fidelity, "linkers have had a good run since the middle of last year, especially US TIPS [Treasury Inflation Protected Securities]".
This led to a surge in demand for linkers from late summer onwards. In August 2016, the UK auctioned a 20-year inflation-linked bond for a record negative yield. This was attributed to investors seeking inflation protection following the Bank of England's resumption of its bond-buying programme. The oversubscribed £850m (€1bn) issuance was sold at a real negative yield of 1.722%, according to the Financial Times. UK inflation was trending up, at about 0.5%. The March 2017 rate was 2.3%.
This, in turn, has led to increases in both supply and demand for linkers worldwide. The value of government bonds in circulation in 2008 was $12.9trn (€11.8trn), of which $1.03trn was in linkers, according to SPDR's Lesne. This year, the figures stand at $22.7trn and $1.93trn respectively. This slightly higher growth in relative terms "could be down to demand, or that governments believe they can manage inflation, so are happy to monetise the option by issuing likers at a low fixed coupon", Lesne says.
Eight months on from the UK's record-breaking auction, are investors likely to be well rewarded? "A lot has already been priced in, and we have seen a lot of flows into linkers," says Lesne.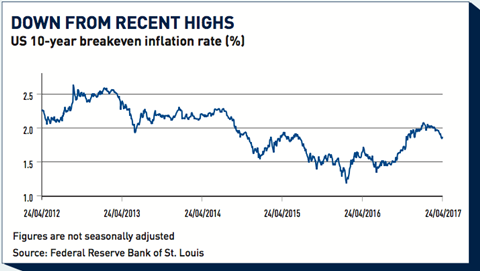 In April, the Federal Reserve Bank of Cleveland reported US 10-year inflationary expectations of less than 2%. US break-even rates are also down from recent peaks as stimulative fiscal measures from the Trump administration began to look less likely. The promise of infrastructure spending pushed break-evens up, and their increasing remoteness is pushing them back down. If the wall on the border with Mexico is not going to be built any time soon, other projects, too, may prove less likely to reach fruition.
While the Trump rally does seem to have lost momentum and initial market hopes for quick wins have tempered, there is, at least, a lingering expectation that the President's shift towards fiscal stimulus combined with upticks in US indicators such as the Purchasing Managers' index (PMI) represent a definitive break from the previous low-inflationary period.
Skerry explains: "We haven't fully bought into the US reflationary trade. But President Trump's fiscal stimulus will still have an effect – it's a new market dynamic," adding "the direction of travel for nominal bond yields is upward from here." Lesne agrees: "The US economy isn't booming, but it has the potential to grow at 2-2.5%."
Overall, this points to a country-allocation bias towards the US: "US sources of inflation are stronger than Europe's," says Lesne. "It's quite likely that inflation could surprise a little bit on the upside: earnings are good, PMIs are strong, there is less political uncertainty than last year, and linkers tend to go with a risk-on environment."
"Linkers have had a good run since the middle of last year, especially US TIPS"

Tim Foster
While US inflation has come off its recent highs, it remains "the only major market where breakevens are below core CPI [consumer price index inflation]", says Skerry. Ten-year breakeven rates are: US, 1.9; euro-zone, 1.2; Gilts, 3.1.
There is less excitement about the smaller European market where it is generally expected that inflation will drift up slowly.
However, there is both unease and a degree of dissent over the Gilt linker market. Fidelity's Foster says: "UK linkers have gone too far, and are now looking expensive." SLI's Skerry also says that Gilt linkers are looking expensive, as supply from the official Debt Management Office has been limited in the face of considerable market demand, so investors are having to pay a premium. "This supply/demand mismatch means that the behaviour of UK linkers can become detached from macro factors for periods of time," he adds. He does, however, say UK break-evens are not highly overpriced as a result: "Ten-years are at 3%, implying 10-year inflation of 2%, which isn't excessive."
But those pension funds with significant Gilt allocations may need to look at how they are being managed. Schroders estimated in 2016 that UK defined benefit schemes owned more than 80% of index-linked Gilts:
"The reality is that the vast majority of assets invested in liability-matching portfolios are managed on a relatively passive basis. Therefore, it is reasonable to assume that over 80% of the long-dated index-linked Gilt market fails to trade on a regular basis. Prices bear little relationship with any concept of fundamental value as the key buyers are relatively price insensitive, driven by risk management rather than return maximisation priorities."
Markets made a strong call on inflation last year. How that plays out over the course of the year, and how investors hedge the risk, will need careful consideration.
Government bonds: Euro-zone risks remain
1

2

3

Currently reading

Inflation-linked bonds: Inflationary trends stoke linker demand

4