Investors are seeing the value of alternative risk premia in diversifying risk
Key points
The rise of alternative beta and factor approaches are leading investors to look at hedge funds more critically
Investment consultants have encouraged the trend towards using smart beta products alongside hedge funds to diversify risk away from traditional equities and bonds
In any factor-based approach investors first need to be comfortable with the belief that there are systematic factors and risk premia that exist in capital markets
If hedge funds have a future it will be in a more challenging environment than the golden years over a decade ago
Alternative-beta exchange-traded funds (ETFs) and pan-European UCITS products are flooding the marketplace and forcing investors to look at hedge fund fees and alpha with a more critical eye. A lot of the returns in the golden days of hedge fund performance in the past were the result of a combination of leverage liquidity and factor bets alongside pure alpha, says Phil Irvine, a director of investment consultancy PiRho. "Many pension funds are asking whether it's worth paying fees for hedge funds that are struggling. It is surprising that some investors have kept hedge funds despite lacklustre returns," he says. What is the impact of smart beta and factor investing on the future of the hedge-fund industry?
During the past decade or so, it has been recognised that it is possible to untangle different sources of return and bundle them in a different way. "Fifteen years ago there was only a distinction between active and passive management. Today, we recognise that there is firstly, a market return, then factor returns and finally, pure alpha," says Dimitris Melas, global head of equity research at MSCI.
Investors have recognised that several of the themes or characteristics that used to be considered part of active management can also be reflected in indices giving rise to smart beta and factor investing. There is strong academic evidence stretching back decades that factors such as value, quality, low volatility, momentum and in the case of equities, size and yield, can produce outperformance over long periods. The question is how to access them without having to pay high fees.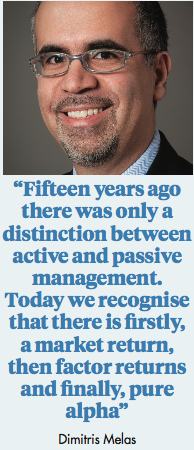 Investment consultants have encouraged the trend towards using smart beta products alongside hedge funds to diversify risk away from traditional equities and bonds. Willis Towers Watson, for example, has been a big proponent of creating systematic ways to capture traditional hedge fund risk premia, says Sara Rejal, global head of liquid diversifying strategies. But not all hedge fund strategies are suitable
for the systematic structured approach required of an alternative beta index. Hedge fund strategies that show strong clustering – that is, those that are less dependent on individual manager skill – are best suitable to alternative beta approaches, says Yazann Romahi, portfolio manager at JP Morgan Asset Management.
In the case of M&A arbitrage the universe is limited and it is clear the premium is being exploited so it is attractive for smart beta. Commodity trading advisor (CTA) funds that are reliant on momentum-driven strategies are also amenable to capture by systematic process. But in relation to illiquid strategies and credit, it becomes more difficult to capture alpha with alternative beta approaches. "Credit, for example, often has very idiosyncratic opportunities and the same with infrastructure, private equity and so on, which preclude smart beta approaches," says Romahi.
Willis Towers Watson went so far as to adopt a proactive approach to working with some hedge funds to develop cheaper approaches to harvesting some traditional hedge fund risk premia. While many hedge funds like to protect their reputation of being a skilled manager, for others it may make good business sense to be able to build up much greater assets under management through smart-beta approaches, even with much lower fees.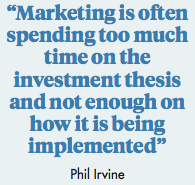 Rejal gives the example of merger arbitrage: "Three years ago, we thought a lot of event-driven hedge funds were just trading the merger spread. Simplistically, you are long and short the target and the acquirer with a spread you can clip – very simple stuff." The firm worked with a specific M&A event-driven hedge fund to create a simple systematic merger arbitrage product: "It has been very successful in both performance and asset-raising [more than £1bn (€1.1bn) ] because it really made sense," says Rejal.
Alternative beta approaches by different managers may be based on the same academic theories but products can show very different performance, unlike the case in traditional cap-weighted index funds offered by different managers. Paamco, for example, sees a lot of dispersion in alternative beta products which reflects the way the underlying factors are being implemented in the markets being addressed, instruments issued, frequency of rebalancing, and filters to adjust risk. These ultimately lead to differences in performance says Lisa Fridman, global head of research at PAAMCO.
Indeed, argues PiRho's Irvine, investors cannot escape from the fact that the alpha that is being generated is, in part, dependent on how the manager interprets and implements factors such as how often rebalancing occurs. That is how they take academic results and turn them into investment products. "Marketing is often spending too much time on the investment thesis and not enough on how it is being implemented," Irvine says.
In any factor-based approach, investors first need to be comfortable with the belief that there are systematic factors and risk premia that exist in capital markets. These could be through behavourial biases of many investors, or as the result of investment constraints. It is then important to use the right tools to capture each of the risk premia, argues Melas.
"Investors can get exposure to factors through hedge funds and through quant managers," he says. "But why pay active fees for systematic factor exposure?" That is ultimately the premise of the rapid growth of smart beta. As a result, hedge funds and quant funds that charge active management fees for traditional factor exposures may not be sustainable. "Some quant managers have predominantly been relying on risk premia," says Melas. "They are often rebranding themselves as smart beta managers to remain relevant."
In contrast, themes like reversal effects changing news sentiments and signals based on 'big data' may be themes that quant hedge funds can capture through short-term trading that index approaches would find difficult.
Those hedge funds that are offering products based on high-conviction concentrated portfolios, or using illiquid instruments, or delving into idiosyncratic markets are never going to be competing with systematic indexed approaches that rely on liquid markets with high capacity.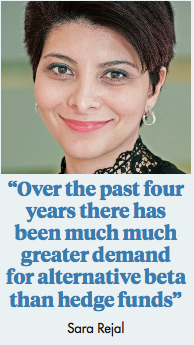 Consultants and fund of funds argue that hedge funds and smart beta approaches should be seen as complementary to each other. If pension funds are unconstrained and have high return targets, Willis Towers Watson would probably create more hedge fund-based solutions for them. The more constrained they become, the more attractive becomes the smart beta options: "These are complementary strategies and they should have both," argues Rejal. One of the big differences is return and risk expectations. Hedge funds are expected to generate much higher returns and hence can justifiably charge higher fees in most cases: "With alternative beta we would expect cash plus 3% or 4%, while with hedge funds we expect cash plus 6-8%."
If hedge funds have a future, it will be in a more challenging environment than the golden years over a decade ago. "Over the past four years there has been much much greater demand for alternative beta than hedge funds," says Rejal.
She adds that pension funds think about cost complexity and trust. Hedge funds unfortunately have lost the trust of investors. They have not been giving pension funds the cash plus 7% return they were expecting. But the hedge fund portfolios have been much more expensive, much more complex and less liquid. "Alternative beta has just allowed us to bring honesty to hedge fund returns and be able to access some strategies more efficiently," argues Rejal. Those hedge funds able to show true alpha will still survive and even prosper. For others, the future looks grim.
Hedge funds: No longer out of reach
1

2

Currently reading

Alternative beta: Facing new challengers

3

4

5

6

7