Nordic investors still think hedge funds have a place in their portfolios despite concerns about underperformance and high fees
Key points
Nordic pension funds continue to prize the manager skill that hedge funds can offer
Performance net of fees and risk management are key
Hedge funds also look enticing in absence of other attractively valued options
Several high-profile pension funds have exited hedge funds in recent years. The most notable include CalPERS, New York City Employees Retirement System and the Netherlands' PFZW.
The reasons include a combination of underperformance and high fees. "Last year was a disappointing year for hedge funds," concedes Cecilia Thomasson Blomquist, chief investment officer at Sweden's PP Pension. However, she says "we expect to keep our allocation reasonably constant, although we have reduced exposure from previous years because of performance concerns".
Even so, figures for the hedge fund industry as a whole indicate that assets under management continue to grow – from $2.8trn in 2015 to $3.2trn (€2.4bn to 2.7bn) for the year to date.
Clearly, hedge funds have retained their proponents and even with the concern of poor performance, PP Pension retains a 10% allocation to them. There are strong reasons for this popularity.
Given the range of hedge funds strategies, within each, there are different levels of skill on offer. Skill, some argue, is most likely to be found in the hedge fund world.
It is this skill that Thomasson Blomquist is intent on tapping: "Skill is hard to replicate passively," she says. "It's not a set of factor exposures you can buy from an investment bank. And it is this skill – pure alpha rather than market beta – that we want to use hedge funds to access alongside the benefits of diversification."
If one can tap into this skill, fees can be a secondary concern as investors hope higher charges will be more than compensated for by the excess return of high-alpha managers: "You always want to have lower fees but if you want to access manager skill you have to pay for it," continues Thomasson Blomquist: "It's comparable to a firm employing a good CEO. You want to employ someone who cares about your money – who has a personal interest in positive outcomes."
Ulrika Bergman, chief investment officer of Sweden's Nobel Foundation agrees, arguing: "While we negotiate a lower rate as much as we can, the main thing is performance net of fees. Outperformance is worth paying for." Nobel has about 25% of its assets invested with hedge funds, all of which are externally managed.
It is not only outperformance that investors reckon is worth the price of hedge funds. "We believe the asset class has compelling features offering both diversification benefits and good risk-adjusted returns," says Bergman. Diversification is also important within the hedge fund allocation. She adds: "While there have been poor performers in the portfolio, this has been more than compensated for by our outperforming holdings, so it is important to diversify hedge fund allocation."
Staffan Sevon, head of listed investments at Finland's Ilmarinen Mutual Pension Insurance Company, says a focus on a risk-balanced portfolio rather than spectacular returns is where good hedge fund deployment comes into its own:
"We don't try and go for 15% returns but instead emphasise the importance of risk management and have achieved a steady return of about 5% with limited market beta exposure."
There is also the question, if one quits hedge funds, where to put the cash? Passives are increasing in popularity, not least because they come much cheaper. But as Thomasson Blomquist points out, alpha is almost by definition difficult to replicate through this route.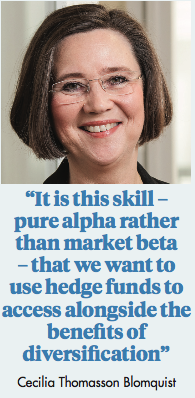 There are other reasons for investors to allocate to hedge funds other than seeking alpha. In the 1970s and 1980s, funds could generally meet their obligations by simply stocking up on government bonds which at certain points offered double-digit returns.
This is no longer the case. Investors have had to cast their net wider, making heavy allocations toward alternatives. In a post-crisis world with the effects of quantitative easing hanging heavy on markets, many conventional asset classes – and even some unconventional ones – look expensive.
Ilmarinen's Sevon says the absence of enticing alternatives will continue to ensure that hedge funds retain an important role in their portfolio: "We expect our allocation to increase in the immediate future. This is driven by the need for diversification and also the lack of interesting alternatives. Equities and fixed income look expensive with low interest rates depressing returns. Some parts of the illiquid markets too are expensive – and, anyway, you can't put everything in illiquids."
Thomasson Blomquist also distinguishes between the role of hedge funds and that of other alternatives within the PP Pension portfolio: "We mainly invest in liquid strategies [in hedge funds], for instance, through CTAs, although there are some longer-term arbitrage opportunities. We are seeking skill rather than taking passive premia from illiquidity. While we do invest in long-term illiquid strategies, we believe that this can be accessed more cheaply than through a hedge fund manager."
If you have decided to allocate to hedge funds, how do you ensure that you get the benefits you are paying for? The most sought-after funds may be shut; the best managers may not even want your money. The Nordic experience seems to be that reputation and scale make all the difference.
Nobel's Bergman says: "It's likely that we have been able to access strategies that have been closed to others through our good name." Nobel invests in a number of strategies all externally managed. The main part is multi-strategy quant-driven and the hedge fund allocation has performed better than its benchmark which is the HFRI Fund of Funds index that returned 5.6% year to the end of September in US dollar terms, according to Bergman.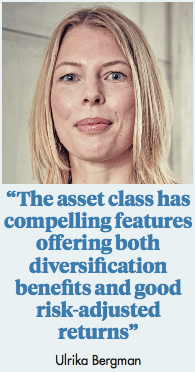 Knowing the manager is a big advantage in fund selection, Thomasson Blomquist says. "We have therefore tended to focus on local managers where this is easier to achieve".
Sevon also attributes his hedge fund allocation performance to strong selection and management of the foreign currency exposures that often come with hedge funds: "Finnish pension funds don't seem to have had the same bad experience with hedge funds as others on the continent. This may be a currency effect – we have been very effective at managing our exposure to dollar-denominated assets – and also the ability to benefit from economies of scale in this market which allows decent diversification combined with a strong purchasing organisation supporting this."
In addition, Ilmarinen's hedge fund exposure is mainly managed internally. It has about 2% of its assets invested through external hedge funds, in addition to which it has an internal fund which manages "a substantially greater part" of its assets, says Sevon.
The internal fund runs multiple strategies across a diverse number of asset classes such as fixed income, equity and commodities. "There are certain strategies we don't utilise in our internal hedge fund allocation," he says "such as market neutral, which is done in the long-only section of the portfolio. We also don't do niche areas such as real assets and insurance, as these are highly specialised."
While Sevon concedes that "fees are a concern", the internal resource helps mitigate this. A focus on cost also means Ilmarinen does not invest in funds of hedge funds, "which mean an extra layer of charges".
Investment pundits are often quick to call the death-knell of one asset class or another and the bell has tolled long and loud for hedge funds recently. It does, however, look like the requirements of many pension funds mean this is more than a little premature.
Hedge funds: No longer out of reach
1

2

3

4

5

6

7

Currently reading

Nordic investors: Keeping faith