With spreads so tight, high-yield has become even more of a bottom-up stockpickers' market than usual. Martin Steward looks for themes in the top-performing portfolios
A couple of years ago, the UK finance regulator questioned whether investment products that suffered significant losses ought to call themselves 'absolute return funds'. So when will the fair-trading police get on to 'high-yield bond funds'?
Jorgen Kjaersgaard, senior vice-president and high-yield portfolio manager at AllianceBernstein, puts the issue succinctly: "In my view, the index simply isn't giving you real high-yield."
At a good 30-40 basis points under 4%, the market is certainly testing the semantic elasticity of the word 'high' – and some parts have already snapped it.
"German corporates look expensive to us," as Holger Mertens, portfolio manager in European corporate bond strategies at Lazard Asset Management, puts it. "Investors get carried away with the simple fact that they are German corporates and are not looking at fundamentals anymore. Fresenius is a solid name, but it has a BB credit rating with a 2% yield."
All three of our featured portfolios yield more than the indices, as one might expect – Lazard and AllianceBernstein by about 70 basis points, and ING Investment Management by some 200bp. More interestingly, all three, while willing to admit to following top-down beta plays at various points over the past five years (subordinated bank paper following the ECB's first round of LTRO, non-domestic peripheral industrials for the long 'whatever it takes' spread recovery), now say that the only way to squeeze out extra yield is to focus on idiosyncratic issuer risk. Even more than usual, high-yield is a stockpickers' market.
"I think we are in an interesting transition period right now, coming from a time when systematic risks drive performance to a time when idiosyncratic risks are back on the menu," says Mertens.
Fate
Kjaersgaard says that, while his portfolio has outperformed the benchmark through 2014, it lagged a lot of peers in the first half of the year who stuck with the BB financials beta gamble, despite a lack of transparency into non-performing loan exposure.
"At the beginning of the year I decided to focus on bottom-up and almost close my ears to all the macro that would feed into that BB rally," he reveals.
The result is a portfolio in which the BBBs have an average spread that is wider than 80% of the BB universe, and the single-Bs have a lower average spread than the single-B universe. In other words, the overweight in BBBs stretches for some yield, while the portfolio's meaningful overweight in single-Bs is in names that are much less risky than the average single-B. In CCC itself, the portfolio is underweight.
"If we had average prices below par, 3% growth and 2% inflation in Europe I'd own a lot more CCC," says Kjaersgaard. "But we don't."
One typical holding from this approach is the BB+ rated perpetual bond issued by German brick manufacturer Wienerberger, which is currently yielding 4.5%. The company is benefitting from a pick-up in infrastructure spending, but management continues to de-leverage – after showing itself to be conservative in the past when it pulled out of the UK just before the financial crisis.
"The company just launched an exchange offer for €300m out of the €500m issue," says Kjaersgaard. "Terms look favourable and structured to draw consent, and I would assume the rationale is to extend the 50% equity treatment on the extended portion. That's good news for the instrument as it could imply that the company intends to repay €200m at the first call date in 2017."
At the moment, Kjaersgaard sees his job as delivering a genuinely 'high' yield while avoiding the very real risk of default that the indices represent. Even more than usual, high-yield is now about managing the downside.
"We still see a lot of money flowing in searching for yield, which brings a lot of new issuers to market that are not always the highest quality," as Sjors Haverkamp, head of European high-yield at INGIM, puts it. "This offers a lot of opportunity for outperformance if you do your credit work properly and avoid the blow-ups."
Mertens agrees: "It makes much more sense to focus on downside risk today because, frankly, the upside risk is getting more and more limited."
On the other hand, long-term alpha is certainly going to come from having dry powder when the market mood turns – as it did during July. This makes liquidity very important.
All three of our featured portfolios enjoy the virtue of relatively small size in an illiquid environment: the Lazard strategy runs just €50m; AllianceBernstein runs €250m; even INGIM's €730m is not huge, and before picking up some opportunities from the summer's volatility it had 12% of its assets in cash.
"We like to run the strategy with a slightly higher cash level so we can act as our own liquidity, holding our fate in our own hands," says Haverkamp. "Liquidity would be top of our list of concerns at the moment."

With portfolio yield at almost 6% and a tilt to single-B and CCC, is INGIM simply barbelling cash against default risk? Not really. To start with, Haverkamp notes that a rating agency's CCC may not be CCC according to INGIM's internal ratings. More interestingly, a lot of these lower-rated credits are held as short-dated 'yield-to-call' positions – that is, bonds that are expected to be called early by their issuers, but trade at a yield that compensates for (some) of the risk that they get left out.
"One theme in our portfolio is yield-to-call paper that was issued three or four years ago with very high coupons," says Haverkamp, who describes these as "cash-like" and uses them as a place to park some of his cash balance. "These coupons are still rated CCC, but when you speak with the CFO you find that he or she is just counting down the days to when the bond will be callable."
AllianceBernstein's Wienerberger position could be characterised in this way, too, as could many of the bonds it holds in its overweight in UK-issued euro and sterling issues. These were around 50-60 basis points cheap relative to equivalent continental European names before the sell-off in July, and are even cheaper now.
"We needed to trade around these positions during the summer because the outflows were severe – from the US because of the liquidity and from the UK probably because of talk about rate rises," says Kjaersgaard.
"We increased our positions because we think the sell-off based on a rates view is completely wrong: you are sitting on bonds trading at around 108 with call prices around 104-105 and two years to the next call date; many are improving credits, and are very likely to call; and even if the Bank of England does hike, how far will they go in two years – 75 basis points? We can buy these bonds with a premium of more than 70 basis points. To me that's almost a no-brainer."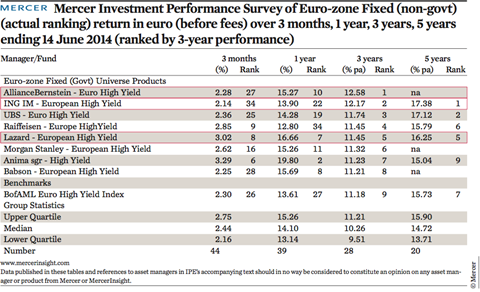 This is where the AllianceBernstein portfolio holds its few single-Bs and CCCs, and this is another reason to go to the UK (and indeed the US) for ideas: as well as being cheap, they are plentiful, which enables Kjaersgaard to diversify the credit and illiquidity risk.
At Lazard, although his portfolio yields about the same as AllianceBernstein's, Mertens is not so keen. He agrees yield-to-call is "a kind of cash proxy" and says that during 2014 he has been "fairly bullish on credit" and willing to run "with higher beta. That involves getting rid of some of the yield-to-call positions and getting into new issues that are of interest," he says.
This expresses itself as a regional move in the portfolio, particularly into Spain and eastern Europe, and particularly in the telecoms and media sector.
"From Q4 2013 we have been recycling some of the positions we had in core cable names like UPC, Unitymedia and Ziggo into Eastern European operators that have started issuing – names like SBB Telemach in Serbia and Cable Communications Systems, whose main market is in Romania," Mertens explains. "These give you some yield pick-up, but they operate state-of-the-art networks. Some of the core names have already started leveraging up, as we see in the Liberty Media complex, so this also offers a route back into some deleveraging stories."
These peripheral European exposures are perhaps a higher-conviction version of what can also be seen at INGIM and AllianceBernstein, alongside their lower-rated yield-to-call paper.
For example, Haverkamp talks up Italian and Spanish firms with "solid business profiles", such as Cerved Information Solutions, Italy's largest credit information service provider. Similarly, among AllianceBernstein's top 10 holdings is TeamSystem, the payroll and accounting software provider that is the Italy analyst's favourite pick. Kjaersgaard likens it to Germany's Techem, in that most of its revenues come from existing contracts, but it yields 200 basis points more.
There is also agreement among the three portfolio managers about what not to own – generally the bigger, more liquid BBBs and BBs that dominate the benchmarks, many of them fallen angels.
"Right now we just don't think BBs are that attractive, although they have been bought a lot by investment-grade accounts, or by pension funds and insurance companies looking for a higher yield," says Haverkamp. "These companies have their houses in order, so boardrooms are now looking out for ways to please shareholders. Paying a dividend is higher on the agenda than it is for most single-B and CCC credits."
Issuers like Fiat, Telecom Italia, Heidelberg Cement and Lafarge were good for these funds three years ago, but no longer. Indeed, Kjaersgaard expects the coming sell-high-yield sell-off to be concentrated in BBs and bigger single-Bs, simply because they are trading at unsustainably low yields, often with less-than-stable credit metrics.
"The very top issuers are precisely where we have our underweights," he says, pointing out that his portfolio holds only about 8% from the top 25% of the benchmark. "This is why we are so negative on names like Fiat, now – which is more than 6% of the market and 2% of our index, but we are short via the CDS. It has deteriorating credit metrics and they don't have a strong economy to take their exports."
Where these managers do buy from these kinds of issuers, it tends to be hybrids from the investment-grade utilities sector, where spreads look like standard BBs but with four times less default risk.
Progress
Still, what the standard large-issue BB bonds do deliver into a portfolio is a high level of convexity and beta – precisely because they are at the mercy of flows. They are used as easy routes into European high-yield exposure, as well as being big proportions of ETFs. So has the beta-hungry portfolio at Lazard favoured these bonds?
Not exactly. Fiat, specifically, can still be found in Merten's portfolio, and he is more willing to point to potential credit catalysts such as recent rumours of a Volkswagen takeover, but ultimately "it's not a name that we feel should be a strong overweight anymore".
His reasoning echoes Kjaersgaard's: Fiat is too exposed to Italy and Brazil, just as German car makers are too exposed to China; he thinks regional diversification is available if you buy suppliers, instead.
"Motherson Automotive Technologies is a recent issue we've liked, as well as Gestamp Automoción out of Spain," he suggests.
Nonetheless, there are some positions that hint at greater readiness to ride the beta of some bigger fallen angels. For example, whereas AllianceBernstein's top position is a Wind Acquisition bond – held, according to Kjaersgaard, to balance the risk of his "very big underweight" in Telecom Italia – Lazard's top position is a 5% allocation to Telecom Italia itself.
It has had a great run since its downgrade, Mertens concedes, but there is still potential for it to benefit from consolidation in the local telecoms market, following the Irish and German examples, as well as further catalysts for deleveraging. "They are more likely to sell rather than buy assets," he argues.
But these differences probably should not be over-emphasised. After all, the most significant yield pick-up play in all three portfolios is also a shared one: financials, and particularly subordinated and additional tier-1 capital.
"We think progress is still to be made in the banking sector, through the stress test, and that that will come through quite favourably later this year," says Haverkamp at INGIM. "The sector still has work to do to bring it back in line, whereas some other sectors, like telcos, have already made significant progress."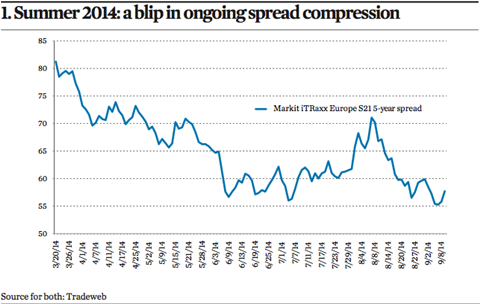 Mertens at Lazard notes that 20% of his portfolio is in the sector, and he credits that with some of its ability to maintain its positive relative performance over the past five years.
"You could say that this was a simple beta play, but then again there were some bumps in the road – SNS Reaal last year, Banco Espírito Santo this year," he says. "When they entered the index we decided that they fit our culture and expertise because subordinated financials is a very idiosyncratic, bottom-up asset class."
In general, Mertens sees a picture of capital ratios improving. Weak profitability is of greater concern to equity rather than bondholders. In particular, Commerzbank is a significant holding, represented by old-vintage subordinated tier-1 paper that is on its way to becoming tier-2.
"These will eventually lose their regulatory equity credit, at which point the banks are likely to call them," he explains. "This pool of opportunity will therefore get smaller and smaller, so that's a mix of improving fundamentals and particular instruments that we like."
Mertens is also prepared to buy peripheral banks, such as senior paper in mid-tier Italian lenders or additional tier-1 capital from "national champions with a retail-banking focus", such as BBVA, which still yields 5.75%.
Kjaersgaard's positioning in financials at AllianceBernstein is very similar: a 27% allocation, cited as a balance against the lack of big, high-beta BB issuers and the overweight in short-dated yield-to-call, within which there is a 10 percentage point underweight in senior. While he too has becoming "more willing" to venture into senior paper from the peripheral banks, the main focus, again, is old-vintage tier-1.
"We have been buying these for the better part of two years, and it has been one of the best trades we've done: we found liquidity in that just before the market really started buying into it," he says. "This has been concentrated in the UK, where our biggest positions have been RBS, Lloyds and Nationwide."
Ultimately, it is difficult to identify systematic risk exposures in our three featured portfolios that explain all of the difference in return profile revealed by the performance tables. There are some notable regional tilts in each portfolio, and there is certainly a split between the yield-to-call play in the AllianceBerstein and INGIM strategies and the greater tolerance for liquid high-beta positions in the Lazard strategy; and overall, credit-rating exposure runs from fairly aggressive at INGIM to fairly conservative at AllianceBernstein, with Lazard somewhere in-between.
But as we have seen, these portfolio positions are only modestly active and stock selectionseems genuinely to be the source of yield pick-up against the market, and also yield differential between INGIM's portfolio and the other two. Starting from today's tight spreads, while there may not be much return available from high-yield over the next few years, there will probably be a lot of alpha to be won – and lost.
High-yield Bonds & Loans: Revolution from above and below
1

2

3

4

5

Currently reading

High-yield Bonds & Loans: Low yields, high alpha

6