Dewi John wonders whether global politics could finally end the lower-for-longer interest rates environment
At a glance
• Issuance in high-yield bonds recovered strongly after the financial crisis of 2008.
• The level of issuance in the US is substantially higher than in Europe.
• Quantitative easing has made income investors go further in their search for yield.
• Onerous rules have hit issuance volumes.
Just as you get used to one new normal another one comes along – or at least threatens to.
For the past half-decade, pundits have heralded the end of the 'lower-for-longer' interest rates environment, if not the three-decade bond bull run. But lower persistently stayed for longer, and the bull ran on.
Now, however, markets are grappling with the possibility that decades of orthodoxy are about to be jettisoned. Donald Trump's commitment to a massive infrastructure programme could shift rates up significantly. So what has been driving the market, and will the shift in global politics pull the rug from under high yield?
High yield has proven a resilient cornerstone of investors' portfolios over the past eight years. Issuance troughed in 2008 as credit markets gridlocked in the financial crisis. US issuance was down to $50bn from $135bn the previous year, while Europe's decline was even more precipitous – down to $3bn from $26bn.
US high-yield bonds lost more than a quarter of their total value over 2008, but bounced strongly with a return of more than 50% the following year. Issuers rushed back to the market to take advantage of historically low rates, and investors followed. In 2009, the market was almost where it left off in the US and Europe, which had a sharper rebound, began to play catch-up.
The US market, both in terms of volume and number of issues, peaked in 2012 (see figure). Although volumes have subsequently declined year-on-year, 2016 was still 45% above 2007. Europe peaked later, in 2014. Since then, both volumes and deal size have been down. Debtwire, a specialist information provider, records both an 18% year-on-year drop from 2015 in Europe, and average bond size falling from €524m to €418m. Debtwire ascribes this shift to the absence of large foreign issuers, such as Canada's Valeant and Japan's SoftBank, that came to market in 2015. The US was subject to similar trends, with a 17% decline over the year. Volumes in both markets, though, are still well above pre-crisis levels.
Tim Hynes, head of US research at Debtwire, says last year's low US issuance was "primarily caused by the decline in oil prices", with the sector being a large part of the market.
There is a fairly persistent one to two years' lag in the historical issuance cycle between the North American and European markets, observable in the chart. While it is tempting to speculate on macro factors, such as belated pursuit of quantitative easing from the European Central Bank (ECB), according to Sebastiaan Reinders, global high-yield senior portfolio manager at NN Investment Partners, this could just be an arbitrary pattern in the data:
"There are no structural factors driving this. What happens often is that a local market shuts down for a bit, say, during the sovereign debt crisis in the EU or the energy sell-off in the US. And when the market stabilises, the demand for the asset class returns and there are a number of companies waiting for a good moment to issue orrefinance. This then creates a spike in issuance volumes."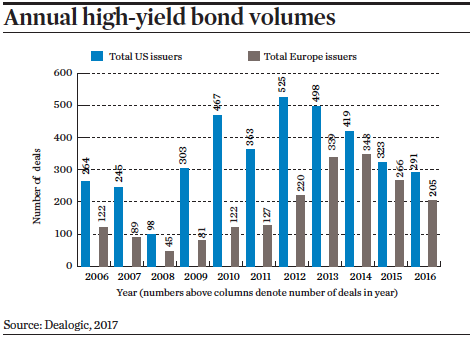 Nevertheless, there have been evolving trends from which investors have been quick to benefit. The financial repression of quantitative easing has made income investors cast their nets further in the hunt for yield, as 10-year Treasuries dipped periodically below 150bps. Central banks acting as buyers of government and, in some instances, investment-grade bonds have raised prices and depressed yields.
Nick Smith-Saville, head of European credit research at Debtwire, says: "It feels like a market where investors want established names. The lower end of the market is increasingly being provided for by alternative finance, offering more complex and 'hairy' deals."
David Fancourt, senior credit fund manager at UK-based M&G Investments, adds: "One would normally expect strong demand to drive down quality, but the effects of the ECBs' quantitative easing programme have encouraged investment-grade buyers to stray into the upper reaches of high yield in search of extra returns. However, they have been constrained from taking the next step to B or CCC."
Strong demand at the top of the market has combined with a drop-off at the lower end, with 55% of issuance at BB, and only 4% at CCC – the lowest credit rating for high yield. This has created excess demand for quality, with lower-rated corporate debt finding conditions tough.
This has pushed yields down, with a progressive decline of the weighted average coupon to 5.3% in the European market. Indeed, half of European issuance is at 4% or less.
In conjunction with supply-side drivers, several specific factors have made the bond market less attractive as a source of capital.
Volumes have been hit by more onerous issuance rules, forcing greater disclosure on companies coming to market. This makes the leveraged loan market, with comparable rates but less required disclosure, relatively more attractive. "Loans and bonds are similarly priced, and the former come with less call protection, so private equity companies [a significant contributor to issuance historically] have tended to go that route," says Fancourt.
Perhaps surprisingly, important political events over the past year have not made a lasting impression on markets. UK issuance collapsed in the run-up to June's Brexit vote, falling by almost half to €9bn year-on-year, according to Debtwire. Not a single bond was placed in the first quarter of last year and only €1.9bn-worth in the first half of 2016 versus €11.3bn in the first half of 2015. However, the post-Brexit meltdown that most economists had warned of failed to happen, and markets bounced sharply.
M&G's Fancourt comments: "The election of Donald Trump will likely have the most significant effect – for instance, potential higher interest rates and tax changes."
Whatever else he represents, Trump's economic agenda is a mixed picture for fixed-income investors: tax cuts combined with higher infrastructure spending.
However, Reinders at NN is sanguine about the package: "Some Trump policies are likely to be credit-negative for certain areas of the US market as we, for example, have the potential for trade wars and the renegotiation of the North American Free Trade Agreement (NAFTA). Tax and infrastructure spending will drive pricing and inflation expectations in the US market."
And, while Trump's infrastructure commitment looks bad for fixed income on paper, infra investors know that a commitment to spend is different from a shovel-ready project, and the time between the two can be considerable. "Volumes are up 23% year-on-year at the start of the year. This is being driven by an expectation that the economy will get better under Donald Trump, that interest rates will rise as a consequence, and so people want to come to market before this happens," says Debtwire's Hynes, adding, however, "it's likely that, as the market perceives that tax cuts won't feed through so quickly, this will level off."
The market is generally as cheered by the promise of corporate tax cuts as the village drunk is by the promise of extended pub opening hours. But for high yield, it looks like being a more complicated picture. While the market's intrinsic dynamic is robust and relatively predictable, it's unlikely it will be able to shrug off external events this year quite as easily as last.
Investing In High-Yield Bonds: Is the party winding down?
1

2

3

4

Currently reading

High-yield bonds issuance: End of the old new normal?

5