A recent paper from Pictet Asset Management's economics, fixed income and bank equity research teams – Shifting sands: How a Banking Retrenchment is Reshaping Europe's Corporate Bond Market – paints a picture of fast-diminishing liquidity, but also the stirrings of an innovative response to the challenge.
Its authors find that the financial crisis of 2008 triggered a chain of events that promises to transform the market. First, bonds are becoming the funding vehicle of choice for more and more companies as regulation forces banks to scale back lending.
At the same time, regulation is also disrupting banks' market-making functions: Basel III is increasing the amount of capital they need to hold against risks, including credit risk; the Volcker Rule in the US will ban banks from trading on their own account, while, in Europe, "a myriad new rules are encouraging banking institutions to retrench from market-making activity", the report says; and the Markets in Financial Instruments Directive (MiFID II) will require broker-dealers to collate and report greater detail on bond market trades in order to improve OTC securities transparency, raising the costs of providing liquidity.
"Credit Suisse is a high-profile example of how the new rules can precipitate a radical change in a bank's business model," the authors write. "Soon after the new regulations were unveiled, the Swiss bank told regulators the transition to the new capital adequacy rules would cause risk-weighted assets on its fixed-income trading book to almost treble from CHF74bn to CHF209bn (€61bn to €171bn). It consequently pared back its fixed-income trading operations. Basel III also contains measures that make it more costly for banks to take on counterparty credit risk. As a result, they are further incentivised to shed debt in a bid to cut their holdings of risk-weighted assets."
That this is occurring as retail investors build up their holdings of European corporate bonds is worrying, the authors go on to argue. "Should enough of these investors choose to cut their exposure at the same time, it could create bottlenecks in the secondary market."
The paper points to the fact that, while bid-offer spreads have narrowed from their extremes during the 2008 crisis, they remain almost twice as high as before the collapse of Lehman Brothers; the same pattern can be seen in the evolution of the corporate bond market liquidity premium, determined by subtracting a bonds' CDS spreads from its yield spread.
Worrying as this is, the Pictet reseachers note that such conditions open a great opportunity for the development of an automated trading system for European corporate credit, after years of abortive attempts, usually quashed by traditional intermediaries fighting to retain their market share.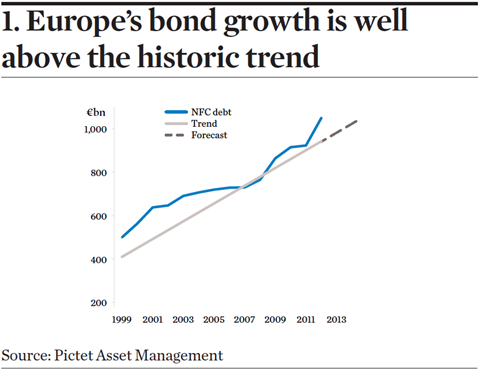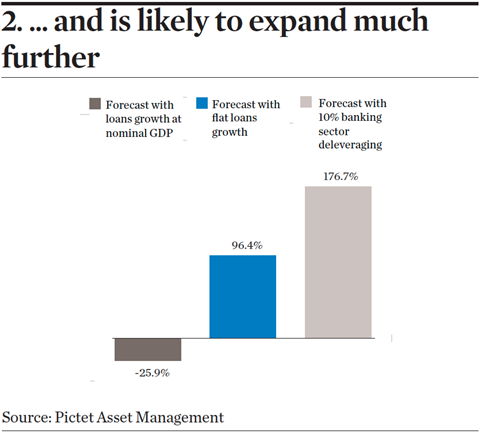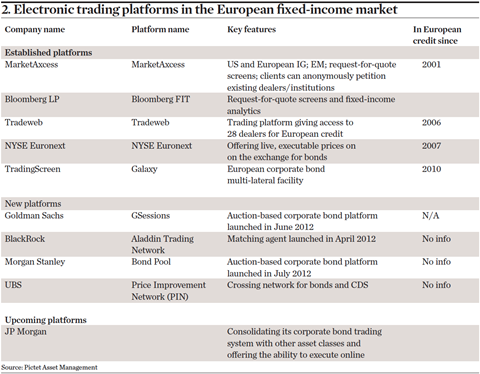 The task is not an easy one. Unlike equities, corporate bonds are not standardised instruments. They differ greatly in issue size, maturity, rating and their ranking in a company's capital structure. A firm will typically issue just one or two lines of stock but numerous types of bond. Europe is home to some 150,000 tradeable corporate bonds but only 6,000 equities, the authors observe.
Nonetheless, they report that a number of electronic bond marketplaces have been launched over recent years, by "a surprisingly broad range of market participants, including exchange operators, hedge funds, banks and asset management companies". These enable investors to transact against firm prices, rather than indicative bids or offers that may not be executable; they are not restricted to dealers; and they could allow bonds to be traded in smaller volumes than is possible today.
While most have focused on the US market, Europe is fast becoming "a breeding ground for such platforms". A McKinsey & Co report from September 2013, Corporate Bond E-trading: Same Game, New Playing Field, suggested that between 2011 and 2012, the proportion of trade in European corporate bond markets carried out on electronic platforms grew from 22 to almost 30. Tradeweb alone saw the volume of European investment-grade bonds traded on its platform increase from just over €6bn in 2006 to almost €100bn in 2012.
As the Pictet paper's authors conclude: "At a time when bond issuance is growing, and greater transparency is a regulatory requirement, the expansion of electronic markets would be invaluable."
Investment Grade Credit: Banks or supermarkets
1

2

3

Currently reading

Investment Grade Credit: Electronic liquidity taps open up

4

5

6

7