Oil price impact on high-yield
The oil price fallout in high-yield has so far been contained within sub-sectors of US energy. Joseph Mariathasan finds that this does not detract from overall relative value and may have opened up energy sector value opportunities
Predicting the path of the oil price has always been difficult – but virtually no one was calling for it to halve before the summer of 2014. That kind of unpredictability makes life hard for high-yield bond portfolio managers because some 15% of the US market is taken up by the energy sector and it has also been the fastest-growing sector, with 20% new issuance during 2014. 
"Everyone coming into last summer had a lot of energy, including us," says Sabur Moini, high-yield portfolio manager at Payden & Rygel. "Oil prices had started to decline in the latter part of the summer, but it was after the OPEC meeting in late October, when it decided not to cut production, when oil prices fell dramatically and high-yield bond prices fell with them."
According to its oil and gas analyst Simon Redmond, rating agency Standard & Poor's now uses a base-case scenario for Brent Crude of $55/bbl for 2015, $65/bbl for 2016 and $80/bbl for the long term. 
"We need to have a price assumption so we can compare companies on a consistent basis," Redmond explains. "In the short term, pricing is pretty close to the forward curve but longer term, we look at the marginal cost of production."
At a glance
• Plunging oil prices have ravaged some parts of the US high-yield energy sector, which represents a large share of the market.
• The shale boom saw higher leverage applied to projects that break even at much higher oil prices.
• Refiners and pipeline providers' bonds have been sheltered but E&P and oilfield services issues have suffered badly.
• However, many E&P companies have flexibility to manage cash flows, not least because turning to the high yield market over recent years has improved the stability and maturity profile of its debt.
• Overall, high-yield offers attractive relative yields, and the energy sector may be offering a value opportunity.
But the strategic importance of oil means that politics as much as economics is a key driver of the price, and volatility can be extremely high.
By the end of February 2015 spot Brent was already back above $61/bbl, but the forward curve as far out as mid-2018 had fallen below $75/bbl. 
"The energy sector is adjusting to the realisation that $100 oil forever is not in fact the 'new normal' it had been assumed to be for the last couple of years," as Claire McGuckin, portfolio manager at Kames Capital, puts it. 
It remains to be seen whether or not that turns out to be yet another bad forecast. And, in any case, it is arguably the volatility of the oil price that causes problems rather than its newly low level. "Companies and investors need stability in prices, whatever the level, as that gives a baseline on which confident projections can be made," as Moini puts it. The more useful exercise for high-yield investors interested in the sector now is to try to understand the nature of their exposure and the credit fundamentals of its issuing companies.
"US high-yield issues are predominantly associated with the fracking market, although there is also a Canadian oil sands company and a handful of emerging market issuers," says Moini.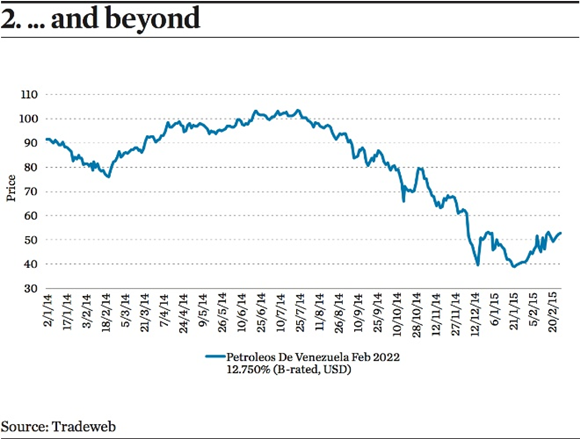 The impact of the shale oil and gas boom in the US, driven by new applications of hydrofracturing and horizontal drilling, led to substantial leverage being applied to projects that broke even at oil prices well in excess of today's. The oil price collapse knocked 20-30 points off the price of some of the resulting bonds, equivalent to more than 700 basis points of extra yield. 
Bonds issued by refiners and pipeline providers have held up well, relative to those from exploration and oil services companies, with services taking the biggest hit.
"Just as supermarkets squeeze their suppliers, we anticipate oil margins at oil services companies being squeezed by oil explorers and producers that are seeking to cut costs," says Kevin Loome, head of US credit at Henderson Global Investors. "Daily prices for rigs are already tumbling and many producers are announcing big cuts to capex budgets as they seek to preserve free cash." 
Nonetheless, S&P has only taken negative rating action on seven US oil services companies out of 38. This is partly because many of the smaller issuers were never rated as highly as they might have been, solely on the basis of their balance sheet strength, Redmond explains, for precisely the reason that the ratings took future oil price volatility into account. 
But might it also suggest that the market reaction has exceeded the deterioration in credit fundamentals in these sub-sectors? As Moini points out, because the worst of the sell-off in the sector happened following the October OPEC decision, the low seasonal liquidity in November and December probably exacerbated price volatility. "In February and March, liquidity is usually higher so if the oil price had fallen then, we may not have seen such a big reaction," he suggests. 
While the oil services sector has been the hardest hit, it only accounts for 14% of the US energy sector (or 2% of the overall US high-yield market). It is the independent energy sector that accounts for the major share – 57% of US energy high-yield and 9% of the total US high-yield. This sub-sector has also suffered, with yields rising more than 560 basis points over the past six months, according to BlackRock. 
There are some grounds for optimism for the exploration and production sector. McGuckin points out that while some fields are uneconomic at current oil prices, many others remain viable, with attractive internal rates of return – especially given the cost rebasing that will occur, and her expectation that oil will be back to $75/bbl within a year. 
"Given hedging and liquidity profiles and the rapid pullback in capex that is occurring, there is flexibility for the exploration and production [E&P] companies to adjust," she says. "While financing costs for more marginal projects would be higher, in a $75/bbl oil scenario the premium for the broad industry is unlikely to be excessively punitive. M&A, asset swaps and disposals are likely to play a part in the stabilisation of financial profiles, too." 
Moini says that most US high-yield issuers can survive, even at around $60/bbl a barrel. "They may not make a lot of money, but they can pay off their debts," he observes. 
Redmond points out that, like the service companies, production companies have not suffered a wave of rating downgrades. This is thanks to the hedging programmes many have in place, but also the diversification of funding that they have achieved. 
"Over the past few years, oil producers have diversified away from solely reserve-based lending programmes, whereby banks lend against reserves that a company reports and the availability of the bank [credit] line is dependent on the future cashflows coming out of those reserves," Redmond explains. "Issuing high-yield debt is attractive as it gives long-term finance which may be five to seven years in maturity." 
As BlackRock points out, the sector's 'maturity wall', when loans need to be repaid or refinanced, only hits in earnest in 2017; there are minimal refinancing pressures due over the next 18 months. 
Some sub-sectors of energy high-yield may well offer good value now, or in the near future. But investors hoping that the volatility in this sector would create a wider value opportunity by reverberating through high-yield in general will be disappointed. 
"There has been no aggressive contagion across the high-yield universe, not even in North America," says Redmond. 
In fundamental terms, this should not be surprising. For most sectors outside energy, lower oil prices have a positive impact because energy is a cost to them or their consumers. 
"The energy sector currently accounts for around 10-11% of capex in the US, but in the past it has been higher, as high as 15% in the 1980s," says Olivier Debat, fixed-income investment director at Union Bancaire Privée (UBP). "It is not huge and a reduction in energy capex is manageable for the US economy, which is boosted, anyway, by the falling oil prices." 
Still, this is not deterring new money. The US high-yield market recorded $5bn of inflows in a single two-week period at the beginning of 2015; spreads have tightened and a healthy $20bn of new issuance came to market in January. That stands to reason, given yields of 6.5% from the broad market and 6% even when energy is excluded – which beats the near-zero yields available from government bonds and investment-grade corporates. While a slight pick-up in energy sector defaults is anticipated, the overall default rate is forecast to be around 2.5%, while CDS pricing implies something more like 6%, according to Debat. 
For cautious investors, high-yield ex-energy certainly remains attractive. The more adventurous might look at weightings in oil services and other beaten-up parts of the US energy sector.