Asset allocation: Opportunities abound despite volatility
Market volatility is always hard to read and harder still to predict. The nervousness that has characterised the world's financial markets in the past few months was prompted not so much by an event as by uncertainty writ large. And there is certainly no shortage of things to be uncertain about: US interest rates; equity valuations; trade frictions; Brexit; Italy; technology regulation – the list ges on. 
Key points
A third of investors plan to increase their allocations
Half of PE investors are preparing for a downturn
Private equity investment in real assets is gathering pace
Venture investors plan to boost their exposure to the internet and software broadly,  as well as to healthcare
Not all these things are necessarily bad – and not all of them are bad for everyone. For savers and for many banks, rising interest rates are good. Technology regulation, done well, would be beneficial. 
What is more behind all this uncertainty is a strong set of economic fundamentals. The US is operating back at its long-term growth rate and at record levels of employment. Euro-zone unemployment is at its lowest level for years. True, China's growth is slowing but not yet at a dangerous rate. 
Just as finding the balance between economic and political forces is today's defining challenge for policymakers, so it is for investors. Some of today's sources of uncertainty could damage economic confidence enough to ensure a turn in the cycle – a prolonged trade war, for example.  
It is against this backdrop that we once again surveyed institutional investors from North America, Europe and Asia-Pacific for their views on the outlook for private equity markets, something we have been researching for the past 14 years. The results, in our twice-yearly survey, the Coller Capital Global Private Equity Barometer, give a bird's eye view of the investor community's opinions of today's economic and market environment.
Tensions between America and China are clearly on people's minds. Three-quarters of private equity investors expect their investment returns to suffer if today's international trade disputes continue. Even if some kind of accommodation prompts the US not to increase tariffs on Chinese imports at the next deadline date, it is hard to see the overall situation ameliorating sufficiently to end the threat of more sanctions in the future.
As for Brexit, just one in 20 investors expect it to have a positive impact on European private equity returns – and two in five investors expect it to cause definite harm. Indeed, investors have become more pessimistic as the EU/UK talks have gone on.
Might Brexit also create openings for investors who are willing to pivot, though? The views of limited partners (LPs) offer little comfort for the UK economy here. Almost half of LPs say the UK's departure from the EU would create no new opportunities for private equity, and those who do see potential opportunities – a roughly similar proportion – say these would be limited to acquiring British assets on the cheap (as a result of a further weakening of the pound or pressure on the valuations of UK businesses).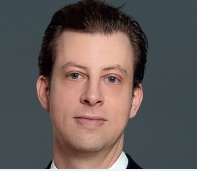 One positive note is that investors do not seem to think there would be a post-Brexit race to the bottom in terms of regulatory standards. At least, that is the positive interpretation of the Barometer's finding that less than a fifth of investors see new opportunities from a less demanding regulatory environment in the UK.
At any rate, people need no additional reasons for concern. Many in the investment community are already signalling a cautious approach to the macro: half of private equity investors say they are modifying their investment strategies or asset allocations in readiness for a downturn. Interestingly, this does not seem to have damaged their confidence in private equity as an asset class. Almost three-quarters of investors say that private equity-backed companies will perform better than their peers when the next downturn hits. 
This confidence is reflected in asset allocations – not just to private equity but also to other forms of alternative assets. Investors have been increasing their exposure to this area for some years – and the Barometer shows no softening in the trend. It is one particularly marked among European investors, some three-fifths of whom are planning to increase their target allocations to alternative assets in the next 12 months – perhaps because they have been slower to the alternatives
assets party than their North American counterparts. European investors' current appetite for infrastructure and private credit investing is probably also in part a defensive play.  
As far as private equity is concerned, just over a third of investors say they plan to increase their target asset allocation over the next 12 months, continuing a trend we have seen for a considerable number of years. Investor expectations for private equity returns help explain this phenomenon – four in five LPs expect to achieve annual net returns of over 11% over the next three to five years.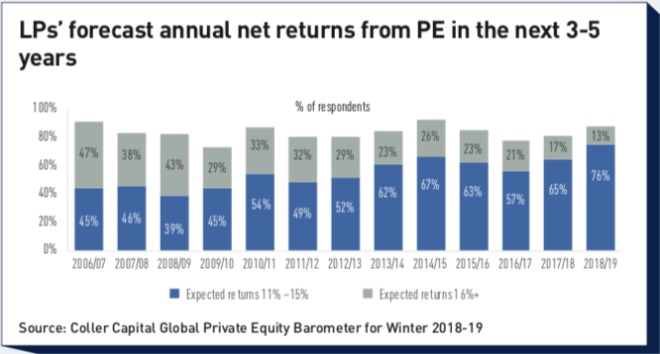 Private equity investment in real assets is also gathering pace, with the real estate and energy sectors particularly in favour. Private equity investment in renewable energy is more popular among the world's investors than traditional energy investing. This may well be a secular change – although just over half of investors have private equity exposure to the hydrocarbons sector, one in four say they intend to reduce it. North American private equity investors buck this overall trend, however, favouring hydrocarbons over renewable energy.
Interestingly, there seems to be an increased appetite for sector investing in general. One in five LPs say they are increasing focus on discrete industry sectors, either through the recruitment of additional staff or by hiring external advisers. 
In terms of individual sectors, investors believe healthcare/pharma, business services, and IT will offer the most attractive opportunities in North America and Europe over the next three years. Consumer-facing industries are perhaps unsurprisingly least favoured. These are looked on positively by only a third of investors. 
It is also worth noting that the slow decline in investors' appetite for hedge funds is continuing – with about a third of both North American and European investors planning reduced target allocations to the asset class in the next 12 months.
The Barometer shows that investors' return expectations for venture capital have improved significantly. More than four in five venture investors expect to achieve annual net returns of over 11% from their North American venture investments in the next three to five years. The same is true for two-thirds of investors in European venture and over three-quarters of investors in Asia-Pacific-focused venture.
The improvement in European venture return expectations over time is particularly striking. In the Barometer for winter 2013-14, one in three LPs expected net returns from European venture of 5% or less. This proportion now stands at just one in 12. 
In terms of specifics, today's venture investors plan to boost their exposure to internet and software broadly (and to fintech in particular) and to healthcare. Many, however, are wary about the valuations they are seeing. Three-quarters of LPs say that the large number of 'unicorn' businesses – startup companies valued at over $1bn (€870bn) – reminds them of the dotcom era.
Michael Schad is a partner and head of investment management at Coller Capital