Investing In Private Equity: Megafund magnets
Joseph Mariathasan finds that while there is a great deal of activity in the private equity market, the big inflows of investment are mainly going to the large funds
At a glance
• Although flows to private equity have increased, they have mainly gone to megafunds.
• Valuation levels are high.
• Smaller funds look more attractive.
• There are controversies over the levels of fees paid.
The private equity industry appears to be enjoying a heathy flow of capital. As Sven Lidén, the CEO of Adveq Management points out, this is almost certainly going on because investors are exiting bonds and listed equities and moving to alternatives generally, of which private equity is one asset class alongside others such as infrastructure. 
But he argues that it is a generalisation to say that all private equity firms are experiencing big inflows. "What is happening is that the largest 25-30 funds are seeing huge inflows and, as a result, they have huge amounts of dry powder and their marketplace is getting frothy," he says.
What is also the case, says Andrew Brown, senior consultant at Willis Towers Watson, is that over the past five years there has been $300bn (€266bn) of distributions in excess of capital calls to limited partners (LPs) who are looking to redeploy that back into the asset class. 
The reason for that is clear, says Mark Nicolson, a partner at SL Capital Partners. "Private equity has been the highest performing asset class in many people's portfolios," he says. "This is making fundraising relatively easy for GPs [general partners]." Nicolson says that a few years ago there was a bifurcated market with the best managers raising capital easily and quickly, while the also-rans were taking longer with a few casualties who fail to raise anything. 
In contrast, in today's marketplace, the demand from LPs for private equity is such that most managers are getting funded. "The best take two to three months whilst the less popular ones may take 12-18 months – but they are getting there," he says. "First-time managers have been finding it the easiest time to get funding since 2005-06. We are seeing a lot of new managers in the UK and Europe." For institutional investors, the challenge is understanding where opportunities may lie, the changing risks and rewards, and the most effective approach to building up private equity portfolios.
US pension funds appeared to have miscalculated in the run-up to the financial crisis. "At that time, pension funds were investing aggressively in private equity across many funds and perhaps had developed over-diversified portfolios," says Matt Jones, partner in the secondaries team at Pantheon. As a result, it has been among the biggest players in the secondary markets from 2012 onwards, with CalPERS, the California state pension fund, alone expected to reduce the number of relationships from 100 to 30.
"Such changes have occurred across the country with several high-profile state pension funds restructuring their private equity portfolios. As the market and the institutions themselves changed, they realised it would make sense to have less-diversified portfolios with a closer relationship with managers," says Jones. Pantheon's own research suggests that there is little to be gained from having more than 25-30 funds.
Despite the flows into private equity, the issue investors do face is that valuations currently look high, at least in the popular segments: "In the US and Europe, p/e [price/earnings] ratios are near all-time highs," says Brown. He sees two reasons for this. "Firstly, until 6-10 months ago, debt markets were very flush and accommodating for private equity deals with 'covenant lite' deals or with no covenants at very good pricing from banks and debt funds who were competing against each other to provide debt. 
"Secondly, corporates were filled with cash and sitting on the sidelines they were gaining in confidence on the macroeconomic scenario and were willing to buy assets. They have been the biggest driver in pricing, with private equity firms trying to compete against corporates with lower costs of capital." 
Lidén also sees the ultra-low-interest-rate environment as a key factor. P/e multiples tend to be correlated to the inverse of interest rates, he says. "If listed equities give returns of the risk-free rates of currently 0% plus 3% and private equity gives another 3% on top, that gives p/e ratios of 14. But if interest rates are reduced at this level by another 1%, the p/e multiple rises to 20. The big issue, then, for everyone is where will interest rates be in four years' time?" As Lidén argues, if interest rates stay where they are, the multiples look fine. If they go up, the multiples will go down. 
Some caution, though, has to be placed on valuations, says Nicolson: "I am always cautious on statistics. A lot of market providers only show data on the larger deals in the market because these are the most readily available. These are showing multiples going from eight or nine to 10 times earnings before interest, taxes, depreciation and amortisation [EBITDA]. 
"But there are not many smaller transactions included in the figures. There are still pockets at the lower end of the market where deals are sourced at five or six times where you can negotiate bilaterally with the vendors." 
Nicolson does notice an air of confidence that has returned to GPs but sees the market still behind what expectations were in terms of transaction volume: "We detect a certain amount of conservatism by GPs in a rising market, which may be a result of their bad experiences post the crash. From an LP point of view, we are pleased to see GPs being disciplined and walking away from deals where they see the pricing as too high. They are also not taking on as much leverage as they are being offered by the banks and debt funds."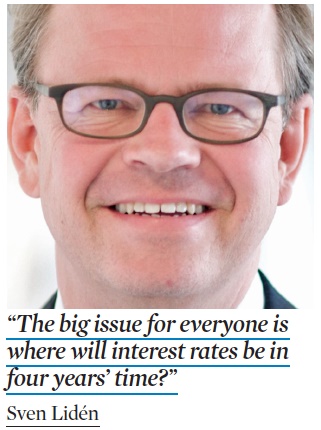 Adveq, like many private equity fund of funds, tends to focus on smaller companies where the multiples are lower: "They are reasonable up to valuations of $100m," says Lidén. Above that, they are looking aggressive. I am surprised that we have not seen any public-to-private transactions. We see them as a bad signal that markets are getting expensive and private equity firms cannot find any opportunities. So it is not a good sign if people are doing them." 
Pantheon also has a smaller allocation to megafunds says Dennis McCrary, Partner at Pantheon and a member of its International Investment Committee. "That allocation is influenced by the size of those funds and the difficulty of generating consistently high returns while investing billions each year. Some of the larger LPs of the megafunds are pleased with 10-12% returns, given the large amounts they need to commit to the mega managers, while smaller funds can often generate higher returns.
Pantheon, like many fund of fund investors, seeks what McCrary describes as focused and nimble managers. "Many have the ability to understand a given industry and have the expertise to generate proprietary deal flow, create more operational and strategic value and exit intelligently, he says. "The more industry expertise and operational capability they have, the more successful they tend to be. There are certainly many successful generalist managers in the market but, increasingly, the specialists are gaining advantage. That means the firms are generally oriented towards one or two, maybe three, sectors – more so in the US.  In Europe, specialisation is more difficult because the market is less homogeneous in terms of languages, regulations, and other country-by-country considerations. " 
Nicolson also agrees that the European marketplace calls for a different private equity model to the US. "There have been some specialists but, inherently, the European market does not lend itself to sector-specific funds because of the discrete markets, different cultures and legal jurisdictions. It is more difficult to specialise across countries. The funds we favour tend to be geographically focused and up to €500m in size."
This distinction between megafunds and the mid-market is certainly of significance to fund of fund players which would struggle to add value for investors in the well-known giant portfolios. For such firms, their key strengths are the ability to tailor investment solutions covering primary, secondary and co-investments, taking account of the key differences between the US, European and Asian markets. 
"There is also clear demand for mid-market global exposure from institutional investors. This can be achieved by way of specialist fund of funds which are attractive to a range of investors. This is in addition to the noticeable shift to customised more tailored mandates for larger clients," says Graham McDonald, head of private equity at Aberdeen Asset Management.
The truth about private equity fees
Fees are always controversial and have become more so recently. Sven Lidén, the CEO of Adveq Management always tells the same story. "For a start-up fund, with just a few people in an office, charging 2% fees is reasonable as they have to be able to pay for the lights, et cetera. Then, one of two things happens: they either don't succeed, so that is the end of the story, or they raise a second much-larger fund, which investors are so keen to get into, they do not question the fees. But eventually they can get to the size when they can earn a handsome living off just the management fees and do not care about performance." 
As Andrew Brown, senior consultant at Willis Towers Watson argues, the reality is that fees are driven by supply and demand and at present there is a lot more demand than supply. "The successful funds with good track records are even able to effectively increase fees by making terms worse for investors and still attract them," he says. 
Willis Towers Watson does attempt to provide a systematic framework for negotiating fees. It discusses fees by looking at the public market equivalent. "For example, for a tech fund, we take the cash flows and assume they are invested in the tech index and match the size of the cash flows and take account of leverage, etc," says Brown. "We can then calculate the internal rate of return and if the manager has outperformed over the last few funds, we project that for the next fund. We can then calculate the excess." Willis Towers Watson's own view, based across a range of asset classes, is that a fair split of 'alpha' between managers and investors is that the manager's share should be one third. In practice, what it finds is that private equity firms often take 50-60% of this amount.
Pages in: Investing In Private Equity: Megafund magnets