The US small-cap equity market has represented the cutting edge of capitalism for decades. Many of the giant global companies of today began life there.
At a glance
• The US small-cap market is exceptional in many ways.
• The key investment sectors are technology and healthcare.
• Extraordinary monetary policy has distorted valuations.
• Liquidity is a key concern for small-cap investors.
Its characteristics differ from small-caps elsewhere. Outside the US, as Mark Costa, senior analyst at Brandes Investment Partners finds, small-cap equities are an asset class that includes a large number of well established businesses with long operating histories. In many instances they are dominant players in important domestic industries. "Nearly two thirds of our non-US small-cap holdings have been operating for more than 30 years, the average age is close to six decades and more than 90% have been generating positive free cash flow during the last three years," he says. "As a long-term-oriented value manager that invests globally and across all market caps, we find investing in small and mid-cap companies particularly exciting."
But for most investors, the consensus is that US small-caps represent a long-term growth play rather than a value proposition, says Mike Thompson, chairman of S&P Investment Advisory Services. That is the reason why Brown Advisory has a growth tilt in its small-cap fund. "We are biased towards growth, not because we necessarily believe that owning the fastest growing companies in the US is a sure-fire recipe for outperformance – but because we can find businesses with enduring long-term innovative opportunities that allow them to compound over time at a high rate. If their stock price follows their earnings, we should be able to do a lot better than the market and our peers," says Chris Berrier, portfolio manager of the Brown Advisory US smaller companies fund. In contrast, the US allocation in value-oriented Brandes' global small-cap portfolio stands at less than 18%, a decade low for its product.
The more innovative sectors among the US small-caps are technology and healthcare which together represent about a half of Brown's smaller companies portfolios. "There are only a handful of companies outside those two sectors that are generating greater and greater value in the equity market because they are generating some form of innovation or differentiation," Berrier says.
The US market also has the advantage over Europe of being large and homogeneous. An innovative concept can be tested in one state and then rolled out across the nation with no changes required. Europe by contrast, even with EU harmonisation efforts, is still divided not only by language, but also by cultural preferences, differing tax and regulatory environments. Moreover, Europe arguably does not have the entrepreneurial culture as exists in the US. "The US is a very dynamic innovative economy – one that does not shun failure but embraces it. Many people believe that starting a company that attempts to disrupt or revolutionise an industry is a cause worth attempting. A failure just represents a stepping stone to finding the right formula for success," says Berrier.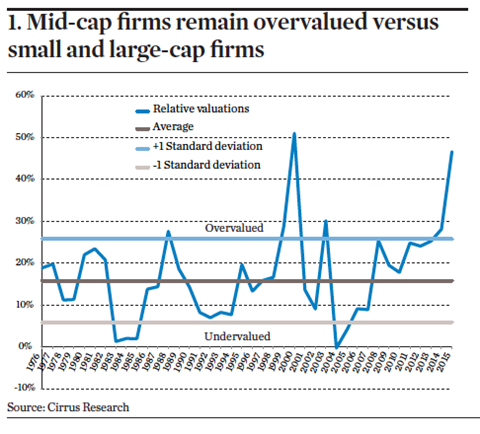 Mergers and acquisitions (M&A) activity in the US has also contributed to small-cap demand. "There is a growing need for larger-cap companies to undertake M&A, given relatively paltry growth in developed markets and the fact that they have benefited from cost restructuring since the credit crisis, with all-time high margins and with very low cost of funds," says Berrier. He sees strategic buyers as playing a bigger role in future than private equity buyers in the small and mid-cap sector. "Valuations are high but strategic buyers can take out costs and large-cap buyers have the need for acquisitions to drive growth," he says.
Valuations have been subject to the impact of monetary policy that has radically changed the marketplace. "The whole risk curve is skewed, as we are living in a world where the Fed has completely destroyed yield in the credit markets. All equity markets have become distorted," says S&P's Thompson. As Brandes' Costa points out, valuation metrics such as the price/earnings (P/E) ratio look expensive across all US market caps relative to the long-term history. "What is concerning, in light of the high valuation multiples, is that the underlying earnings and cash flows of many US businesses have benefited from historically high operating margins, historically low interest rates and, in some cases, cyclically high revenue. So the risk of overpaying is quite elevated should any of these conditions revert to the historical norm."
What is more positive for small-cap investors is that valuations are generally fair relative to large-cap and mid-cap, says Satya Pradhuman, CEO at Cirrus Research. He adds that there are pockets of excess. "The health and biotech areas are incredibly frothy and are now hitting levels approaching the peaks seen in 2001. In the last two or three years, we have seen a tremendous run-up in biotech shares and there has been a voracious appetite to get into biotech names and that has been the key to the small-cap market. In the mid-cap market, it is also biotech but also other areas such as managed care," says Pradhuman. What does seem clear, though, is that volatility in the biotech sector is not over.
The other big theme Pradhuman sees is that investors have to face the reality of an industrial recession. The industrials, metals and energy stocks are experiencing a fallout and a lot of that has been fuelled by the collapse in the oil price. "There have been spillover effects into the commodity sectors, materials and industrials. Energy valuations may look more and more compelling but the credit markets have dried up, and credit spreads have really widened for those sectors. P/E ratios may look attractive but earnings are likely to be adjusted downwards."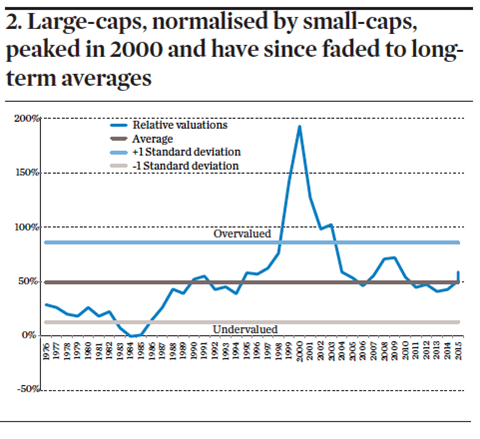 Another area where there appears to be signs of relative excess is in the US mid-cap universe. "People who never invested in mid-caps five to six years ago are dipping into the universe to get a bit more return," says S&P's Thompson. Pradhuman agrees. "The mid-cap space is showing signs of excess, hitting 20 to 30-year highs in relative valuations against both small-caps and large-caps," he says.
What seems to be happening, Pradhuman argues, is that large-cap managers are seeking growth by coming down the capitalisation spectrum pretty severely. At the same time, small-cap managers are chasing after liquidity by moving into the mid-cap arena. So, for very different reasons, the US mid-caps are being bid higher by both large-cap managers and small-cap managers.
For small-cap investors, a key issue is liquidity. "Small-caps don't have liquidity and often don't have price discovery," says S&P's Thompson. "You really have to spend a lot of time looking at the fundamentals of these companies. A lot of these names trade by appointment only, so when you see a valuation, does it represent fundamentals, or illiquidity? If you need to get out of a small-cap name in a crisis, it is like squeezing an elephant through a keyhole. Some of it will remain on the wrong side of the keyhole," he says.
Investors face the risk that when fund managers try to get out of small-cap positions, prices fall sharply and they can end up taking a disastrous hit, argues Thompson. S&P looked at having a small-cap portfolio but it ended up being small and mid-cap. "We would have had to have 200 names to have size in a small-cap portfolio. The top 20 names would have been half of the portfolio and the other nearly 200 names the other half. The research resources required to manage that just does not make it cost-effective. Small-caps would have to graduate to mid-caps before I get terribly interested," says Thompson.
"At the moment, while we are finding pockets of value in select companies, we are just not finding a lot of value in the overall US small and mid-cap asset class, and in many cases we are observing companies that seem to be considerably overvalued."
Mark Costa
Other managers and commentators, though, are less dismissive. Brown has about 60 stocks in his portfolio which is certainly small enough to be able to undertake the research without excessive resources. Even if capacity does not approach mid-cap and large-cap strategies, it does appear large enough for many fund managers to be able to make a living off managing small-cap portfolios.
Indeed, Pradhuman argues that the US small-cap market is still more liquid than many other equity markets elsewhere in the world. "Liquidity in small-caps gets worse as you go down to the smaller names but the upper third is usually liquid enough for most managers, he says. "Once you get to the US mid-caps, you find they are more liquid than quite of lot of the global equity markets." What is clear, though, is that managers must surrender a significant element of performance when they pay a lot to get exposure to less liquid names.
Given the elevated valuations of the US equity markets as a whole, the primary risk for any investor, as Brandes' Costa points out, is to pay more for an asset than it is worth. As a value-oriented investor, US small and mid-caps are a difficult proposition for Brandes.
For growth investors, the innovation coming out of healthcare and tech in the US small-cap sector is unsurpassed elsewhere in the world. The question for them is whether they are worth the price.
Small & Mid-Cap Equities: Digging for victory
1

2

3

4

5

Currently reading

US small & mid-caps: In the land of the brave