The impact of shifting commodity prices
Rising commodity prices are good news for commodity exporters but Rodrigo Amaral finds they can even benefit importers 
At a glance
• Commodity prices have shown some signs of recovery this year after a terrible 2015.
• Even commodity importers have benefited from the stabilisation of commodity prices.
• Commodity prices remain an important influence on several large emerging economies.
• Slumping commodity prices can also provide opportunities for investors.
After a dreadful 2015, commodity markets have shown signs of life this year, providing a boost for emerging economies.
The main contributor has been crude oil, which dropped to about $35 a barrel in January before reaching almost $50 in the summer. It is still a far cry from the levels of 2014, when oil prices hovered around $100, but the rebound has abated fears of a prolonged slump.
Oil has not been the only beneficiary, as increased confidence in the Chinese and American economies has taken the cloud off several commodity sectors. Zinc went up by 50% in the first eight months of the year, while lower but still healthy increases were posted by tin (33%), nickel (21%), and aluminium (11%). Iron ore, which is suffering from a global glut, moved from $42 per metric tonne in January to $61 by the end of August, according to the World Bank.
"Even economies that import commodities have benefited from the stabilisation of commodity prices, as it has improved overall appetite for emerging markets," says Arko Sen, the director of EMEA strategy at Bank of America Merrill Lynch.
The positive effect has been reflected on the stock markets of large commodity producers such as Brazil, Russia and Indonesia, which have risen sharply, so far, in 2016, following dismal performances last year. But some investors say the correlation between commodity prices and the performance of emerging market equities has a psychological edge that might be even more important than the direct impact that higher commodities-related revenues bring to producing economies. 
According to Ashmore Investments, the weight of commodity stocks in the emerging market benchmark has fallen by more than half in the past decade. Ten years ago they accounted for about 30% of the MSCI Emerging Market index; today the proportion stands at 14%. Even technology firms, at 15%, play a more significant role in the index. The argument goes that the main boost from commodity prices could come, therefore, from the enhanced perception of global market growth that they reflect.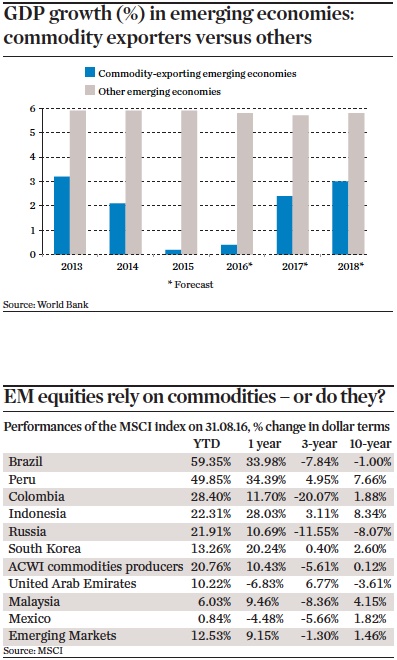 For a start, there is the fact that some emerging markets do not need to produce commodities to do well when prices are up. For instance, the MSCI index for South Korea, a commodities importer, was up 13.6% in the year to the end of August, which was only slightly lower than the global emerging markets index.
"Commodities are often seen as a risk indicator that triggers a reaction that is not linked to the composition of the index," says Patrick Mange, the head of emerging markets at BNP Paribas Investment Partners. "And that is why economies that are not big producers can be hit as well when the risk indicator of commodities is doing badly."
Additional evidence that commodities should not be viewed in isolation is that stocks in some big oil producers continue to struggle, despite the recent bout of confidence about oil prices. A case in point is Mexico, where stocks were 4.5% down by the end of August, despite its status as both a substantial oil producer and privileged supplier of the black gold to the US market.
But Mexico shows to what extent several emerging markets have moved away from relying on commodities alone by diversifying their economies. Raw materials, mainly oil, accounted for 10.5% of total Mexican exports in 2015, a much lower share than capital goods (48%) and consumer goods (26.5%), according to World Bank data. This means that, although a bump in oil prices always helps, other factors can counterbalance its healthy effect by pushing in the opposite direction. Mexican equities have, in fact, faced the worst of both worlds; in 2015 they were carried downwards by the tide of lower commodity prices, while in 2016 they were excluded from the recovery party owing to other factors, notes Sandra Crowl, a member of the investment committee at Carmignac Gestion.
"In 2015, Mexican stock markets suffered with the oil price slump because of what is, in fact, a minor reliance on energy commodities. This year, however, they have not done well either, even though oil prices have recovered," she says. "The reason is this unfortunate trend towards deglobalisation and the immigration policies proposed by Donald Trump in the US. The Mexican market has become a proxy against an eventual Trump election win."
Even in countries where commodities remain as vital as ever, their impact on stock markets can still rely on the ability of governments to make good use of the revenue boost they receive. Indonesia and Brazil, for instance, have been rewarded by investors for showing a commitment to putting fiscal budgets in order, while investors have kept their distance from Venezuela, where the government appears to have no such intentions. 
Russia and Nigeria both rely on oil revenues, but Nigerian stocks have benefited much less from recent trends than their Russian peers owing to the persistence of the African country's policy of pegging the local currency to the dollar, notes Sen. 
Russian equities have also done better than in other oil-intensive economies because of higher levels of openness to foreign investors, says Omar Abu Rashed, a portfolio manager at Union Investment. "The Russian equity market has a strong component of international investors," he says. "In Saudi Arabia, investors are almost exclusively domestic, and that could account for their different performances."
Abu Rashed emphasises that, even though commodities might not have the weight that they used to have in emerging market indexes, they remain essential economic factors for several large economies. "Many commodity producers are state or quasi-state companies, and their contribution to state budgets can be substantial," he says. "So they may no longer have the same weight as they used to in the index, but their impact on fiscal budget and confidence remains essential in some countries." 
Mexico is again a good example in this respect. Pemex, the state-owned company that until recently held the monopoly of oil exploration in the country, is estimated to account for about a third of the country's tax revenues. Indeed, revenues from commodities exports constitute an easy source of money for governments generally. Therefore, Abu Rashed notes, when prices are up, they can have a negative effect on long-term perspectives for emerging economies.
"Good commodities times often lead to bad economic policies, but when prices are low, governments may promote reforms that are very beneficial in the medium and long terms," he says. "That is happening right now in Indonesia, and hopefully it is going to happen in Brazil too."
At the same time, slumping commodity prices can create opportunities for investors brave enough to take all the risks attached to emerging market equities. "We are happy to buy emerging market stocks when commodity prices are down because it is possible, then, to find some bargains there," says Ben Preston, a director at Orbis Investment. He mentions the example of Sberbank, a Russian bank that provides a lot of credit to oil companies and whose share price plummeted at the end of 2014 owing to a combination of slumping oil prices and the Russian invasion of Crimea. Since then, the value of the stock has almost trebled.