German institutional investors have shifted their asset allocation due to low bond yields
There is no sign of the drought ending. With new rate cuts by the European Central Bank (ECB) and the US Federal Reserve, investors are facing the likelihood that their challenges are about to become even tougher. The renewal of quantitative easing (QE) in the EU only adds to the scale of the challenge. Although institutional investors appear to have been expecting a different kind of interest rate reversal they are nevertheless prepared for this new scenario.
Methodology
The complete analysis encompasses all investments in Spezialfonds at Universal-Investment for the period January 2012 to 31 July 2019 and is updated monthly. The total volume of analysed assets under management is currently about €325bn. This volume corresponds to 19% of the total Spezialfonds assets covered by the German Association for Investment Fund Management Companies and Investment Funds (BVI), which totalled €1.7trn at the end of March 2019.
Hopes of rising interest rates, which had prevailed for most of the past year, have been shattered. Institutional investors are facing the mammoth task of generating sustainable pensions or earning profits to finance their foundations' charitable activities. Directly or indirectly, hundreds of thousands of people rely on their prudent decision-making.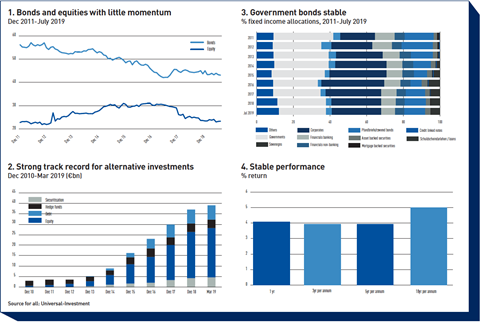 Since 2012, Universal-Investment, the largest master KVG in German-speaking Europe, has been analysing investment trends based on the asset allocations on its platform. Volumes in Spezialfonds – institutional investment funds – have risen once more over the past year, this time up 15% to €325bn in the 12 months to 31 July 2019. This documents the continued growing trend among institutional investors of choosing instruments best tailored to their individual needs.
Real assets and alternatives
The long-lasting downward trend in interest rates has increasingly been forcing pension funds, insurers and businesses to turn to real assets or alternatives to diversify their portfolios and achieve their goals.
At present, real assets already account for €21bn or more than 6% of overall assets on the Universal-Investment platform, with investments in shopping centres, office and residential buildings having doubled over the past three years. Investors value long-term lease or rental agreements that correlate with their equally long-term liabilities.
Asset allocation in alternative investments has continued to increase, too, with volumes rising from just €3bn in 2011 to €40bn, accounting for over 12% of total assets.
Equity structures have by far the largest weighting at over €23bn, or 60%. Within these structures, the greatest demand is for private equity, up sharply to €10bn from €4bn at the start of 2017.
Debt structures, such as infrastructure project financing, real estate finance and municipal loans, account for 17% of the alternative investments in the analysis, with volumes soaring 40% in the course of three years.
Bonds and equities
Over the past eight years, the share of bond investments has dropped steadily from 56% to 43% in July 2019.
However, with the ECB's key interest rate having remained at zero since March 2016, investors' absolute affinity for bonds has remained more or less constant; despite low interest rates and prospects of negative earnings, bond volumes rose marginally from €123bn to €140bn, or 14%. Even so, considering the stronger, 15% growth in total volume of the Universal-Investment platform, this still points to relative stability.
Investors remain cautious as they watch the ECB's next moves. Now that the die has been cast, it will be interesting to see if and how investors adjust their bond exposure over the rest of the year.
Since the financial crises, equities have been the champions in the race versus bonds. Many investors have shifted parts of their bond portfolios into equities or allocated new capital into the asset class. This shift is indisputably over. While the average equity allocation was as high as 30.5% in 2015, it has since dropped to 23.3%.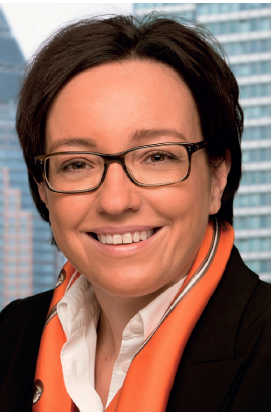 Over the past year, volumes rose slightly from €69bn to €76bn, but this is still a decline when considering the strong overall increase in asset volume. These figures are even more remarkable when taking into account the recovery of the markets following their autumn and winter 2018 downturn. The renewed drop in equity prices seen since July is yet to have an impact on overall equity volumes. Investors have been holding back for some time, possibly owing to the prospects of growing geopolitical risks, and lower growth expectations for corporates.
Government bonds stable
A closer look at the bond segment exposes a weakening in the appetite for corporate bonds. For quite a while, institutional investors had remained biased towards government bonds while these were generating higher yields than public-sector issues. But with investment-grade-rated corporates now able to raise debt at almost the same rates as governments, investors are beginning to focus their attention on the latter. Despite negative yields, they are still considered a safe haven and, accordingly, their volumes have remained relatively stable since mid-2018.
While the percentage of corporate bonds sank from 34.2% in 2016 to 27% in July 2019, government bonds held their ground, even showing a slight rise from 24.5% to 25.7% over the same period. Nevertheless, corporate bonds still represent the largest part of the bond segment.
The past three years also marked a return to the covered bond, where allocations rose from 6.5% to 11.3% of all bonds since 2016. In 2012, Pfandbriefe and other covered bonds accounted for 17% of the entire bond sector and were considered one of the pillars of this segment. As a result of the ECB's bond purchase programme, however, Pfandbriefe have been in tight supply for quite a while, and it remains to be seen for how long they will be able to hold their position if the ECB starts a new QE programme. This contrasts with investments in loans and loan notes, which have risen from zero to a stable level of about 5% since 2014.
"The broader diversification of portfolios through alternative investments had a strong impact on the average performance, with the performance of private equity investments up 12.8% over the year. The five-year performance was similarly impressive at almost 12% a year"
Owing to their individual strategies, regulatory requirements and purpose of their investments, the bond-to-equity ratio varies from one investor group to another. For the two largest investor groups on the Universal-Investment platform, the ratio has remained stable over the last three years; pension funds reduced the share of bonds slightly from 35% to 32%, while the share of equities fell from 26% to 24%. For corporates, the approximate ratio of 50% bonds to 30% equities has remained almost unchanged over the years.
The portfolios of insurance companies, the third-largest investor group, tell a different story, however. Over the past three years they have increased their equity exposure from 23% to 31% and reduced their fixed-interest position sharply from almost 60% to 41%.
Stable performance
Since the temporary drop in year-on-year performance caused by the stock market turbulence of autumn and winter 2018, institutional investors have more than recuperated their losses over the first six months of this year. The solid long-term performance confirms the efficacy of both a sustainable and farsighted strategy – especially in turbulent times. At the end of July 2019, average year-on-year performance was 4%. In a 10-year comparison, investors generated 5% a year. This is almost a full percentage point higher than at the end of July 2018. For the first time since the analysis was initially conducted, the performance dent caused by the financial crisis dropped out of the calculation of the average.
The broader diversification of portfolios through alternative investments had a strong impact on the average performance, with the performance of private equity investments up 12.8% over the year. The five-year performance was similarly impressive at almost 12% a year. This compares with pure equity funds which generated just 2.6% over the year and 6.6% in five years.
While a more diversified approach improves the attractiveness of overall allocations, it also adds to complexity. The use of yield enhancing strategies is therefore becoming increasingly important. Overlay management, for example, enables investors to increase their earnings and control the investment precisely in accordance with the desired or regulatory risk structure.
Despite economic uncertainties, political tensions and unpredictable market developments, institutional investors have successfully managed the assets entrusted to them over the past 12 months. This fact raises hope in their ability to master the continued drought period in the bond market.
Katja Müller is chief customer officer at Universal-Investment