---
The European Central Bank (ECB) is likely to remain dovish for the foreseeable future
Incoming ECB president Christine Lagarde could help persuade heads of state to boost the euro-zone economy through fiscal easing
If anyone in Europe was left in any doubt on 11 September about the dovishness of the European Central Bank (ECB) under Mario Draghi's leadership, by close of business on the next day their doubts were surely dispelled. On that day the outgoing president of the ECB unleashed a bout of monetary easing, in an attempt to boost euro-zone inflation from 1% to its target of "below, but close to, 2% over the medium term".
Five years from now, it will be the turn of his replacement, Christine Lagarde, former finance minister of France and former managing director of the International Monetary Fund, to be judged. Lagarde left the IMF on the day Draghi announced the ECB's latest measures.
Analysts note that her views on monetary policy are unclear; since she has never been a professional economist, they might not be clear even to her. However, many suggest that her future work on euro-zone fiscal policy – in encouraging coordinated fiscal stabilisation by euro-zone governments – might prove more important.
"Given her experience as finance minister, she may be able to make forcefully the link between monetary policy and fiscal policy, which is what is really needed and what is really lacking at the European level," says Fabrizio Pagani, global head of economics and capital market strategy at Muzinich in Paris, and former head of the office of Italy's minister of finance.
The pressure on Lagarde to act quickly on monetary policy has been greatly reduced by what one economist refers to as Draghi's "parting gift". Although he is only one among many members of the governing council that decides policy, Draghi carries a moral authority strengthened by his role, in many people's eyes, in saving the euro-zone from fragmentation.
On 12 September the ECB cut its main deposit rate by another 10bps to a negative 0.5%. This encouraged banks to pump money into the real economy, rather than leaving it with the ECB, by increasing the financial penalty for parking the money with the Frankfurt-based institution. This was tempered slightly by a new 'tiering' system for rates, which allows each bank to deposit a certain amount with the ECB – enough to meet its everyday liquidity needs – at zero cost.
The ECB also resumed its quantitative easing (QE), which was halted in December, with planned purchases of €20bn of bonds a month. Finally, it confirmed previously announced plans to offer cheap loans for banks under its third Targeted Longer-Term Refinancing Operation.
Focus on Lagarde
The ECB is expected to watch and wait for several months, before any further monetary policy initiatives. Because of this, attention is switching to what the bank might do under Lagarde, who takes over in November. But when asked what is known about her views on monetary policy, Roelof Salomons, chief strategist at Kempen Capital Management in Amsterdam, says: "To be frank, we don't know that much."
ECB watchers suggest that it is unlikely she will try to dominate the council with her views on monetary policy because she is not, by training, an economist, or by personality an authoritarian. Salomons concludes: "In terms of the conduct of monetary policy, a lot of it will come down to the bank's economists and to the other central bankers on the ECB."
When considering the power of others on the governing council, many point to the Irishman Philip Lane, the ECB's highly respected chief economist. "I think Philip Lane will have a very important role", says Mauricio Vargas, senior economist at Union Investment in Frankfurt.
In Vargas's assessment, "he does not have any problems with using all the measures that are theoretically available, so probably he would sit more in the dovish camp. But Lane might also surprise on the other side, if economic conditions allowed."
Economists also suggest that most members on the Council are relatively dovish, although some are hawks. For example, Bundesbank president Jens Weidmann has previously criticised QE.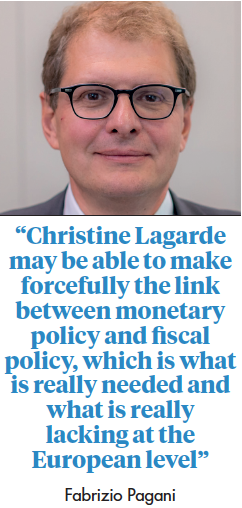 Sceptics might suggest that, with interest rates already so low and a resumption of QE, there is not much more that the ECB can do through monetary policy to boost inflation under Lagarde's leadership. However, many economists suggest that while further action will require some head scratching and ingenuity, the ECB should be able to find a way to ease monetary policy yet more.
Johannes Müller, head of macro research and the CIO office at DWS in Frankfurt, has a couple of suggestions: "The ECB could make QE bigger," he suggests. "One could also think about expanding QE to other asset classes – the Japanese central bank is buying ETFs."
With regard to stimulating inflation, even the most positive-thinking member of the ECB staff must acknowledge that its various imaginative devices to achieve this have not been particularly effective. This raises questions about the likely success of any future measures.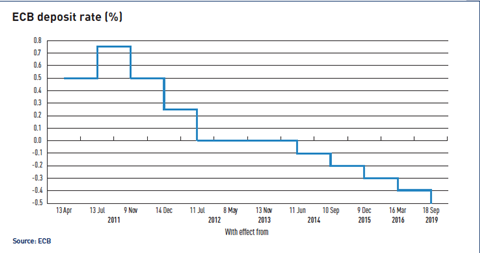 Fiscal policy
Despite this, all is not lost in the battle to boost inflation. Many observers argue that potential behind-the-scenes work by Lagarde in persuading the ministers of national governments to conduct fiscal stimulus may prove more important than future monetary policy.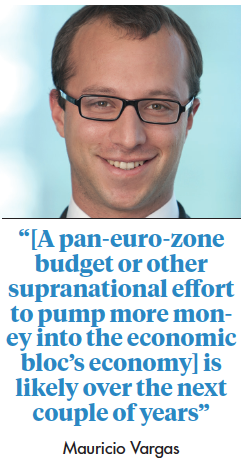 Lagarde has already signalled this need to pass on the baton, in the public forum of the European Parliament. At a nomination hearing on 4 September, she reminded MEPs that "central banks are not the only game in town", and urged richer euro-zone governments with low deficits to spend more during economic downturns. This should boost inflation by increasing economic growth.
Draghi did not manage to change the sceptical mindset of the German government, in particular, on this question. However, other economists agree with Pagani that if anyone has a chance of achieving this, surely it is Lagarde, given her background; the head of the IMF is almost the global economy's persuader-in-chief. They also agree that, as an ex-finance minister, she knows well how national governments operate.
This fiscal loosening might take the form of encouraging national governments to loosen their purse strings in unison, but there are other possibilities too. Vargas of Union Investment even goes so far as to deem it "likely over the next couple of years" that the region will see some form of pan-euro-zone budget or other supranational effort to pump more money into the economic bloc's economy.
One possibility, he suggests, is a euro-zone version of the Green New Deal proposed by some Democrats in the US, which would involve spending billions on decarbonising the region. Governments could, for example, buy infrastructure bonds designed to achieve this. He says, however, that to have much effect on the euro-zone economy, it would have to be substantial – perhaps €1trn.
Relying more on fiscal stimulus and less on loose monetary policy produces another benefit, according to many economists. It forces companies to live or die by their competitiveness, rather than by surviving off cheap money – which even mediocre businesses can do.
In the short term, say economists, weaning the euro-zone off low interest rates could hit asset prices; in the longer term, it could boost them, by weeding poor businesses with low productivity out of the economy. "I am kind of schizophrenic", says Salomons of Kempen. "As an investor I love lower rates; as an economist I think they have some unintended consequences. Lower rates are good to keep the system liquid – you give people time to sort things out. However, you do actually need to sort things out. You need to have the creative destruction, to get rid of insolvent banks and companies."