Briefing: An emerged market
Asian private equity allocations are becoming mainstream
Much has been written about the negative impact of home biases. Research has even shown that the tendency for local favouritism tends to be more pronounced among institutions that invest in private equity, which don't just over-index to investments in their home country, but also tend to concentrate their allocations to funds operating in their home states. A study from the US National Bureau of Economic Research, for instance, found that this predilection for the familiar has cost public pensions billions of dollars due to underperformance.
In a way, this reflects the opportunity so many institutions are overlooking today in Asia, whose burgeoning economies and investment opportunities have been brushed aside as being too far, too underdeveloped and too risky for anything more than nominal allocations.
The fact is that while many institutional investors continue to harbour these misconceptions and remain unfamiliar with the evolving opportunity set in the Asia Pacific market, the region has produced the best performance for institutional investors over both a 10-year and three-year period, according to the ILPA Private Markets Benchmark. This reflects how far Asia and the Asian private equity industry have come during a period when Western GPs have grappled with the contagion from the credit crisis and a stunted growth environment.
In many respects, the conventional wisdom among Western investors is that Asia represents a one-dimensional market, fuelled by either cheap labour or commodities. However, the Asia-Pacific region is comprised of a uniquely diverse investment landscape, both in the types of opportunities available to investors as well as the long-term trends that buttress the growth. Moreover, while so many assume that distance creates an insurmountable hurdle for Western investors, key markets such as China or India are often far closer than many realise. From the EU's financial engine in Germany, for instance, India and China are roughly the same distance away as New York and far closer than San Francisco.
The evolution
The transition for the private equity industry in Asia represents an evolution that has been decades in the making. The first phase, which could be described as the 'Asian Rollout', represented efforts to replicate what was a successful and proven model in Western markets, helping to bootstrap and guide under-managed companies. In the 1990s, for instance, several firms utilised a 'copy and paste' approach, applying Western-styled investment strategies. Many of these efforts, however, were hamstrung by informational challenges, legal complexities, ambiguous paths to exit, and other factors endemic to less developed markets. The Asian financial crisis later that decade ultimately stymied many of these earlier efforts.
In the decade or so that followed, the emergence of homegrown investment firms ushered in the second phase of the evolution, which could be described as 'Local Roots'. During this era, local players began making a name for themselves with results driven by superior access to the best deals and strong networks across Asia and other international markets. Among the Western firms that found success in the region were the handful of general partners (GPs) that established a material presence in Asia and developed relationships on the ground as a way to create value through intermediating cross-border strategies.
The third phase ('Global Reach') that is currently defining the Asian private equity market is the institutionalisation of the asset class – now benchmarked against and comparable to any Western fund. Concurrent to this maturation has been a shift in strategies to take advantage of compelling macro trends, which in many cases are exclusive to Asia. This third phase is also seeing general partners bring value in the form of helping the companies under their watch realise their global aspirations and capitalising on several domestic themes that highlight the diverse opportunity set.
Fertile macro environment
From an economic perspective, over the past 15-plus years, emerging Asia has seen its share of world GDP grow from just 7% to over 20% at the expense of developed markets. Alongside this growth, and helping sustain it, has been an ongoing ascension up the industry value chain – indeed, Asia is no longer viewed as merely a low-cost option for manufactured goods or business process outsourcing. This has helped companies, in China, South Korea and India in particular, position themselves as global leaders in their respective segments.
Take the solar industry. In 2005, China had just one company among the top 10 global manufacturers of photovoltaic cells; a decade later, six of the top 10 were based in China. India, meanwhile, has established itself as a hub for research and development. The country is home to about 30 R&D centres of global auto manufacturers alone. India also has more US  Food and Drug Admisitration (FDA) approved facilities than any other country outside of the US. Indeed, Asia has long since outgrown its image as a destination built around manufacturing and outsourcing.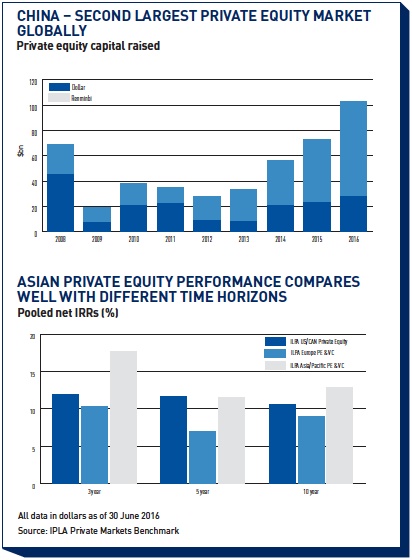 Sunrise sectors driven by internet and digitalisation have also evolved, driven by the arrival of Chinese companies like Alibaba, Baidu and Tencent in an industry that used to be heavily dominated by US companies. China has established itself as a force in the new economy by establishing local-market leadership and pursuing global links with companies in the US and Europe either through acquisitions or investments.
Themes ranging from financial inclusion – driving investments in banks and insurance companies – to the growth of tourism, are all being driven by the expanding middle class. This is also driving inbound deals that reflect globalisation and urbanisation trends. Consider, for instance, the growth of the Chinese cosmetic industry, which has experienced a shift in the balance of power as foreign brands give way to local brands. Over the past few years, for example, certain local Chinese brands have been able to address the customer needs for quality domestic-branded products, available at affordable prices and easily accessible to local consumers.
While a sense of uncertainty has started to shroud Western markets, particularly following the US presidential election and the UK's decision to leave the EU, investors in the Asia Pacific region are capitalising on several themes that should have years of runway ahead. In China, as the country continues its transition from an industrial to a consumer-driven economy, investors are finding success catering to a growing middle market.
Still, despite the compelling macro picture, the public opinion among Western institutional investors is that Asian private equity should be confined to those looking to add risk to their overall alternatives allocation. From an Eastern perspective, however, this kind of sentiment underscores the effect of a home bias. Moreover, those overlooking Asia are likely missing a compelling opportunity to add alpha into their private equity allocations.
Global investors in Asia recognise an opportunity set with no shortage of growth catalysts available for local general partners who have amassed successful track records both investing in and exiting companies, while delivering the value add that makes private equity so attractive to growing economies. With over 2,000 fund managers now operating in the region and a macro backdrop that supports the 'leap-frogging' business models these firms are pursuing, investors will likely have to move away from traditional Western-focused private equity allocations towards Asian private equity opportunities.
Viswanathan Parameswar is the head of Asian investments at Adveq