Briefing: Greece's political millstone
Uncertainties in the euro-zone pose a risk to Greece's improving economy 
Key points
• Politics dominates the discussion of Greek debt.
• Questions remain over the debt's sustainability.
• The main risks may lie with any disruption to the broader process of European integration.
Greek sovereign debt was trading as much as 700bp spreads over German Bunds in the first quarter of 2017. Some view it as an opportunity but most investors are shying away.
"In Greece, it is politics that dominate the economic outlook," says David Tan, head of global rates at JP Morgan Asset Management. He concedes that his firm had little insight Greeks would have voted in the 2015 referendum on the bailout conditions. "We don't want to risk investors' money in Greek sovereign bonds as they are subject to periodic bouts of stress when Greece looks as though it will default. That ends up showing substantial paper losses on investments," Tan says.
"Greece remains at the mercy of the IMF and the euro-zone," says Gareth Colesmith, senior European portfolio manager at Insight Investment. But since the June 2015 referendum, the International Monetary Fund (IMF), EU institutions, and European creditor countries have been in dispute over the extent to which Greece requires additional official debt relief. This is reflected in Fitch Ratings assessment of Greece's sovereign rating which has been at or below CCC for nearly two years.
The IMF released a report in February arguing that Greece's debt is "highly unsustainable". It called for debt relief from all official creditors, barring itself. Just two days later, the response from Klaus Regling, managing director of the European Stability Mechanism (ESM), argued that if Greece fully implements its ESM-supported reform programme, debt sustainability could be "within reach" and that, in any case, Greece's euro-zone partners had pledged additional debt relief at the end of the ESM programme, should it be needed.
A paper published by the Peterson Institute for International Economics, a think tank based in Washington, DC, argued that there are essentially three views about Greece's ability to service its €326bn (€297bn) debt (equivalent to about 180% of GDP). One view, embodied by German finance minister Wolfgang Schäuble, is that if Greece only carried out its programme commitments and subsequently adhered to EU fiscal rules, it would not need any debt relief.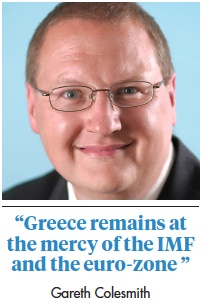 The IMF holds the opposing view that Greece's debt is "highly unsustainable" and requires a deep restructuring. But as Tan points out, the problem is that EU rules do not allow debt write-offs. EU institutions, as a result, have continued lending money to Greece to pay back to themselves while extending the terms and reducing the interest rates. In theory, of course, the end point of such a process would result in zero coupon perpetual debt which, while never being forgiven, would also never need to be repaid.
The Peterson paper sees the third view held by European institutions as lying somewhere in the middle. While, like the IMF, having "serious concerns regarding the sustainability of Greece's public debt" at the same time, the paper says that it is possible to restore debt sustainability by combining reforms and fiscal adjustment with the "medium and long-term" debt-relief measures sketched by the Eurogroup in May 2016. These include the "re-profiling of the EFSF [European Financial Stability Facility] amortisation as well as capping and deferral of interest payments" and the return of Eurosystem central bank profits earned on Greek bonds to Greece.
For hedge fund manager Amber Capital, the spreads available on Greek debt make it an attractive investment despite the problems with repayment. Giuseppe di Mino, the firm's managing director, argues that, at some point, Greek sovereign debt will be a part of the European Central Bank (ECB) quantitative easing (QE) programme. As a result, it would be included in the basket of bonds bought by the ECB in the market.
Once Greece becomes compliant with regard to the ECB stipulations, it should be able to join countries such as Portugal and Ireland, which were in the programme. The ECB could then buy its sovereign debt in the market: "The reason Greece was left out last year was because when [Alexis] Tsipras was elected [as prime minister], he called a referendum and the country was not compliant with ECB rules. The ECB is not allowed to buy sovereign debt of a country not under the programme," says di Mino.
The Greek economy is also showing signs of improvement. Fitch points out that real GDP grew 0.3% in 2016 amid improved business and consumer confidence and progress in clearing government arrears with the private sector. It has revised forecasts of real GDP growth upwards to 2.5% and 3% in 2017 and 2018, from 1.8% and 2.2% respectively.
Fitch says pent-­up investment demand, a declining unemployment rate and continued clearance of government arrears are set to support domestic demand, while the resilient euro-zone growth recovery should support export performance.  
Di Mino considers the main risk for Greece as lying outside the country rather than within. Most of the fiscal adjustment has already been completed. Today Greece has a current account surplus and a primary surplus. The worst year for Greece was 2015 in terms of political developments with two elections and the referendum on Europe, yet GDP was flat.
"The ECB is not allowed to buy sovereign debt of a country not under the quantitative easing programme"
Giuseppe di Mino
"That tells you that after the economy had gone through massive devaluation and GDP had dropped 25%, by 2015 it was very stable despite all the developments including capital controls. This was a wake-up call for us. You had a country which had gone through all this political turmoil yet, despite that, the economy was still not falling off the cliff after the 25% drop."
Amber sees the risk today for Greece as more outside its borders – what happens to the rest of the European project, what happens after general elections in Germany and Italy. Will they produce more forces against integration?
The conclusion of the Peterson paper's analysis should not be a surprise to most as it also recognises that Greece does indeed need substantial debt relief beyond what has already been extended in past years.
It also says the debt relief measures put on the table by the Eurogroup in May 2016 could be sufficient to restore debt sustainability, but only if they are taken to an extreme – that is, through extending maturities and reducing interest rates. As it points out, these measures are still both technically and politically difficult. One way out of this dilemma it argues would be to delay Greece's return to capital markets, continuing to finance the country through ESM programmes until its private sector spreads are much lower than they are currently.
For Greece, the main uncertainties may have to wait until the German federal elections in September before they can be cleared. As Colesmith argues, the Germans will then be better placed to offer the Greeks some form of debt relief: "It will be more in the nature of keeping the nominal debt the same but moving it closer to becoming a zero-coupon perpetual."