Daniel Ben-Ami finds that while there are signs that the global economy might be bouncing back, doubts are being raised by the weakness of the recovery
A mood of cautious optimism seems to have pervaded the financial markets recently. After a painful decade, which included a global financial crisis and a euro-zone crisis, many economic indicators appear to be pointing upwards. Fears of descent into a global slump are being superseded by hopes of a cyclical upturn in the world economy.
Sometimes this shift is referred to as 'global reflation'. The idea is that the economy is shifting from a deflationary period, when growth is running consistently below its trend rate, to an expansionary one. From this perspective, a rise in inflation is welcome, as it indicates a pick-up in consumption and growth. As long as there are no signs of runaway prices, the shift to moderate inflation would be read by many as a return of vibrant 'animal spirits' to the economy.
No doubt, the recent shift in sentiment is partly the result of political developments. Despite the gloomy prognoses of many, the Trump administration has not taken aggressive protectionist measures against countries with a substantial trade deficit with the US. Instead, talk of tax cuts and infrastructure spending has boosted equities and improved sentiment. This is not a prediction about what might happen in the future, as that is inherently uncertain. The danger of a trade war has not disappeared but, at the time of writing, most market participants were upbeat about US economic developments.
Similarly, the UK economy has not collapsed in the wake of the Brexit referendum in June. GDP growth in 2016 was broadly stable. Many experts remain pessimistic about the longer-term outlook but, so far at least, there is no sign of an economic crash.
In a different context, the Chinese economy, too, seems to have defied fears of a hard landing. The leadership seems to be doing a good job of managing China's difficult transition to a lower growth but more advanced economy. If the Chinese economy does slump, and it cannot be ruled out as a possibility, it would undoubtedly have a damaging impact on the developed world.
The difficult question now is whether a more fundamental shift is happening. In particular, whether the economies of the developed world are enjoying a structural improvement rather than just benefiting from one-off events. There are plausible arguments on both sides.
Valentijn van Nieuwenhuijzen, the chief strategist at NN Investment Partners, is a supporter of the cautious optimism school. In his view, the actions of the Trump administration only account for perhaps a quarter of the improvement in sentiment. "The key point for me is that it is much more to do with data – the strength and the broad-based strength in the global economy – than it has to do policy-induced reflation on the back of the Trump agenda."
He points to developments in both the emerging and the developed world to make his case. "The most significant point for me is the breadth of the strength," he says.
For van Nieuwenhuijzen. the emerging markets have experienced a "strong cyclical recovery" which has "surprisingly not derailed by any of the Trump news". Fears of an increase in protectionism have, so far at least, not materialised.
He also points to several indicators in the West which he sees as positive. These include consumer confidence, business confidence and indications of capital investment.
Bob Baur, the chief global economist at Principal Global Investors, points to a chart of global GDP growth to make his case. "In terms of dollar-denominated output, we had the worst global recession in 2015 since the 1930s," he says. In nominal dollar terms, the global economy contracted back in 2015.
In his view, the trend has gone into reverse since the first quarter of 2016. "Now it's a recovery," he says. "That's the new R word."
He argues the world economy is recovering after a decade of pain. "What we're in the midst of now is a synchronised economic upturn and it's still gathering vigour," he says.
Daniel Morris, a senior investment strategist at BNP Paribas Investment Partners, takes a similar view. He deliberately falls short of arguing that the world economy is tackling its key weaknesses but he sees the immediate outlook as positive. "It's fairly clear there is a global cyclical upswing rather than a secular shift," he says. "The cylinders are firing globally." he says, although there are "different drivers and dynamics in all regions".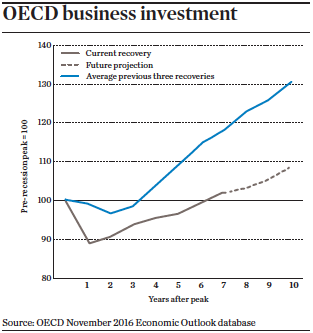 Nevertheless, Morris points to some remaining economic weaknesses. "One of the strange things about this recovery is that business investment is weak," he says. "There is a need to improve productivity and make the economy more efficient."
Phil Mullan, an independent economist and author of a newly published book, Creative Destruction, builds on these doubts to take a more sceptical view of the West's economic vitality. In his view, the recent small uptick in global growth should not be taken to represent a qualitative shift. "All this talk of reflation strikes me as being a combination of wishful thinking with a continued dose of complacency," he says.
"This is probably the weakest recovery in economic growth in recorded history," he says. He points to a graph from the OECD to illustrate his argument (see figure). In terms of business investment, the most recent recovery is far slower than the previous three.
Investment, Mullan argues, is a key indicator of economic strength because it shows the extent to which firms are committing their resources to increasing future output. "To be able to substantiate the idea that the post-financial crisis torpor is coming to an end, we'd need to see a sustained expansion in business investment."
In contrast, surveys of investment intentions, in his view, mean little. Often predictions based on stated intentions turn out to be false dawns.
Mullan is in favour of infrastructure investment but does not see it as a panacea. "It's a good thing to have roads that aren't pot-holed and bridges which aren't collapsing, airports and harbours that are less congested," he says. "But that does not indicate an end to the low-investment, low-growth, low-productivity age that we've seen since the financial crash."
He argues that a pre-condition for such a shift would be for the authorities to allow unproductive 'zombie companies' to fail. At the same time, the government should help to create the conditions for new enterprises to flourish. That is the meaning of the 'creative destruction' in his book title.
Up to a point, the debates about the trajectory of the global economy will be resolved by the passage of time. With the benefit of hindsight, it will become clearer whether or not positive sentiment or investment intentions are translated into reality.
However, an element of judgement will remain. There is always room for debate about what can be reasonably expected from the global economy. Some see the potential for substantially more growth while, at the other end of the spectrum, others see economic expansion as having reached its limits. That looks likely to remain a topic of debate for some time to come.