India: Tax net benefits from bold move
Joseph Mariathasan finds India's recent demonetisation exercise has caused some economic pain but it has also greatly increased the number of taxpayers in the country 
On 8 November 2016, Narendra Modi, the prime minister of India, announced on national television that India's two highest denomination notes – INR500 (€7) and INR1,000 – that accounted for 86% of money in circulation would no longer be legal tender after midnight that day. Citizens would have until the end of the year to surrender their notes for new ones at a bank. 
The government's stated aim was to crack down on 'black money' – undeclared cash used for tax evasion and corruption, as well as counterfeit money used in crime and even terrorism. In a country where less than 2% of the employed population pay income tax it was an ambitious and popular move when it was announced. The next couple of months, though, showed that the government was not prepared for the consequences. Law-abiding citizens in a largely cash-based economy struggled severely – particularly at the height of the wedding season when large amounts of cash pass hands to pay for celebrations. 
India's actions were driven by the problems that can affect any country using high-denomination bank notes. Kenneth Rogoff, a Harvard economics professor, covers the issue in some depth in his recent book The Curse of Cash. A central theme of the work is that whereas advanced country citizens still use cash extensively (amounting to about 10% of the value of all transactions in the US), the vast bulk of physical currency circulates in the underground economy, fuelling tax evasion and crime of all sorts. Moreover, most of this cash is held in the form of large-denomination notes such as the $100 note in the US that are increasingly unimportant in legal, tax-compliant transactions. 
Some 95% of Americans never have $100 notes, says Rogoff. Yet, for every man, woman and child there are 34 of the notes. Paper currency plays an important role in illegal immigration and corruption. As Rogoff points out, the European Central Bank began phasing out €500 notes over these concerns, partly because of the terrorist attacks in Paris.
In the short term, India's demonetisation led to dramatic and unpleasant results and attracted much criticism. As Priyanka Kishore, lead Asia economist at Oxford Economics, an economic consultancy, says, while demonetisation was initially heralded as a landmark and bold reform, it became increasingly controversial following the severe disruption to economic activity and reports that the Reserve Bank of India (RBI) had expressed concerns regarding its potential impacts.
Kishore identifies four key channels through which it has likely affected economic activity so far. First, by severely curtailing household liquidity, it has led to a sharp dip in consumption. This has particularly hurt rural consumption. Two-wheeler sales, a widely accepted indicator of India's rural demand, fell 22% year-on-year in December 2016. 
Second, it has had a negative impact on transactions and incomes in cash-based agriculture and services sectors.
Third, the impact on the informal economy has likely been sizeable, with some feedback effect on the formal economy.
Fourth, the spillover impact of consumption cutback has weighed on already sluggish production. Oxford Economics estimates that GDP growth fell by more than one percentage point below its pre-demonetisation estimates in the last quarter of 2016.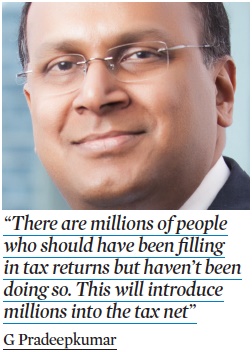 Demonetisation, as G Pradeepkumar, CEO of Indian investment firm Union Asset Management, says, was a black swan event. "It was not something a government would do lightly and most governments would not have had the courage to do this," he says. But, as he adds, now it is business as usual in India. 
What was lost in terms of lost production at factories and workshops cannot be recovered. However, the Indian banking system is flush with deposits, so that lending rates have gone down by between 50bp and 80bp a year and to some extent this has counteracted some of the negative effects of demonetisation. 
Pradeepkumar also sees benefits in creating a change in mindset in the population: "The public don't believe it will happen again. Instead, though, it has put fear into tax evaders, as it shows the government is prepared to do the unthinkable. It won't be demonetisation next but it could be something else."
The main long-term and beneficial impact for India will be on future tax revenue generation. Pradeepkumar points out that there were 148,000 deposits made of over INR8m with the average deposit size of INR33m: "To put that into perspective, when the previous government introduced a new tax on those earning more than INR10m a year, there were only 48,000 in that category. More than three times that number had INR33m to deposit." The intention of the government was to crack down on tax avoidance. While almost all of the money withdrawn from circulation was deposited back into banks, not all of it was 'white' – that is, declared legitimate cash. 
The Indian authorities, says Kishore, have initiated an intensive audit of the deposits made with the cancelled notes.  'Unaccounted' deposits – deposits that cannot be matched with the income tax returns of the assessed, will be taxed at 50%, and 25% of these deposits will be locked into a government scheme for the poor as an interest-free loan for four years. Kishore estimates the higher tax on the unaccounted deposits could yield a one-time tax gain of between INR0.4trn-1trn (0.3-0.7% of GDP) for the government. 
More significant, Pradeepkumar argues, is that more longer-term government tax revenues will increase. "Once you get into the tax net, you can't escape. There are millions of people who should have been filling in tax returns but haven't been doing so. This will introduce millions into the tax net." 
Kishore points out that, at 16.6%, India's tax to GDP ratio is much lower than the emerging-market average of 21%. She expects that the rise in deposits will improve India's audit trail and hasten the 'formalisation' of India's vast informal economy. Along with the rollout of the country's recently introduced goods and services tax (GST), this should increase tax compliance and ease tax administration over the long run. 
Rogoff argues in his book that it will likely be necessary to have a physical currency into the far distant future, but that society should try to better calibrate the use of cash: "What is happening in India is an extremely ambitious step in that direction, of a staggering scale that is immediately affecting 1.2bn people." But Rogoff advocated eliminating large notes entirely. Instead of eliminating the large notes, India is exchanging them for new ones. Oxford Economics says India's central bank will have to replace the bulk of the INR15trn in 500 and 1,000-rupee notes withdrawn on 8 November to normalise cash liquidity.
A side effect of demonetisation, though, has been that electronic payments have increased significantly, says Pradeepkumar. "People are using electronic wallets a lot more. The number of card-swiping machines has gone up by a factor of three or four." But, as he adds, the government has proclaimed demonetisation as a move towards digitisation. While this has some truth, it was certainly not the driving force. 
While the international jury may still be out on the benefits of demonetisation, by and large, the Indian public has been supportive, Pradeepkumar says. "They see it as a short-term pain but good for the country in the long term."  Time will tell whether that holds true.