Looking towards a new Japan
• Japanese equities have recently hit a 26-year high
• Contributory factors include technological optimism and tourism
• The Bank of Japan's equity purchase programme has also helped shore up stock prices
The Japanese stock market recently hit a 26-year high (see figure 1). It seems to have consolidated the substantial gains it has made since Shinzo Abe was first elected prime minister in December 2012. Japan has been firmly part of the upward trend that stock markets across the world have enjoyed in recent years.
This achievement is even more remarkable when considered against the geopolitical backdrop. There have been significant fears of a conflict in the Korean peninsula, as well as concerns that the US might precipitate a trade war. It was particularly impressive that Japanese equities should progress against such a headwind.
Global investors have clearly noticed the new-found vibrancy of Japanese equities. A net 13% said they intended to overweight the asset class in the coming 12 months in the Bank of America Merrill Lynch (BofAML) survey for January (that is, the percentage overweight minus the percentage underweight). Outsiders generally viewed the prospects for corporate profits as favourable too.
Foreign interest extends down the spectrum to smaller companies. "We are seeing a strong appetite for Japanese small-cap equities from European investors," says Satoshi Marui, the chief portfolio manager of the Japan small cap strategy at SuMi TRUST.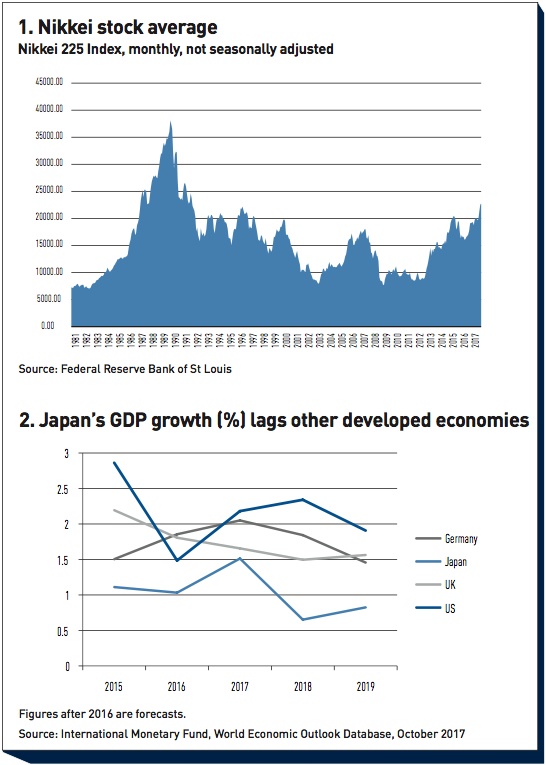 But the investment case for Japan has changed substantially even in the past few years. It is no longer primarily about the reform programme of Abenomics with its 'three arrows' of monetary easing, fiscal stimulus and structural reform. And it is a world away from the emphasis on iconic manufacturing firms such as Sony and Toyota, let alone the days of heady economic growth that lasted until the end of the 1980s.
Indeed, Japan's fund managers are quick to concede that economic growth is relatively slow and likely to stay that way. Japan's growth in 2017, estimated at 1.5% by the International Monetary Fund (IMF), was its best for several years but it was still significantly below that of its main Western peers (see figure 2). Admittedly the comparative figures for GDP per head look better for Japan, with the population peaking in 2010, but the days of rapid growth look long gone.
Supporters of Japan instead point to record corporate profits as helping to explain the recent buoyancy of the equity market. Such optimism is also reflected in the quarterly Tankan survey of business confidence which hit an 11-year high in December.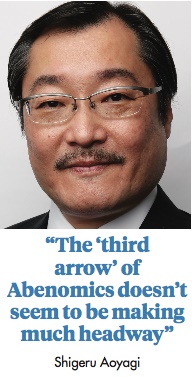 Strong corporate earnings and the optimism about the outlook naturally raise more questions than they answer. In particular, there is the matter of why optimism about the outlook is so strong at present. 
For Marui, finding the answer means involves a closer look at developments related to the corporate sector. "If you only look at macro figures, there is not a big change in Japan. But if you look at a micro basis, at a company basis, there are big changes happening and if you can identify such changes, that could signal a good investment idea."
One of the key initiatives is known as the Society 5.0 programme. This is officially referred to as a 'social paradigm' or devised for the government's Fifth Science and Technology Basic Plan launched in 2016. 
According to a Cabinet Office document on the initiative: "Society 5.0, the vision of future society to which the Fifth Basic Plan proposes that we should aspire, will be a human-centred society that, through the high degree of merging between cyberspace and physical space, will be able to balance economic advancement with the resolution of social problems by providing goods and services that granularly address manifold latent needs, regardless of locale, age, sex, or language to ensure that all citizens can lead high-quality, lives full of comfort and vitality."
In other words, the plan centres on using new technology to tackle Japan's economic and social challenges. Among the technologies favoured are artificial intelligence, autonomous vehicles, big data, health management using wearable devices, and robots. 
In some respects there are similarities to Germany's Industrie 4.0 programme but the emphasis there was more on enhancing advanced manufacturing. In the Japanese case, there is a big focus on how to use it to combat what the report calls "hyper-ageing". For example, the new technology can help elderly people remain independent and in some cases stay in the work force. From an investor's perspective, the new market for goods and services presents additional investment opportunities.
An alternative route through which Japan can benefit is its close economic ties with the still relatively dynamic East Asian region. These include not only substantial trade links but also the fruits of Japanese foreign direct investment. Japan's substantial offshore operations mean that its companies can benefit even if the proceeds of any sale do not necessarily appear in its national accounts. For example, consider a Toyota car produced by the company's subsidiary in Indonesia and sold to Indonesian customers. In such a case, it would not show up in Japan's trade statistics – it is not produced or consumed in Japan – but the story still adds to Toyota's corporate profits. 
Naturally, real-life examples may be more complicated, some parts may well be produced in Japan or, indeed, elsewhere in the world, but the principle still holds. Japanese firms can earn money from Asian subsidiaries when the transactions do not necessarily show up in Japan's own economic statistics. 
A surge in tourism is another beneciary of Asia's rapid economic growth. The number of overseas visitors to Japan increased from less than 5m in 2001 to over 24m in 2016, according to figures from the Japan National Tourism Organisation. Of the latter figure, over 20m came from within Asia itself. Shigeru Aoyagi, the chief portfolio manager from the Japan investment team at Nikko Asset Management, refers to this process as "capturing internal demand within Asia". 
If anything, these numbers look set to grow further. In 2019 the country is hosting the Rugby World Cup, while in 2020 the Olympic games will be held in Tokyo. Japan's infrastructure will be bolstered in the run-up to these events to accommodate the growth in tourism.
However, although there is a plausible rational explanation for Japan's recent bull run, there are reasons to be wary about how far it can go. Indeed, caution among Japanese equity specialist investors has risen sharply in recent months with a net 33% saying Japanese equities were overvalued in January, according to the BofAML survey.
Govinda Finn, Japan and developed Asia economist at Standard Life Investments, is cautiously optimistic about Japan but he points to one particular problem. There seems to be a disjuncture within what is sometimes known as 'Japan Inc' – the idea that the Japanese government tends to work in synch with business. For example, an important annual survey of corporate behaviour by the cabinet office shows that Japanese corporates are downbeat about economic growth prospects. "Corporate Japan's expectations for growth have declined throughout the whole Abenomics programme," Finn says. 
Indeed Japanese fund managers are themselves sometimes sceptical about what is sometimes known as the 'third arrow' of Abenomics or structural reform. "It doesn't seem to be making much headway," says Nikko's Aoyagi.
It should also be remembered that the Bank of Japan has an extensive programme of extraordinary monetary policy – known as quantitative and qualitative easing with yield curve control (QQE with YCC) – which includes equity purchases. In other words, the central bank has itself been buoying up the stock market. 
But for Finn, this does not present a problem as long as the central bank unwinds its positions carefully. "The question is when it moves away from emergency policies," he says. "One of the things we would need to see is sufficient self-sustaining revenues to underpin market performance."
The Japan of today is a world away from the Japan of yesterday, let alone the day before. Shinzo Abe has set it on a course for reform. although its ambitions are far from being fully realised. Japan cannot go back to its long-gone days of economic boom. The question is whether it can go forward to create something genuinely new.
Pages in: Looking towards a new Japan