Susanna Rust reports on a new joint initiative involving fixed income investors and credit rating agencies
The global bond market dwarfs the equity market. Yet when it comes to ESG, most of the publics' attention – and arguably also asset owners' – is on the latter. Think divestment, green indices, shareholder engagement campaigns, or annual general meeting showdowns.
But, many investors and stakeholders have been working to ensure environmental, social and governance factors are part of debt investing. A recent initiative from the Principles for Responsible Investment (PRI) – an organisation backed by the United Nations – aims to further this work by focusing on one of the key actors in the debt investment chain – credit rating agencies.
These, says Fiona Reynolds, managing director of the PRI, are "a crucial part of the puzzle for identifying systemic ESG risks in debt capital markets".
With the support of the United Nations Environment Programme (UNEP) inquiry and a committee of PRI signatories, the organisation has brought together six credit rating agencies and 100 investors managing $16trn (€14trn) in assets under management for a two-year programme of 'ratings forums' that builds on a statement of intent on ESG in credit ratings.
The latter is centred on "a common vision to enhance systematic and transparent consideration of ESG factors in the assessment of creditworthiness".
Integrating ESG in credit ratings is not about green bonds or impact investing, although they are not mutually exclusive. It is possible, for example, for a rating or the creditworthiness of a green bond to be affected – negatively or positively, directly or indirectly – by ESG factors.
Instead, it is about returns and risk management and mitigation.
As the PRI-brokered statement asserts, ESG can affect the creditworthiness of borrowers – be they corporates or sovereigns or local governments – and thereby increase the risk of defaults and price volatility. The much-discussed shrinking liquidity in the bond markets would only seem to underscore the importance of taking a holistic view of potential risks, including those under the ESG umbrella.
And in different ways and to varying degrees, those involved in the PRI initiative already do so.
Michael Wilkins, head of environmental and climate risk research at Standard & Poor's, says that the rating agency has been integrating ESG into ratings for some time.
"If you split the ESG into separate components we've been looking at the governance aspects in credit for well over 10 years or more in terms of having a very clear and defined methodology for how we assess governance risk and its impact on credit ratings," he says.
The integration of environmental and climate risk, meanwhile, has been "evolving" but is also already "firmly embedded".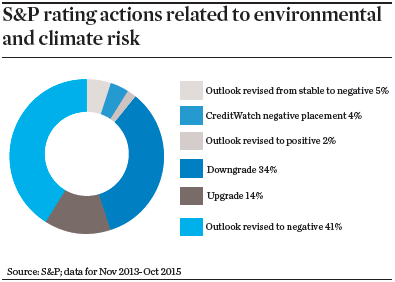 INTEXTLINKTEXT rating actions related to environmental and climate risk" src="/Pictures/web/o/n/g/S_P_rating_actions_related_to_environmental_and_climate_ris_395.png" />
In October 2015, S&P published a report showing that, over the past two years, environmental and climate factors had in 299 cases either contributed to a company's rating being revised or been a significant factor in the analysis; close to 80% of the revisions were negative.
One month later, Moody's published what it called "a landmark report" on the potential impact of environmental issues on the credit quality of global companies and industries; a second report discussed the rating agency's approach to assessing environmental risks.
It identified $2trn of rated debt as having immediate or emerging elevated exposure to environmental risks, and $58.8trn as being low risk.
Ensuring the PRI initiative has a wide geographical reach, the four other rating agencies that have signed the PRI-brokered statement are China-based Dagong, Liberum in Brazil, Malaysia's RAM, and the German company Scope.
Many, if not all, of the investors involved in the initiative are used to considering ESG factors as part of their decision-making.
"For us integrating ESG in fixed income is essential to risk management," says Josh Kendall, ESG analyst at Insight Investment. "Historically we've always been looking at and integrating ESG in our processes and using credit research from the rating agencies as part of that."
High hopes
But the PRI initiative is not about celebrating the existing state of affairs. Investors hope to work with rating agencies to encourage a more systematic consideration of ESG factors.
My-Linh Ngo, senior ESG analyst at BlueBay Asset Management, one of the asset managers participating in the initiative, says that the importance of the statement "cannot be underestimated".
The rating agencies play a pivotal role in providing independent information about a given bond issuer's credit risk, and, crucially, have access to management. "We see them as a source of information and a source of potential influence with the issuers," says Ngo.
Indeed, it is with respect to the potential to influence issuers' behaviour that Insight's Kendall also suggests the initiative could have a far-reaching impact.
"It could be a game changer," he says, noting that the asset manager has found insufficient disclosure by many companies on ESG risks and that obtaining information can be a struggle.
Rating agencies "potentially demanding this information themselves" for use within their frameworks could lead to better corporate disclosure and greater accountability, he argues, which could change how companies perceive ESG and act in relation to these issues.
Issuers' public disclosure on ESG factors is the focus of one commitment the signatory rating agencies have made, but there are others. These include a pledge to "review the ways ESG factors are integrated into credit analysis as our understanding of these factors evolves" and to "publish their views transparently on the ways in which ESG factors are considered in credit ratings".
Included in the statement is an implicit warning about what can be expected of credit rating agencies, as it stresses that "stakeholders should recognise that credit ratings reflect exclusively an assessment of an issuer's creditworthiness" and that the agencies need to be free to decide which ESG criteria may be material to the ratings they assign.
Materiality, says S&P's Wilkins, has a lot to do with the issue of time horizon. "Our corporate credit ratings have a time horizon of up to five years and a lot of environment and climate risks have a longer gestation period before they crystallise and that's difficult to try to synchronise," he says.
The challenge is recognised by investors, with BlueBay's Ngo noting that they, too, have to grapple with it.
Ngo stresses that the investors backing the PRI initiative are doing so in a spirit of openness, and credits this for helping bring about what she sees as a special collaboration.
"I think it's the first time that both parties have come together in a very explicit way to make this common pledge to work together," she says.
"[The rating agencies] are understandably very guarded and protective of their independence and ability to innovate," she adds. "So one of the key points to get across to them was that the investors involved in this initiative are not looking to be prescriptive."
Indeed, S&P's Wilkins says that how the signatory rating agencies implement their commitments "has to be decided on an individual basis".
"Every agency has its own approach and opinions and that will be the same for ESG," he says. "And, I don't think you'd want it any other way."
Political Risk: Anxiety to the fore
1

2

3

Currently reading

ESG meets credit

4

5