Susanna Rust delves into the circular economy and why it matters for long-term institutional investors
What does sailing have to do with the circular economy? For record-breaking English sailor Ellen MacArthur, a lot. In 2005, at the age of 28, she completed the fastest solo circumnavigation of the globe, covering 27,000 miles of ocean in 71 days and less than 15 hours. At sea, she says, she was constantly aware of her boat's supplies limits, and, back on land, "began to see that our world was not any different".
"I had become acutely aware of the true meaning of word 'finite'," she says, "and when I applied it to resources in the global economy, I realised there were some big challenges ahead."
Ten years after her non-stop solo voyage, a foundation in her name was set up to tackle those challenges, by helping drive the transition to what has become known as the circular economy.
This concept, according to WRAP, a UK charity campaigning for sustainable resource use, is "an alternative to a traditional linear economy (make, use, dispose) in which we keep resources in use for as long as possible, extract the maximum value from them whilst in use, then recover and regenerate products and materials at the end of each service life".
Ilian Iliev, chief executive of EcoMachines Ventures, a UK-based venture capital fund that makes seed and early-stage investments in energy and industrial high-tech companies, says the circular economy is "an opportunity that is similar but not the same as what we saw with renewables or environmental technologies" and that it goes beyond clean tech by tackling the design element.
The World Economic Forum, in a 2014 report produced with the Ellen MacArthur Foundation and management consultancy McKinsey, put it this way: "A circular economy is an industrial system that is restorative or regenerative by intention and design", and "at its core… aims to design out waste. Waste does not exist".
It is unclear to what extent institutional investors are aware of the circular economy concept, although there is some evidence they are. Aviva Investors mentioned it in April in connection with the asset manager's response to a European Commission consultation on sustainable and long-term investment, and in the Netherlands, PGGM, the Dutch asset manager for the country's €165bn healthcare pension fund PFZW, says it "contribute[s] to the transformation of the present-day economy into a circular economy" by investing in circular businesses and engaging with companies on issues like waste.
For pension funds, being long-term investors, the circular economy concept would seem useful if claims about its potential impact are true. The benefits claimed range from tackling climate change, reducing waste, protecting the environment and creating jobs to boosting economic growth and social fairness.
Circle Economy, a social enterprise dedicated to stimulating the circular economy, captures the benefits in these general terms: "Continued investment in a linear economy results in long-term, system-wide impacts and risks that have adverse effects on the economy, society and the environment. Moving towards a circular economy can generate value and reduce vulnerability against these risks."
According to the World Economic Forum and Ellen MacArthur Foundation report, the circular economy offers no less than "a systematic answer to reducing dependence on resource markets, and a means of reducing exposure to resource price shocks as well as societal and environmental 'externality' costs that are not picked up by companies".
Estimates of the quantitative impact vary. The World Economic Forum report refers to "a trillion-dollar opportunity" while more recent research from management consultants Accenture found that the circular economy could generate $4.5trn (€3.9trn) in additional economic benefits by 2030. The European Commission, meanwhile, has referred to net savings of €600bn for businesses from "waste prevention, ecodesign, re-use and similar measures" while "a shift from recycling to refurbishing light commercial vehicles could save material inputs by €6.4bn per year".
Indeed, from a regulatory standpoint, the circular economy is a European Union phenomenon, although not without controversy. In December 2014, the Commission withdrew a proposal for new waste laws as they were not deemed ambitious or comprehensive enough. It promised to present a new package by the end of last year that would cover the full economic cycle rather than just waste reduction, and duly did this in December with the launch of its circular economy package; the above-mentioned figures for savings that could be made from shifting to a circular economy are from the Commission's announcement of the package.
It includes revised proposals and targets on waste and a complementary Action Plan setting out other measures tackling "market barriers in specific sectors or material streams", such as plastics, food waste and critical raw materials.
The package has still been criticised by some for being weak and watered-down, but for Iliev – without commenting specifically on the proposals – "for better or worse, Europe and particularly the UK are seen as leaders in environmental and waste regulation, and that is an advantage for European companies".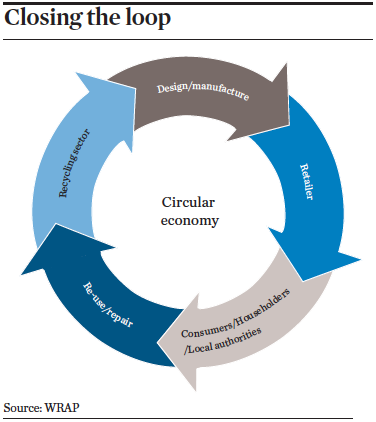 If it is, indeed, an advantage, it arguably also poses a potential threat to large established corporates in sectors such as waste management, to the extent that new regulations and new technologies and tech companies challenge their business models and market share.
This is where the link between the circular economy and institutional investors such as pension funds is perhaps the most direct.
As Iliev says, for many pension funds it will be difficult to invest directly in the circular economy on a company-by-company basis because many of these will be high-growth, high-risk innovative companies. The opportunities for pension schemes will instead be "anywhere from where we are through to project finance to investing in corporate entities themselves", he says. (EcoMachines Ventures is in touch with some pension funds as potential investors, but Iliev did not volunteer this information or provide further details.)
And it is in relation to their holdings in large corporates that the drive for a circular economy "gets interesting" for institutional investors, according to Iliev.
"At the top level we're hearing the right noises from them," he says. "They are engaging with the issue and can see the risks that investments in this area are addressing.
"But there is another aspect in that circularity is going to happen anyhow in certain industries and not being in the game leaves these organisations [institutional investors] exposed because, primarily, they're going to be invested in large listed companies and these may or may not, at some point, come under threat from emerging players."
At the very least, Iliev adds, institutional investors like pension funds need to have an understanding of the developments surrounding the circular economy: "If they understand where the industry might be moving to over a five, 10, 20-year horizon, then investors can also help the corporate entities in which they have holdings by helping them shape their strategies."
The circular economy is not without its opponents, but its perceived economic and environmental benefits have won many backers, not least the European Commission. To this extent there is at least a policy risk to be tuned in to, although Ellen MacArthur would presumably want institutional investors to see it as much more – a question of the planet's long-term future, perhaps.