Jonathan Williams looks at disclosure of water risk and why asset owners should pay as much attention to it as people do to carbon emissions
More than two-thirds of the earth's surface is covered by water. Yet water scarcity is often a feature of dystopian literature and, more recently, a matter to which investors are turning their attention.
Whereas tackling carbon may be the more headline-grabbing initiative, promoting awareness of how much water is used by companies is nevertheless an important issue.
The 2014 Global Water Report of the CDP (formerly the Carbon Disclosure Project) found that two-thirds of the 500 companies it monitored faced 'substantive' water risks and of the 174 respondents, close to a quarter of companies recognised that water scarcity could severely restrict growth.
Such risks can cause problems for companies in a number of ways, eventually affecting the bottom line – such as an increase in water costs leading to product price rises. A recent guidance document for investors drafted by the UN Principles for Responsible Investment also noted that regulatory risk was starting to materialise in countries "particularly vulnerable to water stress".
The report notes that a shortage of water, potentially occurring in drought situations, could also cause disruption along the food and clothing supply chains, affecting firms that investors would not traditionally think of as being at risk.
"Conversely, improved and active management of water risks offers companies potential for cost savings, operational benefits, pre-emption of regulatory risk, and enhanced community relations, all of which can contribute to competitive advantage," the report said. French utility company EDF set out to reduce its water consumption by setting suppliers targets that, once met, would be rewarded, while also lowering overall costs through the reduction in consumption.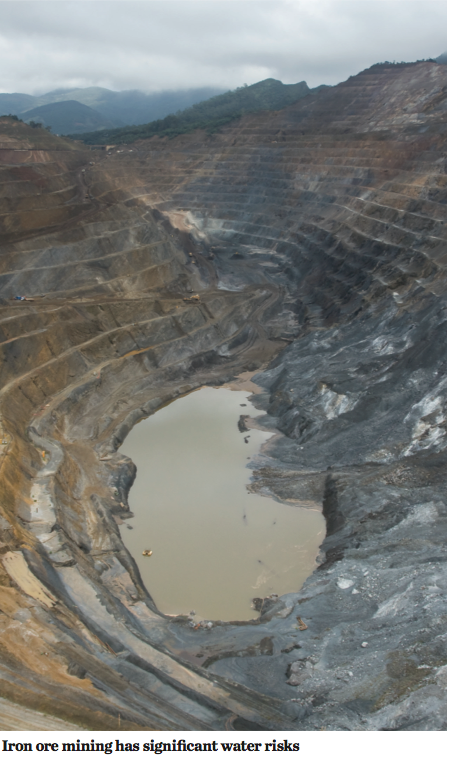 The more proactive approach needed by companies must then cascade down the supply chain, with engagement tricking down to the level of ground water, says Emma Lumpton, ESG research analyst at Alliance Trust Investments.
"Being a clean fish in a dirty pond may look good on the company website, but it does little for people, planet or profit."
Changing the way companies work will inevitably be an area where asset owners have to step in. Cate Lamb, head of water at CDP, says that the sector will be hugely critical in setting the tone, even if action starts with minor matters such as including water-related issues in requests for proposals to asset managers.
One of the CDP's largest investors for its water project is Norges Bank Investment Management (NBIM), responsible for the NOK6.4trn (€706bn) Norwegian Government Pension Fund Global. The fund has put companies on alert over their handling of water risk, such as AngloGold Ashanti over the high levels of heavy metals in the water supply around mines in Ghana.
The mining and resources sector has long been aware of its water footprint and developed its own methods to measure impact. But as research by Dutch pension asset manager APG reveals, these methods often only look at consumption and not quality or purity.
In the World Resources Institute paper 'Mine the Gap', the authors conclude the financial community lacks "adequate information" about the water risk facing mining companies.
"Water risks are likely to increase over time as mineral demand grows, ore grades decline, climate change intensifies, and economic and demographic trends strengthen competition for water resources," the report adds.
"Mining sector stakeholders have important roles to play to improve the quality of water disclosures to better reflect water-related risks facing companies today and in the future."
Water risks
• Decreased availability or quality.
• Increased costs of water or its treatment.
• Disruption of supply due to conflicts with large-scale users.
• Conflicts with large-scale users resulting in reputational damage.
• Increased production costs as a result of prices.
• Regulatory risks, often in countries with water scarcity.
The sustainability of water in mining is at the core of research commissioned by NBIM. It announced earlier this year that it had awarded a three-year grant to Columbia to look into sustainability in the resources sector, with part of the work conducted by the Columbia Water Center.
At the time, it said it would make the models available to the sector, allowing it to better assess water "and a broad range of environmentally induced financial risks".
NBIM found that only around 63% of its holdings in the mining and resources sector disclosed water risk and 10% of the companies it directly assessed for water risk last year provided no relevant information on the dangers.
In fact, of the 269 with which it engaged, only 36 were deemed 'very good', and close to 100 were rated 'weak' or 'very weak', scoring under 40%.
The Norwegian sovereign fund also found that the overwhelming majority of utility and water companies reported on water risk, an unsurprising development perhaps when it is the main source of income.
The Church of Sweden's investment fund notes that one of its holdings, the Manila Water Company, set out to reduce wastage through leaks. A 12.2% reduction in leaks saved it $580m (€553m) a year, a significant sum that can either be reinvested or passed on to shareholders.
Carbon emissions will continue to dominate the agenda, especially with the United Nations Climate Change Conference in Paris approaching this December.
But with the largest European asset owners leading the way, and 573 institutional signatories worth $60trn supporting the CDP's development of disclosure frameworks applicable to all industries, water will remain an important matter on the agenda.