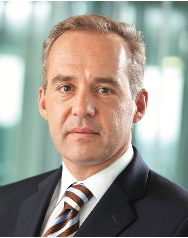 Frédéric Janbon inherited a complex multi boutique structure in 2015 when he moved from his position as special adviser to the board of BNP Paribas to become chief executive of the asset management business in October of that year.
Back in 2008 at the height of the financial crisis, BNP Paribas acquired the investment management business of the ailing bank Fortis, of which it also later became the majority shareholder. Integrating Fortis Investments into the existing structure led to a fairly unwieldy organisation that was difficult for outsiders to understand.
Operating under the umbrella of BNP Paribas Investment Partners, its included affiliates such as Fisher Francis Trees & Watts, the US fixed income house, and THEAM, a quant operation itself spun out of BNP Paribas investment bank, and CamGestion. These and others have been integrated into BNP Paribas Asset Management (BNPP AM) as part of what the firm calls its "integrated perimeter".
"What we did a few months after I arrived was to draft a strategic plan, which we presented to our shareholder, BNP Paribas, and we now have marching orders along the lines of the strategic plan," Janbon says. This includes a target to grow AUM by 5% year-on-year.
Within the BNPP AM structure, Janbon has created four business areas. These are: fixed income; fundamental equities; private debt and real assets; and multi-asset, quant and smart beta (known as MAQS). The latter incorporates solutions, liability-driven investment (LDI), client advice and asset allocation. Other asset management entities, including regional players such as Alfred Berg in Stockholm and Shinan in Seoul, retain their identity, as does Impax, a part-owned sustainability boutique.
Frédéric Janbon
CEO of BNP Paribas Asset Management Holding since October 2015
Head of investments, BNP Paribas Asset Management, since October 2016
Special adviser to the management board of BNP Paribas group: 2014-15
Global head of fixed income, BNP Paribas: 2005-14
Current chair of the governance, responsible investment and institutional investors committee of the Association Française de la Gestion financière (AFG)
BNP Paribas Asset Management
AUM: €571bn (30/9/17)
700 investment professionals
Four key business lines:
• Fixed income
• Fundamental equities
• Private debt and real assets
• Multi-asset, smart beta and quant
Janbon says: "The most important thing we decided to do was simplify to give ourselves the means to reduce breakeven points, to boost growth and to give ourselves the tools, organisation, talent, systems and the rest to improve investment performance in the long term. And in that order, because I know this is not investment banking and when it comes to improved performance. It takes a while.
"So when it comes to simplification, we have turned this organisation upside down. Not only was it a multi-boutique but it was organised in three business lines with a fairly complex organisation which we decided to change."
The business plan, he adds, is about organic growth but also preparing for greater investment scale, hence a focus on leaner internal processes, cost efficiencies and systems. Aside from recruiting in growth areas such as credit the firm has implemented BlackRock's Aladdin risk system as part of the drive to improve internal processes.
Highlighting capabilities in the core areas of risk management and quant is one way to change the perception of the firm. Integration of environment, social and governance (ESG) criteria is another. "Sustainable investing is at the top of our mission," Janbon says. As such it moves from being a business line to become a centre of competence whose intellectual property is embedded in investment processes and in risk management.
"Our objective is to use ESG criteria at minimum for everything we do," Janbon explains. "We are very convinced we think it is the right thing to do. Second, it will become increasingly clear that ESG criteria are a great way to improve risk management. Third, I am convinced that ESG criteria will frame the transformation of very important sectors of the economy so they should be there to help us identify the winners in each of the sectors."
Led by Denis Panel, the 130-strong MAQS team is probably the most diverse of the four key business areas. Alongside multi-asset strategies it also encompasses insurance and pension solutions as well as client advisory. These can range from LDI strategies to fiduciary management, quant and index strategies. The latter includes factor investing and structured investments.
Janbon says the MAQS team can help bridge what he foresees as an increasing polarisation between passive on the one side and high conviction, active strategies on the other. "We are a global company so owe it to clients to offer solutions that offer active and passive and can combine the two," he says. In part this could be through a multi-asset or asset allocation framework. BNPP AM also seeks to add value by combining fundamental 'human' capabilities with data-driven processes, or what the jargon calls 'quantamental' strategies.
Janbon says this can mean opportunities to uncover distinct investment factors and thereby create new sources of quant-driven alpha. For fundamental investing it can involve more efficient screening. "The net result will be more diversification and the ability for portfolio managers to identify investment opportunities better and faster, which will lead to better financial returns."
Convinced that its transformation requires a digital aspect, BNPP AM is also investing in data scientists, placing digital experts throughout the organisation, including in sales and marketing. In the retail space, the acquisition this year of a Belgian robo-adviser business underscores a willingness to serve individual clients in new areas.
BNPP AM has also been expanding in credit, reflecting investors' search for yield. Within a 50-strong private debt and real assets team under David Bouchoucha, the firm has just launched a European loans fund, and has hired two Paris-based credit analysts and more than 10 portfolio managers in infrastructure, real estate and corporate lending. This follows the close of a €361m European CLO fund in September, the firm's second, as well as the creation of a new SME lending venture and an enhanced process to originate loans.
BNPP AM is not the only asset manager to have found itself with a complex organisation due to M&A driven at the level of its corporate parent. By setting itself a clear AUM growth target, the firm has scale at the heart of its strategic agenda, betting that size will be a decisive factor for the investment management business in the future. But in a world driven by tangible metrics, assessing whether Janbon has succeeded in changing the company's culture will be a more complex matter.