At Standard Life Investments, Euan Munro broke the mould in two ways as the founder of the Global Absolute Return Strategy (GARS) fund.
GARS, which had AUM of £26.4bn (€33.3bn) at the end of April this year, put asset management on the map for the Standard Life group. Although it was not the first diversified growth fund, its success also helped spearhead the popularity of multi-asset strategies in the UK for institutional and retail investors.
At Aviva Investors, where Munro has been CEO since January 2014, life has not been entirely straightforward. Aviva Investors has not shone in recent years. Its capabilities have not stood out but its peers have developed successful institutional niches – passive and liability-driven investment (LDI) for Legal & General Investment Management, or institutional fixed income for Prudential's M&G subsidiary.
In 2012, a previous CEO, Alain Dromer, announced a "streamlining" of the business, to focus on the core areas of fixed income, property and multi-asset. He departed shortly afterwards.
There was a reputational setback in February 2015 when the UK Financial Conduct Authority fined Aviva Investors £17.6m for cherry picking fixed-income trades to the detriment of some clients.
Then there was the interim results statement of Aviva's CEO, Mike Wilson, in August 2015 in which he described the profit contribution of Aviva Investors as "inadequate"; it stood at £32m for the first half of last year.
"That's something that has been seen in some ways as a slight on me," Munro says. "It's not. We both think the profit from Aviva Investors is inadequate. We both think it has so much road ahead of it."
Of the big four UK-listed insurers, asset management represents the lowest footprint in terms of group operating profit at Aviva, which came into being in 2000 following the merger of Commercial Union and General Accident. While Standard Life Investments accounted for 51.4% of group operating profit in 2015, for Aviva Investors the figure was just 4%, even after a 23% year-on-year increase to £106m for the full year 2015.
Like many other asset management businesses with an insurance parent, the bulk of assets under management is captive. In Aviva Investors' case, less than 25% was managed for third parties at the end of 2015. A milestone has been the successful win last year of a £75bn mandate to run Friends Life's assets, from AXA Investment Management. So far, Aviva Investors has absorbed about £45bn of the assets.
"As long as your big client base is the insurance company that is part of its group, you really don't take much money," Munro says. "You tend to get kept on starvation rations. We were substantially captive and where we had externalised, it wasn't in really decent margins or scalable propositions. We did have external money but we had to work quite hard for it and often it was in specialist funds."
Munro now has the task of building up the external and internal profile of Aviva Investors. While the group's board probably does not want to become as dependent on one product as Standard Life is with GARS, it does have a "path for asset management to represent 10% of Aviva's earnings", according to Munro, who does not specify a timeframe.
Inevitably, given his track record as the parent of GARS, this will involve seeing Aviva Investors through a multi-asset prism. Indeed, two key fund launches quickly followed the CEO's appointment – the Aviva Investors Multi Strategy (AIMS) Target Return fund in July 2014 and AIMS Target Income in December that year. The AIMS Target Return strategy returned 4.5% in 2015, while AIMS Target Income returned 6.3%.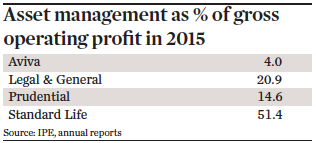 "When you are building solutions, the bigger your Lego set, the better the solution you are able to build," Munro says. "[At Aviva Investors] I really liked the diversity of capabilities I was facing. Clearly, they had not done anything quite like AIMS before but the underlying components were there and there were lots of them. Getting the commitment of the risk-takers across the business to play into it is really important. I would say the biggest obstacle to building solutions like this is getting your rates, equities, credit, FX and volatility guys to play nicely together."
In his current role, Munro says, it has been significantly easier to get the investment operation behind his new approach than it was at Standard Life Investments: "As CEO, it is the easiest, as you can set the tone. Having the ability to commit the whole firm to the project is really important."
Munro advocates a strong focus on client needs. "The pressing need now is, how can I make a decent level of income without putting my capital at risk?" he says. "In fund management we are the equivalent of the pharmaceutical industry trying to solve the big diseases, heart disease, cancer and so on. There are certain blockbuster client needs and if you can solve them you have a big business on your hands."
The CEO notes that Aviva, like other insurers, is already a big investor in areas like real estate and infrastructure debt, private placement and structured credit. "There is a quite a bit of legal work involved in doing them; you have to have the right contacts to get into discussions about them and they are quite complex," he says. "But there is definitely a reward for the complexity of doing it and for the illiquidity of the asset you end up with."
A multi-asset fixed-income strategy looks likely. "You should expect us to bring a go-anywhere fixed-income proposition," Munro says. "When I introduced the AIMS [multi-asset] way of thinking into Aviva Investors it stirred up the discussion across the asset classes and more people got into that way of thinking. There's quite a lot that can be done in a fixed-income outcome fund and that will come this year."
Munro will also have been buoyed by the recent poaching of Mike Craston from LGIM (where he was head of the US business) as Aviva Investors' global head of business development. The CEO also made a decision early on in his tenure to introduce a functional leadership structure based on product areas. Mark Conolly is CIO for liquid markets, Mark Versey CIO for illiquid assets and alternative income, and Ed Casal global head of real estate. Regional businesses report into different heads: the US business, which is distribution centred, reports to Craston, for example.
Steve Farrall was appointed chief risk officer. "When I first started, for obvious reasons, I set out in my first week to say we must be at the vanguard in terms of risk and control," Munro says. "I do believe we are ahead of our industry at the moment and I want to keep going."
For now, Munro's sights are set on building up fund distribution strategies "on a decent margin that gives us a future". Does he expect his firm to be a significant institutional player? "We do eventually," the CEO says. "Clearly, when we've brought across the rest of the Friends Life assets we will be substantially over £300bn in assets and a substantial element of that is going to be captive. I'm not expecting third-party assets to [exceed] the captive assets in the foreseeable future but if you're talking about profit contribution, then I do believe that the third-party business could be a substantial part of that in the next three to four years."
Political Risk: Anxiety to the fore
1

2

3

4

5

Currently reading

Strategically Speaking: Aviva Investors