Strategically Speaking: Dodge & Cox
For most investment professionals the aftermath of an almighty financial crash would probably not seem like a good time to launch an asset management firm. For all but those with the strongest nerves it would be better to wait for more stable times or switch to another career entirely.
Van Duyn Dodge and Morris Cox evidently had stronger nerves. In November 1930, just over a year after the Wall Street crash in October 1929, they decided to set up Dodge & Cox in San Francisco. It is not possible to say for sure but it is likely they had doubts about their decision. The Dow Jones Industrial Average did not reach its record low until the depths of the Great Depression in July 1932. It did not return to its 1929 peak until 1954.
That the firm is not only alive but apparently thriving in 2017 strongly suggests they did something right. Last year it was ranked 62nd by assets under management in IPE's annual report on the top 400 asset managers. 
A closer examination shows that the legacy of the dark days of the 1930s lives on within Dodge & Cox. Or, to put it more precisely, the firm was largely shaped by its guarded response to the difficult times in which it was born. Both its investment approach and its corporate structure bear their hallmark.
Dana Emery, the chief executive officer of the firm, is clear on this point. "Mr Dodge and Mr Cox really felt strongly that a firm that was focused on clients and putting their interests ahead of themselves was really an important differentiating way of managing assets," she says. "This was coming off the twenties where there were a lot of conflicts in Wall Street including a lot of brokerage-based models, where the incentive was to do transactions." 
Charles Pohl, the firm's chairman, endorses this view. To illustrate the continuity he adds that "Mr Cox lived to be 100 years old and came into the office until he was 95." Pohl is then quick to emphasise that Cox has already given up executive responsibility in his latter years.
"Mr Cox had been an investment banker in the 1920s in the beginning of his career and was very disillusioned by the practices of Wall Street," says Pohl. "He and Mr Dodge thought that in the wake of the crash there was an opportunity to create a firm that had a very high ethical standard and was focused on serving the interests of long-term investors."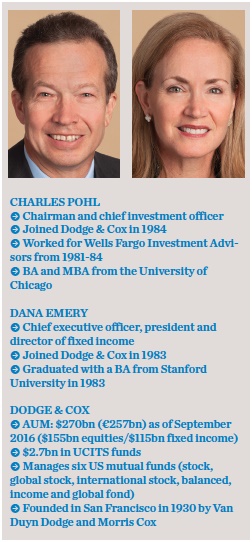 Indeed Charles Pohl and Dana Emery's roles themselves reflect the practice of the firm's founders. Dodge & Cox has always had a two-person team in charge throughout its existence. Pohl and Emery have both been at the firm for over 30 years and, as would be expected, clearly know each other's working habits extremely well. They are also always careful to refer to the firm's founders and Mr Dodge and Mr Cox.
Despite having existed for 86 years the firm manages only six US mutual funds (including UCITS mirror versions for four of them for European markets). That is a strikingly small range for a firm of its size. Many asset managers are quick to launch funds to capitalise on the latest investment fashions and quick to close them when they perform poorly. 
The latter practice tends to flatter an asset manager's performance since the record of the closed funds if often forgotten. Dodge & Cox, in contrast, has not closed any funds in its lifetime.
Its first portfolio was its Balanced fund launched in 1931 and still in existence.
The $14.5bn fund has a broad mandate with a minimum of 25% in equities and a maximum of 75%. A maximum of 20% of the bond portion of the portfolio can be invested below investment grade.
But the importance of the Balanced fund goes beyond the portfolio itself. The firm as a whole likes having analysts who cover both fixed income and equity investments. 
"Our research teams are highly integrated with regard to both the fixed income and equity side," says Pohl. Indeed although Emery is a fixed interest specialist and Pohl is an equity specialist they both keep an eye on the other asset class.
In both asset classes the emphasis is on achieving strong long-term returns. That means focusing on fundamental research to assess the potential for future growth in earnings and cash flow. 
Pohl says that in relation to equities the average holding period for each stock is about six or seven years. That compares with about one year for the average US mutual fund. "We are on the far extreme in that dimension," he says.
If the firm's investment approach is informed by its history so is its organisational structure. It has been kept simple with no external parent and only one investment office. 
The firm is entirely owned by its active employees. Those who reach the age of 65 have to start selling back their shares. There is even an anti-nepotism provision which bars the company from hiring any relatives of current employees. "We have a real meritocracy here," says Pohl. The turnover of its staff, who tend to be recruited from prestigious universities, is low.
Investment staff are also expected to have a degree of mental toughness. Individual analysts are meant to advocate investment ideas in written reports which are vetted by a sector committee before being presented to a policy committee. Often ideas are rejected multiple times before being accepted. 
"We need people who are resilient," says Dana Emery. "They must take the feedback of the committees and maybe come back again after they've done further analysis ".
Charles Pohl emphasises that its lack of an external parent means that there is no conflict of interest over investment. In Pohl's view many firms with external shareholders often come under pressure to meet short-term targets and attract new assets. 
In contrast, Dodge & Cox's relatively stable client base is tolerant of short-term underperformance. Pohl concedes, for example, that the firm's performance was relatively weak in 2015 and the first half of 2016. 
During that time the firm's portfolios were tilted towards companies that were likely to benefit from stronger growth and higher interest rates. But he says the earlier underperformance was more than made up for by strong outperformance in the second half of 2016.
Dana Emery says that strong performance tends to come in spurts. "Investing throughout a cycle and having a long-term view is a much better way to invest."
It is impossible to be certain what the future will bring but Dodge & Cox's long-termist approach seem to have served it well since 1930.