Investors have grown in confidence with bank contingent convertible bonds as their confidence in bank stability has risen. Christopher O'Dea looks into an increasingly important and institutionalised asset class
As the search for yield grinds into another year, investors are warming up to a new hybrid security that promises income well above that available from traditional debt – contingent convertible bonds. 'CoCos', as the popular new instruments are called, were invented to help banks shore up their capital bases without relying on public-sector bailout funds and, to borrow a term from the social media world, they've gone viral.
CoCos caught fire in 2014, as issuance of nearly $90bn (€85bn) swelled the total supply of the new bonds to more than €130bn. Some market participants forecast the market could reach $1trn over the next decade. While stressed banks in the euro-zone and the UK have led the way, Chinese banks joined the fray in late 2014, and early in 2015 even well-capitalised Swedish banks were preparing to raise capital with the novel bonds. Market infrastructure is developing too; rating agencies have established regular coverage of the sector and there are two CoCo indices.
But there's no free lunch, and the investment proposition of CoCos can perhaps best be summed up as 'heads I win, tails you lose'. Last summer, in a note warning yield-seeking investors against starting to behave like holiday gamblers on a casino cruise, the European Securities and Markets Authority (ESMA) spotlighted the conundrum.
"Contrary to classic capital hierarchy, CoCo investors may suffer a loss of capital when equity holders do not," the agency said in a statement that outlined the potential for investors to misunderstand – and misprice – the risks of the CoCo structure.
Hierarchy of losses
That's because CoCos invert the intuitive understanding of how convertible securities work. Convertible bonds grant investors the right to convert their debt to an equity position in the event that the issuing company's share price rises, making them a defensive equity strategy that pays a coupon in the interim, with the bond-like characteristics providing downside protection. Investors in CoCo bonds face a dramatically different proposition – they agree to give the issuer the right to convert the debt to equity in the event that the bank's capital ratio falls below a pre-set level and, potentially, to cancel coupon payments while continuing to pay dividends to equity holders.
Despite that upside-down proposition, CoCos have found buyers. Yields have eased a bit since the ECB announced its QE plan and as asset managers have launched funds, there's increasing professional interest in the bonds, which each offer unique terms that require specialised expertise to evaluate.
At a glance
• Bank-issued 'CoCos' have quickly become an important part of the fixed-income market.
• Despite apparently egregious terms, investors say they offer good value, especially after Europe's Asset Quality Review.
• An initial investor base of high-net-worth individuals and 'high-yield tourists' is giving way to a more long-term, institutional market.
Fund managers also say that last year's Asset Quality Review demonstrated the credibility of the capital plans at most banks. That's a boost to the CoCo market that some managers say is still not reflected in prices.
CoCos were created to help banks meet the Basel III capital requirements. They are intended to absorb losses before senior bank debt through explicit features, which may include a capitalisation-based 'trigger' that permits the write-down of the value of the bond or conversion of the debt to equity when predetermined capital measures are breached, or at the discretion of a bank's regulator.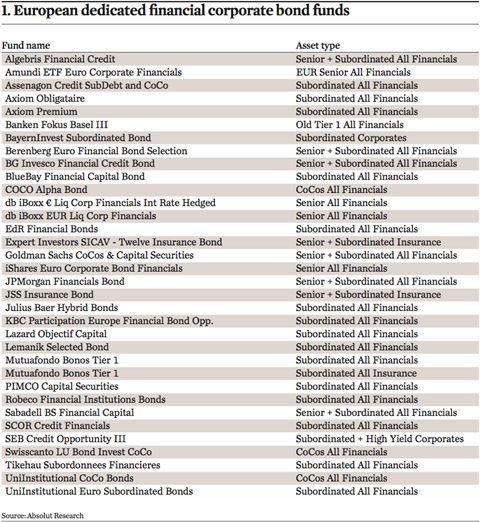 All those variations mean CoCos could prove a "minefield for non-specialist investors", says Christel Rendu de Lint, head of global and absolute return fixed-income at Union Bancaire Privée (UBP), which has exposure to CoCos in some dedicated mandates. CoCos often differ significantly from one another. "You need to analyse them name by name," she says. "Selection can prove very tricky and liquidity can become an issue."
Because the conversion decision rests with the bond issuer or regulator, "what we are all used to, the hierarchy of losses, is reversed", says Michael Hünseler, managing director and head of credit portfolio management at Assenagon Asset Management in Munich. He manages the €125m Assenagon Credit SubDebt and CoCo fund, launched in January 2014, which invests in contingent capital bonds and other subordinated debt of financial institutions.
Tourists
Investors like the relatively high interest rates the bonds pay, and banks like how CoCos afford a way to shore up their capital base with tax-efficient convertible debt that promises a path to an equity cushion in the event of a crisis.
Chinese banks led a year-end surge in CoCo issuance to become the third-largest issuer of these additional tier 1 bonds (AT1), and they're expected to tap the market with as much as $50bn more in new issuance this year, according to the February 2015 edition of Fitch Ratings' Banks AT1 Tracker. After a seasonal dip in issuance in Q3 2014, issue volumes of AT1 bonds recovered strongly in the last quarter, says Fitch. Banks issued over $29bn of AT1 instruments in the quarter, just behind the record issuance in the second quarter. That brought the total of capital instruments with numerical write-down or conversion triggers included in the Fitch AT1 Tracker to about $131bn.
While some highly rated banks, including Deutsche Bank and SEB, issued CoCos in the fourth quarter, Fitch says AT1 bonds remain a largely sub-investment-grade asset class with 60% of issues rated BB+ or below. For the overall market, Fitch calculates the 'trigger distance average' (TDA), which is the size-weighted distance between the applicable common equity tier 1 (CET1) ratio of the issuer and the contractual write-down or conversion trigger. The TDA measured in basis points increased by a "negligible 14 basis points" to 679 basis points at year-end. "This indicates marginally lower write-down or conversion risk," Fitch says.
The bonds initially attracted 'high-yield tourists,' as they came to be called, and the faint-hearted did abandon the asset class during a sell-off in the summer of 2014. Since then, asset managers have launched numerous funds specialised on CoCos, moving the segment in a distinctly institutional direction.
Assenagon, one of the first funds to launch in January 2014, manages only institutional assets drawn primarily from wealthy German families and their related companies and foundations. In January 2015, BlueBay Asset Management launched the BlueBay Financial Capital Bond strategy to invest primarily in new bank hybrids. Noting an average coupon of more than 7% for the CoCo bonds issued thus far, BlueBay expects returns to remain attractive.
"As the investor base for this new generation of subordinated financial debt is likely to increase only gradually, we believe the average yield on offer is likely to remain elevated for the foreseeable future," the firm says. BlueBay permits only sophisticated investors in the strategy "due to the complexity of the loss-absorbing mechanisms and the absence of harmonised terms from issuer to issuer and from issue to issue of contingent convertibles".
Off and running
Designed to make precious equity available to a bank just in time to bolster its capital base in a crisis, researchers Stephanie Chan and Sweder van Wijnbergen from the University of Amsterdam and the Tinbergen Institute say CoCos actually
raise the risk of financial contagion – and the popular new securities also contain perverse incentives pitting existing equity holders against CoCo bondholders.
In Cocos, Contagion and Systemic Risk, the researchers detail a series of negative consequences stemming from the basic structure of CoCos – even if the bonds function mechanically as intended. While the CoCo conversion of the issuing bank may bring the bank back into compliance with capital requirements, "it will nevertheless raise the probability of the bank being run", they say.
When banks hold assets whose returns are correlated with the assets held by other banks, signs of one bank's asset quality deterioration will raise similar concerns about other institutions. CoCo conversion is "a negative signal to depositors about asset quality. Bank runs elsewhere in the banking system become more probable too and systemic risk will actually go up after conversion."
That leaves regulators in a bind – they can force CoCo conversion by declaring a bank non-viable, but that micro-prudential decision could have disastrous macroprudential effects. "Given the obvious dangers of contagion such cross holdings give rise to, it is disturbing to see that about 50% of all CoCo's issued so far is held by banks," the academics warn.
And if that's not enough to worry about, CoCo bondholders need to be aware that many currently popular CoCo designs pit equity holders against them from the day a CoCo is issued. In those securities, "wealth transfers after conversion actually flow from debt holders to equity holders, destroying the latter's incentives to provide additional capital in times of stress." In fact, they argue that prevailing designs discourage equity holders from raising additional equity to stave off a crisis – to do so would delay or prevent the windfall they'd receive at conversion. "This has the perverse consequence that equity holders have an interest in forcing conversion, for example by taking on more risk or extracting cash through excessive dividends."
An unanticipated decline in asset returns leading to a CoCo conversion "has the immediate effect of raising the probability of a bank run", they say. "This is true regardless of the type of CoCos that are converted because they all send the same signal – lowering of returns – which affects depositor incentives in the same manner." Bond investors might want to ponder that message before buying the next CoCo issue.
Hamburg-based consultancy Absolut Research forecasts steady growth in the asset class.
"Banks are eager to build their capital buffers, so issuance of these instruments is likely to increase," it says in its February report on CoCos and subordinated financial debt. The optimal way to invest in the sector, says Absolut, is through a fund run by a specialised manager that can monitor the idiosyncratic features of the bonds in a vehicle designed to capture the potential returns from CoCos without introducing undue risk to a classic subordinated bond portfolio. (Its list of funds is given in figure 1.)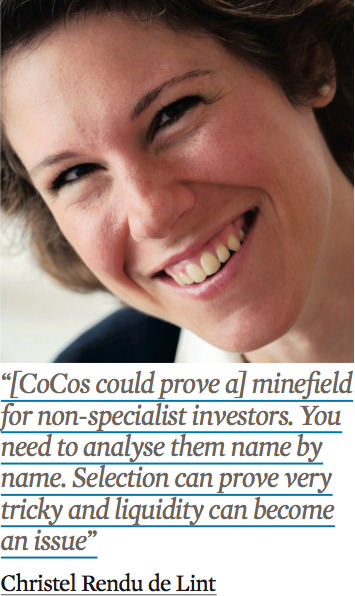 With the yield on the Bank of America Merrill Lynch Contingent Capital index near 6% in late February, Absolut says CoCos now offer "interesting properties for institutional investors". While exposed to potentially substantial loss if a single issuer floundered, "in turbulent market phases, such as the Greek debt restructuring, the segment has proved to be relatively stable".
Hünseler notes that the CoCo spread over credit default swaps ranges from 400 to 600 basis points. "It's an interesting time to get in," he says.
But with the issuing banks holding all the cards, Fitch warns that CoCo investors might take it on the chin in the event of a crisis, perhaps even before a bank became unviable.
"High expected loss severity, relative to senior unsecured debt, and full management discretion regarding coupon omission are overriding credit factors for this asset class," Fitch says.
That means the prospects for CoCo still hinge on the credibility of banks' assessment and reporting of their capital positions. Last year's Asset Quality Review was a strong positive signal that hasn't been reflected in CoCo valuations yet, says Hünseler.
"I'm surprised the AQR didn't give the CoCo market a boost," he says. "The ECB took it seriously, and only one bank would have triggered a CoCo clause. Capital was written down before the stress tests."
That shows banks are aware of their predicament, and did not want to raise doubts about their ability to evaluate their own risks. Now it's time for investors to evaluate the risks of the CoCo bonds that bankers are floating.