---
Asset selection
It looks like political risk is taking a back seat to growth this month, continuing last month's trend. Once again, equity sentiment moved down everywhere, to the point where net equity is approaching zero. Net bond sentiment is rising, also approaching zero. In one or two months, their position may be reversed in all areas. This would indicate that the market is expecting a dip in growth and central banks to intervene. The Fed has the most leeway for a traditional intervention, the BoJ has the least. An intervention from the BoE may be up against new political risk. This doesn't mean that political risk is no longer relevant. Neutral sentiment has remained on the same high level.
Country allocation
EU net equity sentiment has continued its way down, while net bond sentiment has risen slightly. The expected dip is overshadowing all other worries. Yet neutral sentiment remains high.
US net equity sentiment continues to fall, but remains the highest all over. In view of the signalled readiness to intervene by the Fed and the ECB, US net sentiment figures may be closer to the truth, which would open trading opportunities.
UK equity sentiment has fallen below zero. Political risk may still be being priced in as markets see the possibility of a hard Brexit grow. The unequal development of UK and EU net equity sentiment indicates that markets perceive Brexit as far more of a problem for the UK than for the EU. If so, the UK would not have much negotiating strength in the few remaining months.
Japan's net equity sentiment figures continue to fall and are now at zero. More remarkable is that bond sentiment does not rise. Add high- level neutral sentiment in spite of the absence of new political challenges and the image becomes one of high uncertainty. It looks like there is little faith in the readiness of the BoJ to intervene effectively. This opens possibilities for a currency play.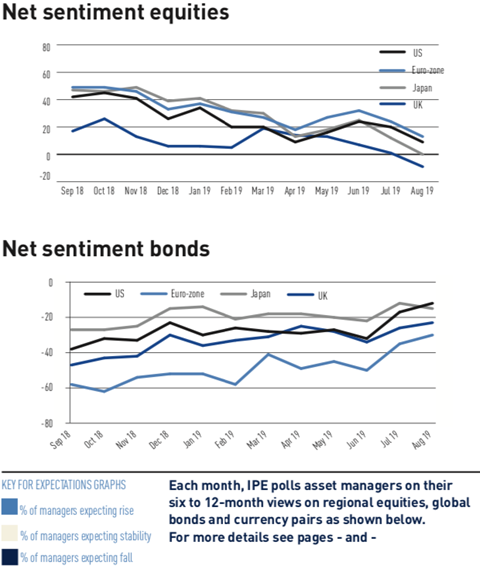 Click here to download the complete PDF
Peter Kraneveld, International Pensions Adviser, Prime BV
Supporting documents
Click link to download and view these files