The French supplementary pension scheme Ircantec's plan to diversify its portfolio could be hampered by newly proposed regulatory requirements on asset allocation, says Gail Moss
Ircantec is a French supplementary pension scheme providing pensions for nearly 4.9m retired and active public sector employees, including both national and local government employees and hospital workers.
The scheme has a huge deferred membership of 16m, as its future pensioners include non-civil-service contract staff who have been employed in the public sector at least once in their lifetime.
Because of the relatively high percentage of deferred and active members, Ircantec has large reserves, so yield is not the main consideration for the time being. Instead, the main objective is growth.
Most of its €9.5bn portfolio – 58% – is invested in bonds, with 36% in equities and 3% in real estate.
Within the bond portfolio, 60% is in sovereign debt – 45% in nominal bonds and 15% in index-linked paper – and 40% in corporate bonds. The corporate bond segment has recently been increased at the expense of sovereign debt.
"Traditionally our sovereign bonds exposure has been used to balance the higher risk from equities," says Caroline Le Meaux, head of delegated management at CDC Pensions Division, Ircantec's fiduciary manager. "And up to now, their performance has been excellent. But in view of their current high prices and the continuing low interest rate environment, we are not comfortable with the high percentage of euro-denominated sovereign bonds within the portfolio."
The board of trustees has therefore decided to diversify into other developed countries.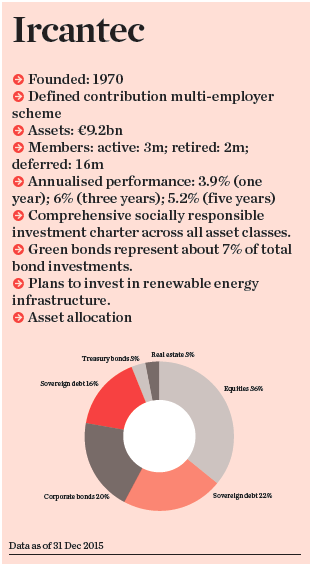 However, these plans may be halted by a draft decree of the ministry of social affairs to require some French supplementary pension schemes to hold minimum bond weightings in euro-zone sovereign bonds, in order – according to the regulator – to reduce risk.
For Ircantec, this would mean reversing the shift into corporates, and restricting geographical expansion. "Because of the current environment which is somehow unknown, keeping a lot of sovereign bonds exposure might prove itself to be unsafe," says Le Meaux. "Being Eurocentric is also a problem as it makes our portfolio very sensitive to one yield curve, that is the euro interest rate curve." Ircantec's board of trustees has therefore formally asked not to be covered by the draft decree.
Ircantec's diversification plans do not cover just its bond portfolio. Because of possible future market volatility, Ircantec is keen to provide stability by diversifying across the board, but is also planning to launch an overlay to better manage the risk of its overall portfolio.
Next year will see the launch of a new asset allocation and requests for proposals (RFPs), one of them being a tender process for an overlay mandate.
One diversification which is well advanced is the plan to launch a dedicated green bond portfolio, centred around the €300m-worth exposure that has been built up since 2014.
The move was prompted by the pension fund's board, which started investing in this area to create a link with the transition to a low-carbon economy. As a firm supporter of this process, it has previously made some key declarations and intends to invest core exposure in line with the 2ºC trajectory.
The two main ways of doing this will be to invest in infrastructure for renewable energy – Ircantec already has an infrastructure investments plan worth €120m – and also invest in green bonds.
The green bond market is growing rapidly, with more and more issuers offering these securities, not only in the euro-zone but also in countries such as India and China. In addition to institutions such as the World Bank and European Central Bank, new types of organisations are also offering the bonds.
"We want to focus on selectivity," says Le Meaux. "The green bond market is more mature now, so there is more choice."
About 70% of the existing green bond portfolio is invested in sovereign or sovereign-like bonds, and 30% in corporates such as utilities with a rating of AA or A.
Returns across the board are comparable with returns from non-green bonds for the same level of credit risk, says Le Meaux.
Ircantec is planning to launch a dedicated green bond fund next year. Until now, bonds have been purchased from different sources. The new fund will have a mandate to invest in green bonds from issuers in OECD countries and be structured as a "fond commun de placement" (FCP), an unincorporated open-ended fund.
"Investing in green bonds is quite different from investing in sovereign bonds," says Le Meaux. "We realised we needed to go a step further and be more demanding. We therefore thought having a specialist external manager would be more efficient to manage our exposure, allowing us to be more precise as to what we want and don't want."
There are no immediate plans to increase exposure from the existing €300m, although this is likely to happen in the future.
The chosen manager will work on a fiduciary basis, and it is envisaged that it will already have the capability to monitor green bonds and carry out detailed analyses of bond quality.
Ircantec's green bond exposure is still centred around the euro-zone, but this is likely to change. "When we launch the RFP, we will have a broader universe to select from, as it will cover issuers in the OECD. That will mean more flexibility and liquidity," says Le Meaux.
But she adds that liquidity should not be a problem anyway. "Ircantec tends to be a buy-and-hold investor for green bonds generally, if the quality of the issue remains, so the turnover in the green bond fund should also be fairly low," she says.
Ircantec was expecting to ask for RFPs by this month, with the appointment likely in May or June 2017.
Special Report Fixed Income Strategy: No more easy gains
1

2

3

4

5

6

7

Currently reading

Ircantec: Focusing on growth

8

9

10