Appointing an overlay manager is the corollary of a new strategic asset allocation at the €9.8bn French public sector scheme. Susanna Rust reports
At a glance
• Ircantec, the pay-as-you-go pension scheme for public sector employees, has €9.8bn of reserves and adopted a new strategic asset allocation at the end of 2016.
• It foresees greater exposure to equities, real estate and unlisted assets.
• FRR, the €36bn pension reserve fund, is thinking about reducing the size of its hedging portfolio and implementing new illiquid asset allocations.
• ERAFP, the €26bn civil service scheme, is working on increasing its exposure to illiquid assets.
"It was one of the biggest moves we did." So says Caroline Le Meaux, head of delegated management at Caisse des Dépôts et Consignations (CDC) – the fiduciary manager for Ircantec, the French public sector scheme – about the decision to appoint an overlay manager.
It was taken because Ircantec had agreed a new strategic asset allocation with an increased exposure to riskier assets, but it was far from a straightforward decision, according to Le Meaux.
She says the new asset allocation and the decision to go for an overlay was the result of two years' work. The first year of which was spent working with trustees to develop an understanding of the risks posed to the scheme from the low yield environment.
Under the new strategic asset allocation, the scheme – which is pay-as-you go with about €9.8bn of reserves – is reducing its exposure to nominal government bonds and increasing that to equities and real estate and unlisted assets (see figure).
It is close to its new target for equities and already has achieved the target for credit. It is also diversifying by expanding its overweight position in equities from the euro-zone to Europe, including the UK, and by broadening its inflation-linked government bonds exposure to OECD countries.
"We need to have a minimum yield on our reserves so we had to increase our risky assets because of the current very low yield," says Le Meaux. The asymmetric risk or performance profile of government bonds was another consideration that drove the new asset allocation, she says.
"For a very long time govvies, especially high-rated govvies, were viewed as risk-free assets and in the current low yield environment you have some risk embedded in these triple-A or double-A bonds that you didn't have previously," she says. "They could become quite volatile and also because the yield is very low you are not compensated for inflation."
The low yield environment is upsetting the negative correlation between equities and bonds, she added. "You could even have a positive correlation, which is really bad for diversification. Everything that we believe is changing so we have to take into account this changing risk profile of every asset."
With last year having been about finalising the new strategic asset allocation, 2017 will be about implementation. Ircantec has already launched the tender for an overlay manager – the trade-off for increasing the overall risk profile of the portfolio – and there are plenty more requests for proposals to come in 2017.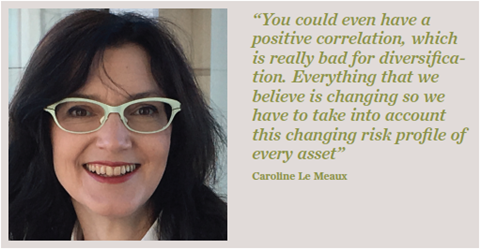 The €36bn Fonds de retraite pour les retraites (FRR) also has interest rate risk on its mind. Yves Chevalier, executive director at the pension reserve fund, says the scheme is considering shrinking the share of the total portfolio comprised by its hedging portfolio and increasing that of its return-seeking portfolio. At the moment, each of these account for half of the overall portfolio, but Chevalier said FRR will try to scale back the hedging portfolio to 40-45%.
"This part of the portfolio is now without any return and it could be costly in the future if the interest rates were to grow quickly and to a high level," he says.
Shrinking the weight of the hedging portfolio would be a continuation of a move FRR began in 2012; in 2011, the hedging portfolio represented 62% of the total portfolio.
Continuing in this direction would, however, be "tricky", says Chevalier, given high equity valuations, in particular in the US. He says this is why the fund has been phasing in its return-seeking portfolio for five years, and introducing hedging strategies such as put-spread collars in its equity allocation.
Also on the agenda for FRR is the implementation of new allocations to unlisted assets, mainly in France – €900m in private equity, €400m in infrastructure, €600m in private debt, €200m in real estate and possibly another €100m for "a good opportunity". The total target allocation at the end of the process could be about 10%.
ERAFP, the €26bn scheme for French civil servants, is also increasing its exposure to illiquid assets, having recently awarded a €200m private equity mandate and a €150m infrastructure mandate. It is pushing for the government to ease restrictions on the amount it can invest in real estate and open-ended funds, as it is close to the regulatory limit on both (10% and 3%) and views the latter as constraining its capacity for investing in unlisted assets.
Pensions In France: Why make it simple?
1

2

3

4

Currently reading

Ircantec raises risk profile