Irish DB schemes face a new financial buffer from this year, writes Carlo Svaluto Moreolo. Each of the various ways to meet the risk-reserve standard comes at a considerable cost
At a glance
• A new risk-reserve requirement for Irish DB schemes came into effect in January.
• Schemes must build a buffer equating to 10% of liabilities.
• The more assets are invested in bonds or cash, the lower the requirement.
• Awareness about risk in portfolios is growing among trustees.
Since January 2016, Irish defined benefit (DB) pension schemes must comply with a new buffer requirement. They have to set aside risk assets equating to 10% of liabilities, while for liability-matching assets the risk-reserve will be lower. A risky asset is defined as any holding other than cash, sovereign euro-zone bonds and a small tranche of euro-denominated corporate fixed income issuance.
This risk-reserve requirement poses a challenge to trustees. It comes when those liability-matching assets are expensive and the expected returns low. However, assuming schemes comply, the process could produce significant de-risking within the sector. For the Pensions Authority (PA) – Ireland's pensions regulator – it would mean achieving an objective that has been at the top of its agenda for years.
The PA has repeatedly expressed its worry that, on average, schemes are over-exposed to equity risk, and that liability-matching efforts are inadequate. This, it argues, puts pensions in danger in the ultra-low-interest-rate environment.
The requirement for an additional risk reserve beyond the minimum funding standard was included in the DB funding framework that came into effect on 1 June 2012. This requirement, which affected over 700 schemes, reintroduced the minimum funding standard that had been suspended after the 2008 financial crisis.
Schemes that did not comply with the funding standard were given a year to present recovery plans stretching over 10 years. By February 2015, 30 schemes had still failed to submit their proposals, almost two years after the June 2013 deadline.
For schemes that had to submit recovery plans, the planned risk-reserve requirement was included in their solvency calculations. However, a significant number of well-funded, less mature schemes that previously met the standard will have to build the risk reserve from scratch.
The exact number of schemes affected is not known. The PA estimates that one in six did not meet the risk-reserve requirement last December. Others place the figure at about 30%.
For schemes, calculating the required risk reserve may be a challenge, according to Evelyn Ryder, director of investment consulting at Aon Hewitt in Dublin. "There is some lack of clarity around the risk-reserve requirement and how you might account for it. Some schemes are struggling to assess how they should achieve it, meaning what assets they can use," she says. This is particularly true for schemes holding alternatives, swaps and vehicles such as diversified growth funds.
Consultants working with DB schemes report that discussions about the requirement are taking place and that the level of risk awareness has grown. Derek Hunter, head of retirement solutions at Towers Watson in Ireland, says: "Schemes are becoming much more conscious of the matching assets they are holding. The appetite for hedging is also growing."
RetireWell: Bank of Ireland's new defined contribution scheme takes shape
Jonathan Williams
• Assets: €10.2m
• Members: 6,700 in Ireland
• Three lifestyle strategies:
— Target Pension (with lump sum drawdown);
— Target Cash (targeting a cash lump sum payment); and
— Target Investment (continuing to save for retirement after retirement).
RetireWell is a new entrant to the Irish defined contribution (DC) market, but is already a growing fund.
Launched in 2014, following the closure of Bank of Ireland's defined benefit (DB) fund to new members, it acts as both the primary pension scheme for new employees and as a supplementary source of retirement income for those still accruing benefits in the DB fund. As membership is compulsory, nearly 7,000 of the bank's Irish employees have already contributed €10.2m in assets.
Paul Droop, group pensions chief investment officer at Bank of Ireland and investment adviser to RetireWell's trustee board, says the fund's conception was unburdened by preconceived notions about DC: "The bank, as a group, has no history, and no baggage with DC schemes."
He says the bank started out with a blank sheet of paper, but wanted to establish a fund that was "cutting edge" in DC terms, despite initially low contributions due to the majority – about five in six Irish members – using RetireWell as a savings plan. "It was clearly going to be a slow burner before it got up to a large critical mass, as far as the scheme effectively creating benefits of scale. That was the challenge."
The solution was a fund that could evolve as it grew, without having everything in place from the outset. Droop emphasises the need for the structure to be adaptable, flexible and scalable, so the fund can become "all singing, all dancing", with complex investment options, including exposure to illiquid assets such as real estate.
"But at the outset, that is not what would be wanted by members, largely – it's not what would be needed – and it's not what could be governed effectively," Droop says.
Instead, it opted for passive investment funds with management costs of about 35bps. The funds are packaged into four investment options – GrowthWell, EquityWell, CashWell and AnnuityWell – that form the building blocks of the trustee-devised lifestyle approach, or are individually investible for more proactive members.
The lifestyle strategies Target Pension, Target Cash and Target Investment will initially only be invested in GrowthWell, but at age 60 switch from accumulation to protection by investing in CashWell and AnnuityWell. GrowthWell targets inflation outperformance, with its portfolio including equity without taking on excessive risk.
As a result, towards the end of the glidepath, members will have a quarter of their fund invested in CashWell, 15% in AnnuityWell and the remainder with GrowthWell – resulting in a 33% exposure to equities, allowing some risk, but lowering it to minimise losses towards the end of working life. GrowthWell's overall strategic allocation includes 55% to a global equity index fund managed by Legal & General Investment Management.
A further 15% each is invested in short and long-dated sovereign debt, 12% in a diversified growth fund and the remaining quarter in cash. The approach is mirrored by RetireWell's UK fund, with the currency risks hedged according to where the member is based.
Will the fund ever pursue an active approach? Droop says that he believes in relying on systematic over specifically sought-out risk. "We are very strongly committed to sources of systematic risk. That is where you'll get the overwhelming amount of your return, and you will have to pay far, far less for it."
He adds that while the fund was not built with a management fee budget in mind, its philosophy leads to a low-cost investment approach. The only area where active management is employed is in the Standard Life Global Absolute Return Strategies Fund, to which GrowthWell has a strategic allocation of 10%.
Droop says one of the challenges initially facing the fund was how to tackle deferred members, especially when keeping in mind the 35bps cost, which also covers administrative expenses. He says deferred members are essentially free-riding. "It's a wonderful free savings scheme for them."
As a result, he says, it was important that the management fees make the fund self-reliant, with Bank of Ireland recognising the associated costs when it came to setting contribution rates to ensure current members do not lose out: "Once they leave employment, they will be paying their own way through the fees."
The scheme includes over 8,000 largely active members across both schemes, although the number of deferred members will rise.
So far, however, words do not match action. This is due to the sustained fall in interest rates over recent years which makes hedging look expensive. Trustees that decide to increase matching assets in portfolios have to come to terms with a timing issue.
The consultancy Lane Clarke & Peacock (LCP) has warned that the introduction of the risk-reserve requirement might be damaging to mature schemes. Conor Daly, a partner at LCP, says: "We are emerging from a period of falling interest rates, when the challenge of meeting the funding standards is quite high, particularly for schemes with mature profiles. The introduction of a funding-reserve requirement at this time has a risk of incurring unintended consequences, whereby a scheme that is currently viable may be pushed to reduce benefits or indeed close."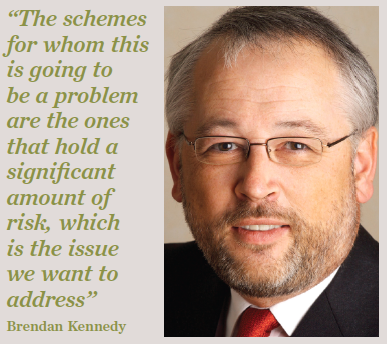 The PA acknowledges that timing is not ideal, but argues the long-term objective of protecting members' benefits comes first. "We realise that for some schemes this is going to be a significant burden," says Brendan Kennedy, head of the authority. "However, the schemes for whom this is going to be a problem are the ones that hold a significant amount of risk, which is the issue we want to address. We recognise the cost of funding is currently high, but the higher the risk in pension schemes' portfolio, the higher the chance members will not get their benefits."
He adds that some pensions schemes have raised timing with the authority, but that many have had informal discussions on implementing liability-driven investment (LDI) strategies to reduce funding gaps. He says: "We encourage any approach that is going to reduce risk while allowing schemes to achieve the investment returns they need."
Some see a possibility that the requirement will push schemes towards LDI. An affordable option, both from a cost and governance perspective, could be pooled euro LDI funds. Paul Kenny, senior investment consultant at Mercer, believes that discussions with trustees might bring back these vehicles, which were unsuccessfully introduced in 2007.
Kenny argues that if trustees become comfortable with the idea of pooled LDI, it could be an efficient lever to hedge risk and reduce the funding requirement. "The whole LDI area will become very topical again in Ireland," he says.
However, trustees will be considering different options. Other than buying matching assets, they could ask for an injection of cash from the sponsor, or enter into a contingent assets arrangement whereby the sponsor uses a physical asset – such as property – as a proxy for a cash injection into the pension fund's balance sheet.
Hunter says Towers Watson is open to all solutions. "We try to keep clients focused on medium-term objectives," he says. "You could introduce strategies that could even eliminate the reserve requirement in the short term, but fail to consider a longer-term objective."
Smaller and medium-sized funds are evaluating the opportunities presented by sophisticated LDI strategies, according to Hunter. These consist of looking beyond traditional liability-matching assets such as sovereign bonds. On an asset-allocation level, this might entail switching to passive equity mandates and active approaches in matching assets.
Hunter concludes with caution. He notes that the minimum funding standard reintroduced in 2012 has not changed, despite the implementation of the risk-reserve requirement, and thus it has become out of touch with the current interest rate environment.
This means many schemes that are ahead of the minimum funding standard, and thus solvent in the short-term, may be off-track from a longer-term perspective. This is something that sponsors will be well aware of, according to Hunter. It inevitably means that a lot more effort is required from trustees to ensure their DB schemes are viable from a risk perspective. This means it is reasonable to expect significant asset allocation shifts this year.
Buyouts remain out of reach for most DB schemes
Carlo Svaluto Moreolo
Expectations that buyouts of Irish pension schemes would increase in volume have been frustrated. A survey conducted by the Irish Associations of Pension Funds (IAPF) in 2012 found that defined benefit (DB) schemes were interested in buying out liabilities as a means to de-risk. However, cost concerns and the poor availability of de-risking assets act as barriers.
Many predicted growth in the buyout market, particularly after the government announced in 2010 that it would start issuing longer-term bonds. These, known as Irish Amortising Bonds, could be used to back annuities, which previously had to be backed by other, lower-yielding, euro-zone sovereign bonds.
Annuities backed by these long-term bonds – called Sovereign Annuities – were recognised by Ireland's pension regulator, the Pensions Authority, as a viable de-risking solution for schemes. But by 2013 only Zurich Insurance and Irish Life had permission to issue sovereign annuities.
Shane O'Farrell, executive manager for risk and longevity at Irish Life, explains that the sovereign annuity product on offer proved popular initially but that this has declined as yields on Irish bonds have fallen in recent years. Lower yields on Irish bonds, says O'Farrell, means that the use of sovereign annuities in buyout deals has become less attractive.
Irish Life, Aviva and Zurich Insurance dominate the buyout market, providing quotes for any deal. According to O'Farrell, the size of the domestic buyout market annually is €350m, while the typical deal size is €20m.
These figures are small, not just on an absolute level, but in comparison with the UK. This is taking into account total DB assets, market size and average deal size.
There are two reasons why the buyout markets have missed expectations. A major hurdle is cost. Martin Haugh, partner at consultancy Lane Clarke & Peacock (LCP) in Dublin, explains: "Euro-zone interest rates are so low that the cost of buying out your pensioners is very expensive. And the majority of schemes cannot afford that."
The other reason is structural. Under Ireland's regulatory framework, employers can close underfunded DB schemes. Provided that current pensioners get 80% of their pension and active or deferred members get 50%, schemes can be closed in the absence of full funding.
This makes winding up schemes cheaper than other countries, particularly when they have few retired members. "The temptation to walk away from schemes can be high," says Haugh. Therefore, discretionary buyouts led by trustees as a mean to de-risk schemes have been rare. Most buyouts have been triggered by closures.
As schemes mature, closures continue to be a source of business for insurers offering buyout solutions. However, even closing a scheme becomes challenging the longer low interest rates continue. Haugh points out that because pensions are generally more expensive, trustees will find it harder to deliver value to non-retired members when closing a scheme.
Yet winding up could remain the preferred option over a partial buyout. O'Farrell says: "I would expect a steady a flow of business in the future, as DB schemes continue a gradual, but hopefully controlled, wind-down."
Assuming interest rates stay low, cost will remain an issue, says Haugh, but trustees should consider buyouts as part of de-risking. LCP advises trustees to implement a tracking mechanism capable of indicating when a buyout is most affordable.
At least two other elements could potentially affect the markets, confirms O'Farrell. First is the requirement to build an additional risk reserve, effective from January 2016. This means trustees are compelled to de-risk their schemes, and a buyout could enter discussions. It would be assessed against the cost of implementing an LDI strategy or asking for sponsor intervention.
Another, albeit marginal, element is Solvency II. O'Farrell says: "There is uncertainty on how the rules will affect buyout pricing. The initial view is that it will put some upward pressure, but this will be dependent on individual insurers."
Considering all this, it is hard to see how a sudden uptick in the market would materialise. Derek Hunter, head of retirement solutions at Towers Watson in Dublin, argues that a change in solvency levels – which is being pursued by the regulator – could trigger growth. However, it will be some time before this happens because schemes lack the needed budgets.
He says: "Buyouts are increasingly discussed by clients, but in most cases they are well away from implementation." Furthermore, he concludes, implementing a buyout requires dealing with longevity risk, which is something many trustee boards have yet to address.
Pensions in Ireland: No universal solution
1

2

3

Currently reading

Ireland's DB funding steps up a gear

4

5