Are the ultra-low government-bond yields across the euro-zone a once-in-a-lifetime opportunity for European and US companies to issue debt? Joseph Mariathasan reports
At a glance
• Few companies are taking advantage of ultra-low rates to issue debt to bolster capital investment.
• In the US, the bonus culture may be driving debt-financed share buy-backs.
• Ultra-loose monetary policy may be leading to a misallocation of capital.
With government bond yields driven to negative levels in 40% of the euro-zone bond market, there is now a once-in-a-lifetime opportunity for corporates to issue long-term debt at ultra-low yields. But is this good news for the health of the European and the US corporate sectors?
Last year, records were set for issuance in Europe – €214bn by the end of the third quarter versus €218bn for the whole of 2015, says David Averre, head of credit analysis at Insight Investment. "A lot of companies have taken advantage of the record-low yields to undertake once-in-a-lifetime acquisitions," he says.
A wide range of companies have issued debt, with many coming into Europe for the first time, says Lionel Pernias, senior credit portfolio manager at AXA Investment Managers. "We are seeing a lot of US companies issuing in euros and the overall yields are very low, even after hedging."
He says ultra-low yields may be seen as an opportunity but only if companies are in a position to take advantage of them. Many investment-grade companies have limited investment plans because of the uncertainties about the global economy. Most of the issuers are conservative, which is why they are investment grade. They have a fixed-rate maturity profile and it is expensive for them to tender for outstanding debt and then refinance it. However, there has been some activity.
"Selling at a higher price than the market and then buying new bonds issued at lower than market levels can be an attractive trade for actively managed strategies," says Averre. But, he adds, it would not be attractive for strategies that are locking in spreads, although they would also not be keen to be left holding the rump of a now completely illiquid issue.
But if refinancing existing debt is not the driver, what is? "There is a need to do something with the money. No treasurer would be seeking to just raise cash right now without having a use for it – they would be out of a job," says Pernias.
The US looks different to Europe in relation to the rationale for new debt issuance. David Leduc, CEO of Standish Mellon, says that financial motivations, such as funding share buy-backs, have driven issuance in the US investment-grade market in recent years. "In a world where company management find limited opportunities and are worried about the outlook to an extent that they may not be willing to invest in plant and equipment, they are looking for other ways to increase shareholder value."
In a low-yield world where the cost of money is at all-time lows, there is a rational aspect to share buy-backs says Leduc. But the share buy-back story is a US phenomenon rather than a European one.
Averre points out that the free cash flow of US companies after capital expenditure is exceeded by the amounts they pay out in dividends and share buy-backs. "Companies have paid out around $300bn (€280bn) in dividends and $400bn in share buy-backs, giving rise to a net negative cash flow of $100bn. That is what is being borrowed in the marketplace."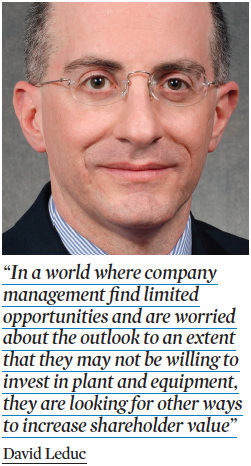 In contrast, in Europe dividend payments amount to about €180bn, with about €30bn of share buy-backs. "In the US, it is clear that debt is being used to buy back shares to increase earnings per share and hence the bonuses of senior management," says Pernias.
Averre agrees. "The whole US bonus culture is part and parcel of the problem for share buy-backs, with a heavy incentive to undertake them," he says. One reason for the difference in culture between the US and Europe, says Averre, is that the CEOs of smaller companies could be paid six to eight times what they would get in Europe. He expects the situation to change but perhaps not in the way shareholders would like. "Over time, we will probably see the European model moving towards the US rather than the other way round."
Part of the issuance by US companies is also the result of so many of them having a lot of cash trapped offshore. "If they repatriate that to the US to pay dividends or buy back stock, it would attract 35% corporation tax, so there is a huge incentive for them just to issue new debt in order to pay out dividends and buy back stock," says Averre.
Leduc adds that leverage has increased sharply, with blue-chip companies such as Google, Apple, Microsoft responsible for much of it. "These have been for financial engineering or for acquisitions. But there has been a less dramatic rise in the lower investment grade areas such as BBB."
The ultra-low bond yields are a function of financial repression imposed by central banks. Fund managers are finding themselves in direct competition with the Bank of England and the European Central Bank. For European corporates, the central banks provide a powerful backstop to corporate debt. That may be good for keeping yields and spreads low but it raises deep concerns. "We are getting into serious risks of misallocation of capital," says Pernias. Corporates may be issuing cheap debt purely because they can, without a long-term economically justifiable reason for the money, he says.
That may push them into unjustified merger-and-acquisition activity. So when the market turns and yields go up they may find themselves in trouble. "Only when the tide goes out do you discover who's been swimming naked," as Warren Buffett famously said. Investors in corporate debt may need to heed that warning.
Investment Grade Credit: Market distortions
1

2

Currently reading

Issuance: Opportunity of a lifetime?

3