The chorus of voices calling for measures to boost membership of Italy's second pillar pensions is getting louder.
The drastic contraction of the state pension resulting from the 2011 reform has left a gap in pensions provision that can only be filled by more participation in private pensions, consultants say.
Making the second pillar mandatory could be the eventual solution, but the political fire-fighting that has all but paralysed Italy's legislative institutions since the reform has pushed pensions to the sidelines.
"We need to review the private pension system, for sure," says Claudio Pinna, head of consulting, Aon Hewitt in Rome. "The current structure is not in line with the social security, but it is not clear at which stage Mr Renzi will begin to define a new legislation for this second pillar," he says.
Prime minister Matteo Renzi, who took office in February, has his eye more firmly fixed on other priorities, says Pinna, including the review of the structure of the senate and plans to review the fiscal treatment of income.
Renato Guerriero, global head of European client relations for Candriam Asset Management – formerly Dexia Asset Management – agrees that the new government has been very quiet on pensions. "The reform that was enacted by the Monti government was very comprehensive and helped to stabilise pensions spending for the next few decades," he says.
The pensions reform, designed by the labour minister Elsa Fornero, not only postponed the retirement age for Italians by several years, but also brought forward a planned shift to notional defined contribution (NDC) in the state pension system.
The result of this, and previous changes to the first pillar state pension, is that the substitution rate – pension as a percentage of final salary – is expected to decrease to around 35% from the 70% to 80% it was recently, says Alberto Salato, managing director in BlackRock's EMEA institutional business.
Salato says: "We have an ageing population that will be entitled to a lower pension from the state, so there is now a pressing need for people to think about creating a pension reserve other than the first pillar. If this does not happen, there will be a risk that the country faces increasing poverty levels among older citizens, which will be a serious social issue."
At a glance
• A boost is needed for complementary pension scheme participation but the Italian government is caught in a log-jam.
• Auto-enrolment seen as a possible solution.
• New tax incentives and more effective communication could persuade more workers to contribute.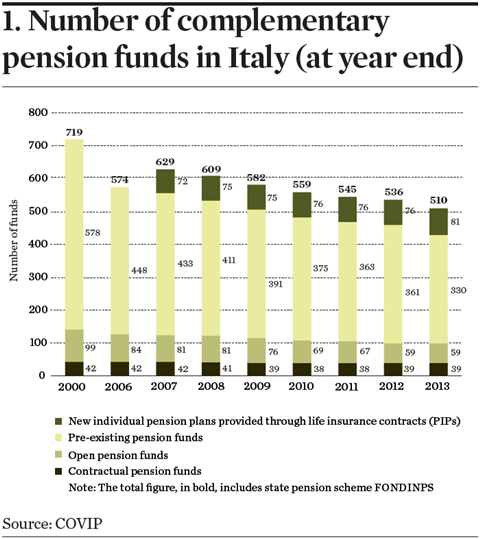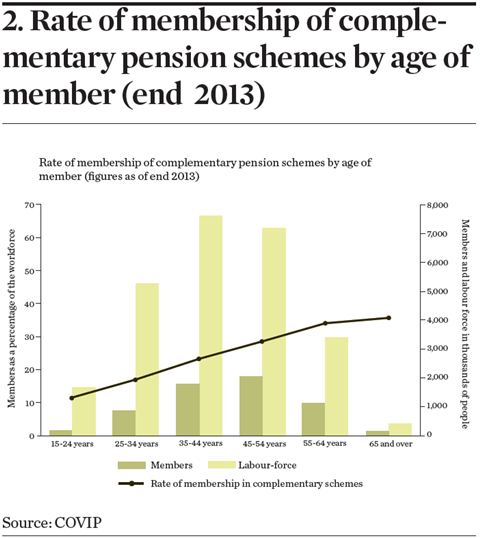 Now a major component of the second pillar, the system of complementary pension funds created under the Amato government in the early 1990s has proved to be very efficient, he adds. "It is a modern way to look at pensions, with its legal framework and focus on governance and the way they operate, having to use an adviser and conducting public tenders to select professional asset managers to run their money."
Guerriero says the pensions reform also produced some side effects that need to be solved. "In particular, I refer to the case of people that had accepted to be laid-off because previous legislation would allow them to receive a first pillar pension over a short time frame and all of a sudden, as pension age was increased with the new regulation, they were left with no job and no pension," he says.
The current government now seems to be trying to fix this bug, according to Guerriero.
Fornero herself saw the need to boost pension provision via second-pillar schemes, but did not support mandatory participation. Soon after the pension reform in 2011, she said her favoured option was to let workers divert a portion of the 33% payroll tax into a second-pillar pension plan.
But at the time, she said such a reform was impossible when the Italian Treasury could not offer pension tax relief. According to Fornero, it was low income, not a lack of incentives, from which pension funds were suffering.
In Italy, a major element of financial resources for retirement is the employee severance pay or TFR (trattamento di fine rapporto), which is paid as lump sum to the employee when their job comes to an end.
Complementary pensions shrink in 2013 – COVIP report
Around 22% of people belonging to complementary pension schemes in Italy stopped contributing to them last year, according to the latest annual report from pensions regulator COVIP.
Even though total membership of complementary pension funds grew faster in 2013 than the year before, rising 6.1% to 6.2m people, COVIP noted that the number of people suspending contributions reached considerable proportions.
Around 1.4m scheme members had not added to their savings over the course of the year, it said.
Considering only those pension scheme members who made regular contributions, the rate of membership among employed people fell to 21.4% in 2013, or 18.8% of the country's total workforce, it said.
Only 15% of the workforce aged 34 or less belonged to a complementary pension scheme in 2013, it said.
COVIP also noted wide regional variations in complementary pension scheme participation within Italy.
While the regions of Valle d'Aosta and Trentino Alto Adige in the north had participation rates of 46% and 43% respectively, in central Italian regions only 24% of the workforce were members of such schemes, and in the south, participation was just 17%.
The number of pension funds in existence fell by 26 in 2013 to 510, according to the report. Within this figure, the number of pre-existing funds was down by 31 to 330 at the end of the year.
COVIP noted that the number of pension funds had been falling since 2007, the year of the complementary pension system reform, which coincided with a high of pension funds in absolute numbers, at 629.
While this can be transferred into a pension fund or at least retained as an investment until retirement, in practice many people take the money out of the system and use it well before retirement – particularly since they often have several employments throughout the course of their working lives.
Pinna says it is important that solutions are found to ensure more of the TFR money is directed to fund pensions. Both he and Guerriero believe it is possible that the government will eventually act to make second-pillar pension contributions compulsory. But it could also take a softer approach, enacting legislation to automatically enrol workers in the second pillar but allowing them to opt out.
Andrea Canavesio, partner at MangustaRisk, says this method of drawing people into pension saving, but stopping short of obliging them to contribute, works well, even though it is based on a slightly unpalatable argument.
"It's based on the idea that people don't care enough about it, whereas you would like it to be the exact opposite," he observes. "On the other hand, we wouldn't be in this situation if it was the opposite."
As an alternative, Canavesio argues that the Italian system of trade-union negotiated collective contracts for employees of the commerce sector, for example, which include contributions to the healthcare fund and provide basic insurance, could be used to include pension contributions.
Apart from the automatic enrolment solution to the problem of low participation in second-pillar pensions, Roberto Veronico, Mercer Italy's head of retirement and investment, suggests changing the fiscal treatment of contributions.
Contributions to private pensions are capped at €5,100 a year — a cap which has been frozen for many years. "If you are a top executive you cannot think of building a good pension with just €5,100 a year, so having a higher cap would probably develop the second pillar," Veronico says.
Pension sector fights investment tax hike for first-pillar funds
The Italian government's decision to increase capital gains tax for the first pillar casse di previdenza pension funds to 26% from 20% has dismayed many in the pensions industry, and legislators are coming under pressure to bring the tax in line with the 11% levy paid by second-pillar pension funds.
Prime minister Matteo Renzi will be able to act on the tax reforms now the European elections are out of the way, says Stefano Gatti, professor of economics and finance at Milan's Bocconi University.
The reaction to the tax rise has not been good, he says. "There are some inconsistencies in the taxation system that will lead the premier to think twice before increasing further the imposition of higher withholding taxes," he says.
Andrea Canavesio of MangustaRisk describes the increase in capital gains tax for the casse di previdenza as nothing short of a scandal.
"We don't understand why the casse taxation is rising to 26%," he says. There should be some kind of harmonisation between this tax level and the levels of tax on pension fund investment elsewhere in Europe, he believes.
If this tax were brought down to the 11% levied on second-pillar and other private pension funds, Canavesio argues the funding ratio of the casse di previdenza would certainly rise, or at least the final pensions would rise, thus increasing the substitution level.
Roberto Veronico, head of retirement and investment at Mercer Italy says that if the capital gains tax remains at this level for casse di previdenza, it will have a strong impact.
But this fact has been generally recognised and the levy is therefore likely to change, he says.
The Italian parliament is scheduled to debate the issue in mid-June.
The current proposal is to maintain the 26% tax rate but give investors a tax credit of 6% to compensate for the increase.
"But in order to pay for that, they would increase the tax for other pension funds from 11% to 11.5%," says Veronico.
Stefano Gatti, professor of economics and finance at Milan's Bocconi University, also sees reforming tax incentives as the way forward for expanding pension fund membership. "Given the very high tax pressure on Italian citizens, allowing them to benefit from an increased tax deduction for contributions on the second pillar would definitely help," he says.
The latest figures from COVIP on second-pillar participation reveal that 1.4m of the 6.1m members of the funds are no longer contributing. This highlights how dependent the second pillar is on employment, according Veronico. "A large part of those six million people have decided to stop paying contributions probably because they need the money," he says.
For this reason, he sees developing employment in Italy is a vital way of developing the second pillar.
Effective communication is vital for pension funds to spread the word about the need to save through second-pillar schemes, Veronico adds. "People don't know what will happen when they retire," he says. "The replacement ratio will be 30% rather than 50%, and if they were aware of this, they would probably give the second pillar a higher priority."
While pure DC is often seen as the future for pensions, Claudio Pinna believes, realistically, that Italian employees will need pension funds to guarantee at least a minimum amount of revaluation if they are to be persuaded to save.
"If at a certain point we decide to introduce compulsory enrolment, we need to change the characteristics of the pension fund providing some guarantee to the employee," he says.
Italy: In search of the right balance
1

2

Currently reading

Italy: Desperately seeking members

3

4

5

6

7