Italy's pension funds have been called to step in to support the weak recovery of the country's economy. The government has asked that they support both infrastructure projects and small and medium-sized enterprises (SMEs). COVIP's chairman Rino Tarelli stated this clearly during the regulator's annual report speech in May. However, the debate that has ensued suggests significant flows of funds from the pension industry to the real economy are unlikely to be seen in the near future.
Pension funds have been discussing how to pour money into the Italian economy for some time, but today the issue has acquired a sense of urgency. Committing pension fund assets to infrastructure and SME lending would serve a double purpose: boosting the country's sluggish economy and offering further diversification, at a time when traditional asset classes no longer offer attractive risk-return profiles.
Maurizio Agazzi, managing director of Cometa, the second-pillar scheme for employees in the mechanical industry, says: "Pension funds feel strongly about investment in the real economy. We can explore many ways to achieve it, both in terms of what assets we can invest in and how."
The pension industry, together with the government and regulators, is actively discussing the best ways to allow and encourage funds' investment outside listed equities and fixed income.
There are several caveats. First, second-pillar funds still face regulations that limit investment in private equity and private debt. Second, they have historically been very risk averse, building portfolios around large bond holdings and equities, and making liquidity their top priority.
However, the domestic asset management industry is ready to capitalise on future opportunities. The 'Development Decree' of 2012, introduced by Mario Monti's government, introduced measures to encourage lending to SMEs through products that have been branded 'minibonds'.
Italian bank-owned and independent asset managers have answered the call. Some of them have tried to open up a market where the needs of Italian companies and institutional investors can meet. The hope is that Italian companies, which are being denied financing by conventional lenders, can find different lending sources.
This development follows a broader European trend. Data by Bologna-based research and consulting firm Prometeia shows that private debt funds in Europe grew significantly during 2013, accounting for 81% of new fund generation that year. These funds now are 40% of the vehicles dedicated to financing European companies.
At a glance
• Pension fund assets are needed to support the country's recovery.
• Plans include public bank Cassa Depositi e Prestiti pooling money from funds and acting as a guarantor.
• Several minibonds and private debt funds to invest in SMEs have come to the fore but interest has been weak.
• There are suspicions that banks are trying to pass 'bad loans' to institutions.
Prometeia analysed 200 private debt funds operating globally since 2011, with combined assets of €110bn. The firm concluded that in Italy, private debt investments are typically wrapped into Italian domiciled vehicles and have a target size of between €100m and €200m. Minibond funds launched in Italy last on average 7-10 years and target an IRR of 6-8%. Management fees range from 1-1.5% and most minibond fund managers charge performance fees.
One of the latest examples of such funds is the Italian Private Debt Fund set up by the New York-based Muzinich, which was launched in April 2014, raising €156m from Italian and non-Italian institutional investors in its first round of financing. The closed-end Italian debt fund will finance Italian SMEs with revenues of between €50m and €500m. The fund targets a 7% IRR for investors, offering companies five-to-seven-year term financing of between €10m and €20m.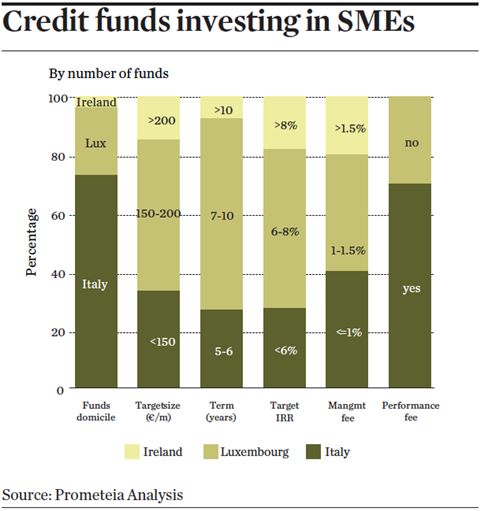 Other examples are the BNP Paribas Bond Italia PMI fund launched in January 2014 to target companies with an annual turnover of less than €250m, and Euregio Minibond fund, launched in June 2013 by PensPlan Invest to finance companies in the Trentino-South Tyrol region. Unicredit's asset management arm Pioneer Investments is also launching a fund, Pioneer Sviluppo Italia, which will invest in minibonds issued by SMEs with revenues of up to €100m and a B rating by the Italian agency Cerved.
Cinzia Tagliabue, chief executive of Pioneer Investments Italy, says: "Asset managers are opening up to the SME market, and pension funds would be the right clients. However, they need to have internal structures to monitor these investments. We are at a crossroads, there is an opportunity but it requires an organisation effort. Our fund is intended for small and medium enterprises that need growth financing. We have employed an independent external adviser to help us with due diligence about the companies, from which we ask transparency, access to balance sheets and a clear business plan. Our fund will offer monthly NAV valuations, in line with what institutional investors request."
Not many pension funds have warmed to such opportunities. While these products seem to offer attractive risk-return profiles, there is a concern that some of these offerings are an attempt to 'pass on' to pension funds the role that conventional lenders used to have in the economy. Some are indeed worried that low-quality credit might be hidden behind these offerings.
Borsa Italiana's view on SMEs and equity markets
According to Raffaele Jerusalmi, CEO of Borsa Italiana, Italian pension funds have been disconnected from the domestic equity markets so far. He says: "Milan is the most international market in Europe: 95% of institutional investors in Italian blue-chip companies come from abroad. As many as 1,300 investment houses from 40 countries invest in our markets. There are no reasons why Italian institutional investors should not become more engaged with the domestic market. Our 'Elite' programme, which brings firms to new listings, shows that entrepreneurs are eager to find alternative lending sources. We are confident that Italian institutional investors could benefit from these new opportunities, if all stakeholders collaborate to overcome obstacles such as the high cost of issuing SME credit securities. Borsa Italiana is also working to facilitate the set up of a vehicle that could become a feeder fund for SMEs."
Agazzi says: "Many are worried about the fact that banks are backing some of these funds. There are fears that the minibond experiment is linked to a decrease in bank lending. If banks are less willing to lend to SMEs, it is not clear why pension funds should step in. It raises doubts about the quality of the debt. A pension fund would need a guarantee that the investment will deliver. Otherwise their risk profile will not match the funds' mission."
Alessandra Pasquoni, head of investment at Towers Watson, says: "Pension savers want to see their money invested well, and not potentially negatively affected by country risk. It is important not to fast-track pension investment into specific asset classes, because it could clash with pension funds' objectives. For example, investing in sovereign debt is a way to invest in that domestic economy."
She adds: "The problem with minibonds is that they do not serve the primary objective they were created for, that is to provide credit to small and medium Italian enterprises. Minibond offerings are tailored for enterprises that are not small or medium by Italian standards. Also, the returns these instruments offer should take into account the illiquidity premium, the risk of investing in the domestic economy and their fees."
Boosting private debt funds is not the only proposal. Funds are keen to support the economy by financing infrastructure projects, and have been debating with the government how to do so. Discussions are taking place between funds, the government, COVIP and the state-owned bank Cassa Depositi e Prestiti (CDP). One of the plans being discussed is to have CDP collect financing from pension funds and use the money to fund infrastructure projects and SMEs. The bank could also offer bonds to pension schemes, acting as a guarantor for the securities.
These plans clash with the markedly low risk-aversion of Italian pension funds. Regulatory agencies also play a role, having reprimanded some funds for having high levels of illiquid assets on their balance sheets.
Additionally, pension funds argue that because their returns in the past decades have been positive, there is no clear rationale in diversifying into riskier assets such as project bonds or other illiquid fixed income instruments.
Fabio Ortolani, chairman of Fonchim, the scheme for employees of the chemical and pharmaceutical sectors, says: "If my strategy is working, why would I change my asset allocation without a guarantee about the quality of the new assets I am investing?"
Business development companies
Andrea Beltratti, chairman of Eurizon Capital, has researched business development companies (BDCs), the US investment vehicle set up in the 1980s to finance SMEs in the US. He says that in terms of lending to small businesses, US BDCs occupy the space between small lenders and collateralised loan obligations, offering growth financing to SMEs in a market worth €30bn.
Is it possible to replicate this model in Europe, especially in Italy? Beltratti says: "Regulating these instruments is relatively simple. But in order to make them viable in Italy they would need to be opened to retail investors as well. Another issue is that what constitutes small and medium in the US – their size is larger compared to Italian companies. But these instruments would certainly match the requirements of institutional investors that have ALM programmes and can afford investing in illiquid assets. At the same time, vehicles such as BDCs could step in as lending agents if there were further shocks in the banking sectors."
Ortolani is in favour of investing in the SME sector but he believes that more has to be done before pension funds are ready to support the economy directly. He says: "The market does not offer products and solutions that meet the standards required for pension investment in the real economy. The lengthy procedures make such investments very difficult. More importantly, we notice the lack of a shared will to tackle this issue. We would need to see all stakeholders engaged in a true discussion, including the government, trade unions and employers' associations. At the moment, such cohesion is missing both within funds and across the industry. If common will emerges, we will be able to find ways to withstand the risks of exposing pension funds to the SME sector."
Asking how Italian pension funds can invest in the real economy is like asking to what extent they are committed, long-term investors. Many in the asset management side of the business lament the short-term approach that pension fund directors take, citing their concern with valuation of every asset at frequent intervals.
However, Marco Fusco, head of southern Europe at State Street Global Advisors says their concern is driven by the constraints posed by their liability curve. "Any asset allocation and investment decision starts from the observation of a liability. We observe a number of explicit and implicit constraints which are pushing for more short-term liabilities and therefore playing against long-term investment." He identifies explicit constraints such as the promises of payments of benefits, funds' investment goals, the need for liquidity, benchmarks, regulatory and accounting constraints. Some implicit constraints are risk aversion, governance issues, lack of financial education and reputational issues.
Fusco argues that institutional investors can be encouraged to finance the real economy by removing some of these constraints. He says: "The goal of a pension fund is pay pensions, not to finance the economy. By creating the relevant framework, which would include selective intervention in corporate governance, taxation and regulation, we can push the liability curve ahead, aligning the interest of the various actors towards the goal of long-term investing."
Italy: In search of the right balance
1

2

3

4

5

6

7

Currently reading

Italy: Your country needs you