Italy's anti-establishment, eurosceptic coalition government has partly delivered on its promise to reform the pension system. 'Dismantling' the 2011 pension reform that curtailed benefits and raised the retirement age was key for both coalition partners – the Five Star Movement and the Lega. Previous governments had raised the retirement age.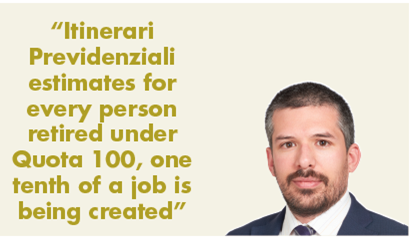 The coalition has won the argument that access to retirement should be granted at an earlier age than the current 67 years. The two parties do not prioritise deficit reduction over spending and this caused them to act in defiance of warnings from the EU about raising the deficit.
The chosen solution was a temporary three-year measure known as 'Quota 100', which allows workers aged 62 with 38 years of contributions to retire. Despite its temporary nature, the measure will need to be financed through fiscal expansion. According to an estimate by Itinerari Previdenziali, a pension think-tank, it will cost up to €30bn between 2019 and 2027 to allow such people to retire early.
Critics, particularly from the second-pillar pension industry, argue that the end does not justify the means. Allowing people to retire early is not a priority, particularly if it bears such a high cost. Some argue that policy makers are obsessed with first-pillar pension benefits.
The government's lack of effort to increase participation in the second pillar betrays the absence of a long-term vision. Improving the conditions under which Italian workers receive a first-pillar pension in itself is necessary. However, Quota 100 is not the way to do it. Perhaps the most detrimental aspect is that people who choose the early exit are not allowed to work until retirement age. This increases the share of those with casual jobs and is socially damaging, as it conveys the idea that older people are unproductive.
The government wanted to prevent early retirees from working because the implicit goal of the reform was to create work for young people. But there is no real evidence that retirees get replaced at any significant rate. Itinerari Previdenziali estimates for every person retired under Quota 100, one tenth of a job is being created.
There is a better way to make the pension system fairer and more affordable. Lowering the retirement age in the second pillar is essential, but such retirees should not be denied the right to work. Private pension saving should be encouraged by offering fiscal advantages. All this will be affordable if the government supports work, rather than curtailing it.
Carlo Svaluto Moreolo,
Senior Staff Writer,
carlo.svaluto@ipe.com