A close look at Italian second-pillar pension funds reveals structural imbalances and growing risks, as Carlo Svaluto Moreolo finds. For the many employees without a supplementary pension it is hard to decide what to do
At a glance
• Despite good returns, membership of Italian second pillar pension funds is still low.
• The government has raised taxes on pension fund returns and allowed workers to cash in on their severance pay.
• Pension funds are still largely invested in government bonds.
• A bill on competition creates a level-playing field between all types of schemes, with potentially transformative results.
In 2014, Italian second-pillar pension schemes recorded a third consecutive year of positive returns. On average, all types of pension fund investments have fared better than the Trattamento di Fine Rapporto (TFR), the employer-sponsored severance pay scheme, which is used as a measure of the sector's health.
However, analysis of the sector shows how difficult it is for Italian workers to make the right retirement choices. The first noteworthy element is that, as of the end of 2014, out of a labour force of 25.5m, only 6.5m (25.6%) invest in a supplementary pension. That percentage relative to the workforce, at about 30%, is higher since unemployment is 12%.
By comparison since 2012, thanks to automatic enrolment, the United Kingdom has enrolled 5.2m workers into pension schemes. As of 2013, membership of workplace pension schemes in the UK was at 40% for men and 31% for women.
In a 2011 paper, the Organisation for Economic Co-operation and Development (OECD), offered a convincing interpretation of the failure of Italy's automatic enrolment programme. The organisation pointed to an inefficient information campaign by the government and low disposable income of Italian workers among the reasons, but the key factor is the use of the TFR as the main source of employee contributions to second-pillar schemes.
Because TFR is kept on the company's books until workers retire, thus acting as a "cheap source of financing", argues the OECD, employers have had no incentive in encouraging workers to transfer it into pension funds. The organisation added that the TFR has proved more attractive for employees than pension funds because it offers a guaranteed return and could be drawn upon when they leave their employer.
Trattamento di Fine Rapporto explained
Trattamento di Fine Rapporto (TFR) constitutes workers' severance pay. Employees pay 6.91% of their gross salary towards it, and the sum is guaranteed by the state and the employer. The sum is increased every year by a statutory rate of 1.5% plus 0.75% of inflation. It is taxed every month at 17% and cashed out as a lump sum upon retirement. When cashed in, the sum is taxed at 24.1%. The TFR was created in its current form in 1982 and pension funds use it as a yardstick to measure performance. Since a 2005 reform, the TFR flows directly into second-pillar schemes for all employees who do not explicitly choose to keep it on their employers books.
Figures from COVIP, the Italian pensions regulator, should be enough to prove that investing in a supplementary pension scheme is better than the TFR. But the assumption that this is valid under any condition is continually tested. Employees may choose not to subscribe to a private retirement scheme to avoid the unnecessary confusion and uncertainty.
Bear in mind that Italian employees already pay 33% of their salary to finance state pensions. Additionally, 6.91% is saved into the TFR, and to complement that, workers save another 1% into pension schemes, matched by an employer contribution of 1%. That is equivalent to around 40% of gross salary.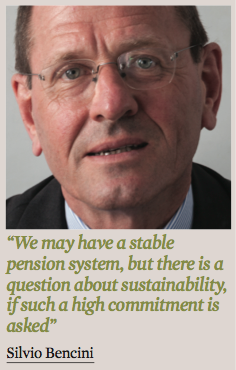 Silvio Bencini, managing partner of European Investment Consulting, a Milan-based consulting business, says: "Lamenting the low participation in the second pillar by Italian workers is somewhat paradoxical. A 40% saving rate, especially for young workers, is high by any standard, even if it is partly tax exempt and the burden is mostly borne by the employer. We may have a stable pension system, but there is a question about sustainability if such a high commitment is asked of workers."
No Italian employee, particularly young ones, can doubt the poor value of their future state pension. This has been doubly true since May when the state pension fund, Istituto Nazionale della Previdenza Sociale (INPS), started advising workers on their future pensions, inspired by Sweden's 'orange envelope' initiative.
However, there is a perception that the market for pension products, as shaped by past policy, will drive workers towards sub-optimal pension solutions. Add unstable employment conditions, inertia and limited financial illiteracy, and you have poor growth prospects for the second pillar system.
Evidence for this is found in figures from COVIP that show that membership at fondi negoziali, the country's industry-wide pension funds, is falling. These defined contribution funds, created though labour negotiations and inspired by Dutch pension funds, were seen as the new engine of the system. They grew quickly to about 2m members and €20bn in assets by 2010, only to see growth turn negative, due to unemployment and competition from other pension providers.
Positive portfolio performance, however, means their assets had reached almost €40bn by the end of 2014. But several proposals sitting on lawmakers' agenda may put pressure on these funds and the second pillar pension system as a whole. This does not bode well for the future adequacy and fairness of the system.
Italy's leaders are still looking for budget savings, even after Elsa Fornero's public pensions reforms cut spending and ensured long-term sustainability. However, to rebalance the budget deficit in the short-term, Matteo Renzi's government decided to raise taxes on pension fund investment income. The tax rate was raised at the end of 2014 from 11.5% to 20%, on all investment instruments excluding sovereign fixed income.
Despite the changes in the tax regime, the tax treatment of supplementary pensions still compares favourably to the alternatives, including the TFR. This means that pensions are still the best retirement option.
Policy inertia
However, the recent regulatory moves shows that the government lacks a long-term vision on second pillar pensions. Although the labour minister, Giuliano Poletti, praised pension funds in his speech at a Covip event, the recent measures reflect a complacent attitude.
First, it is undeniable that raising taxes on pension returns creates a sense of uncertainty in current or prospective pension savers, as it effectively decreases future benefits.
Second, new rules allow workers to cash in on their TFR every month instead of waiting until retirement. This way the government hopes to boost domestic demand, giving workers the choice of accessing an additional source of cash. But, on the other hand, this can cause a lack of inflows to pension plans, contributing to a reduced growth in assets.
Most importantly, it adds to the confusion, as it does nothing to reinforce the message that every additional penny saved for retirement is important, given how low state pensions provision will be. In the worst-case scenario, this may create a negative feedback loop: slower growth of pension schemes may discourage take up by workers, which would further hamper asset growth.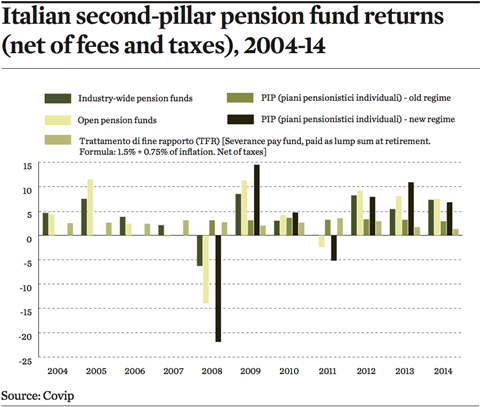 Antonio Barbieri Ripamonti, head of pension business at Arca, an Italian asset manager with €30bn in assets under management, says the 'orange envelope' programme should prompt "a strong reaction". However, he adds: "The government's attitude is not clear. If it becomes apparent that replacement rates will be so low, then they should not increase taxes on pension fund returns and introduce the possibility of cashing in on the TFR. Regardless of the actual impact, which may be limited, the government is not sending a positive message for the future of pension savings."
That is why, Ripamonti says, his company is abandoning benchmarking, in favour of an 'inflation plus' model. He says: "If we tell savers in our pension plan that they are invested 60% in bonds and 40% in shares, that does not say much to them. It makes much more sense to tell them what they can expect when they retire."
There is little evidence that Italians are using their TFR money to finance consumption. Initial data on requests for TFR advances shows very few have asked to cash in. Claudio Pinna, managing director at Aon Hewitt in Rome, says: "Italian workers have realised that using pension fund money to finance consumption is not the right choice. They understand that the pension fund system is changing, and that even in tough times such as the present ones, you need to find resources elsewhere."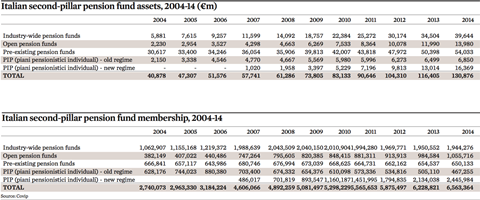 Bencini adds: "There is no doubt that saving into second pillar pension funds is the best option for retirement. If anything, at such low levels of return people may ask themselves whether it is better to save or consume. But clearly the answer to that question is that saving becomes even more important, particularly for low-income workers."
The Italian government's decision to raise taxes on all instruments except sovereign fixed income puts funds in a difficult position. They are incentivised to maintain their portfolios of lower-yielding and increasingly riskier government bonds unchanged, unless they can guarantee returns from other assets to outstrip the higher taxe rates. In aggregate, Italian pension funds allocate heavily to sovereign fixed income and diversifying portfolios will require a long, resource-intensive learning process.
Bond warning
In the meantime, Covip has issued a warning to pension funds concerning their bond-heavy allocations.
In its 2014 annual report, the regulator said that the expected returns on fixed income are going to be lower, and therefore "the strong propensity of pension funds to the sovereign debt market represents a critical factor." The regulator added that pension funds should turn to riskier assets to maximise net returns, noting how Italian funds have a limited allocation to equities and urged them to participate in the real economy through alternatives.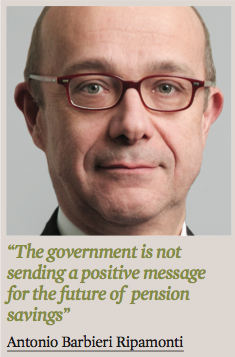 As part of the Italian government's push for structural reforms, lawmakers have drafted a bill on competition, the DDL Concorrenza. This legislation contains measures capable of transforming the pension sector, but commentators disagree on whether such change would be for the best.
The draft bill stipulates that employees will be able to transfer savings between pension vehicles, taking employers' contributions with them. This has profound implications, since occupational pension funds could see members switching to vehicles created by banks and insurance companies.
The possibility of switching from industry-wide pension funds to individual schemes is already available after two years of saving. However, under the current framework, employers' contributions agreed as part of collective labour contracts cannot be transferred into other schemes, unless there is a collective decision to transfer all contributions.
"Italian workers have realised that using pension fund money to finance consumption is not the right choice. They understand that the pension fund system is changing, and that even in tough times such as the present ones, you need to find resources elsewhere"
Claudio Pinna
This protects fondi negoziali from outflows, as workers will automatically be better off saving into those schemes where employers are topping up their contribution.
Yet, the measure has not prevented individual pension plans, called PIPs, from growing their membership impressively. PIP stands for 'piano individual pensionistico' and is a popular but expensive pension saving vehicle. According to commentators, the growth is due to the distribution capacity of PIP sponsors, which can count on a network of in-house and independent financial advisers.
There is no suggestion that this will reverse, particularly if switching to PIPs was facilitated by the regulatory framework. In the new proposed framework, workers will be able to transfer their entire pension pot from collective schemes to PIPs, and employers will have to contribute to the new plan.
Covip has praised the measure, saying that it will contribute to system efficiency, but asked that the measure be accompanied by enhanced transparency, particularly regarding costs.
Strong support for the measures also comes from companies such as Generali, the multinational insurance group. The group is active both in the PIP and the open pension fund sector, while one of its subsidiaries, Generali Investments, manages assets on behalf of all kinds of Italian pension funds.
Andrea Mencattini, chief life and employee benefits officer at Generali Italia, says the company has supported the measure at "every occasion". He adds: "The measure increases freedom of choice for workers, which is always a positive factor."
Mencattini says that the freedoms should be extended to allowing workers to choose which type of pension fund they want from the beginning, creating full portability.
He says Generali leverages on its distribution network, since "the presence of an adviser is necessary for workers to understand how they should fill their pension gap."
Although it is clear that PIPs cannot compete with industry-wide pension funds in terms of costs, Mencattini says: "It is difficult to make a comparison, because a PIP is a more flexible product, that can include additional coverage compared to a pension fund."
Stakeholders of Italy's industry-wide pension funds, particularly trade unions, have voiced their opposition to the proposal. They argue that creating a level-playing field between all types of pension schemes means workers are likely to be drawn towards vehicles sponsored by for-profit institutions, simply because their sponsors have a large distribution capacity. As a result, they will pay higher fees and invest in schemes that are managed with less focus on value for money and prudence.
Renato Guerriero, the president of the European Association of Paritarian Institutions (AEIP) and global head of European client relations and a member of the executive committee at Candriam, suggests it is too early to introduce this measure. He says: "It's a timing issue. You can create a level-playing field, but only when the market becomes more mature. The financial culture is not developed enough, therefore workers rely on external advice, and sponsors with large distribution networks have a clear advantage."
Clearly, there is another side to the opposition. Because employer contributions to pension schemes are a result of complex labour negotiations, losing those contributions would have repercussions on future discussions. Trade unions may demand that employer top up workers' salaries in other ways, outside the realm of pensions. If this was the case however, future workers would be seriously worse off. The bill faces a tough course through parliament. There is no doubt that a heated discussion on pension fund investment may attract attention.
Italy's Second-Pillar: Pension fund competition
1

Currently reading

Italy's Second-Pillar: Pension fund competition

2

3

4

5

6