Kommunale Landespensjonskasse, the Norwegian public sector pensions provider, is asset rich with a mandate to invest in more real estate, but where can it find suitable opportunities?
Key points
• KLP is mandated to increase its real estate allocation but says there is a lack of opportunities
• Keen to expand new Long-Term Stable Cashflows portfolio
• Ownership structure gives it an edge in securing municipality-owned energy assets
• Preparing to invest in private debt
Occupying one of the new skyscrapers fronting the Oslo Fjord, Norway's Kommunale Landespensjonskasse (KLP) has made its home in the type of property it likes to invest in — a large, prime, centrally-located office asset. It bought the building in the controversial 'Barcode' project — so called because of the irregular width of its structures — eight years ago.
"When it comes to real estate, we have a mandate to increase our allocation if we can, but we haven't been able to," Harald Koch-Hagen, senior vice president for risk and asset allocation tells IPE. "In the last year, we have had quite a steady allocation to real estate of 12% — and it has been at that level for quite a long time — with most of that exposure in Norway, in Oslo and Trondheim."
KLP has a history of having direct property assets that are relatively low-risk, rather than taking on higher-risk real estate with a higher yield, the rationale being that this kind of asset is likely to lose the least value in a downturn, he explains.
For a property to be of interest to KLP, he says the location should be prime — typically in the centre of Oslo, and the deal should be large.
But in 2013 and 2014, when KLP's main two competitors in the municipal pensions market — Storebrand and DnB — decided to exit the sector and their business was transferred to KLP, the organisation found itself with an extra NOK60bn (€6.2bn) to invest.
"We did a lot of buying then but didn't manage to increase the exposure," says Koch-Hagen.
"But, if good opportunities come up, we will take advantage of them as we do have capacity to increase our real estate exposure."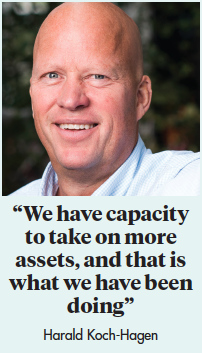 Any new purchases will not necessarily take place in Norway, however, even though this is where most of the pension provider's current real estate portfolio lies. "We also have real estate investments in Sweden and Denmark and a small amount in London. New exposure will probably come from Sweden or Denmark," says Koch-Hagen.
Another segment of KLP's investment portfolio that it is keen to expand is a new sub-portfolio set up three years ago, called Long-Term Stable Cashflows. This is an equity mandate, which includes direct investments which KLP's in-house team performs, and external fund investments.
The mandate is flexible, he says, and suits KLP's liability profile well, as a company with a yearly guarantee and a long-term horizon. "Within this mandate too, we have capacity to take on more assets, and that is what we have been doing," he says.
So far, the portfolio includes direct investments in the Norwegian power sector, as well as investments in the Copenhagen Infrastructure fund, which is run by Copenhagen Infrastructure Partners.
"Typically, most investments in this segment will be pretty green, and on the energy side, they are in hydropower, or wind or solar power, but also in transmission," he says.
"We have been looking at infrastructure investments both on the equity and debt side in Norway, for example public private partnerships (PPPs) in energy companies," he says.
While there is a reluctance on the part of the Norwegian population to let go of these government-owned enterprises — to do so is seen as tantamount to selling off the family jewels — Koch-Hagen says KLP's unique ownership structure gives it an advantage. As the company is owned by the Norwegian municipalities themselves, it is no great stretch for a municipality to countenance KLP as the new owner of a utility company.
"A lot of these power companies have huge investment plans that their owners cannot afford, but at the same time, they don't want to sell off the businesses. There are a lot of feelings about this, but we are more acceptable as an owner than another potential buyer might be," Koch-Hagen says.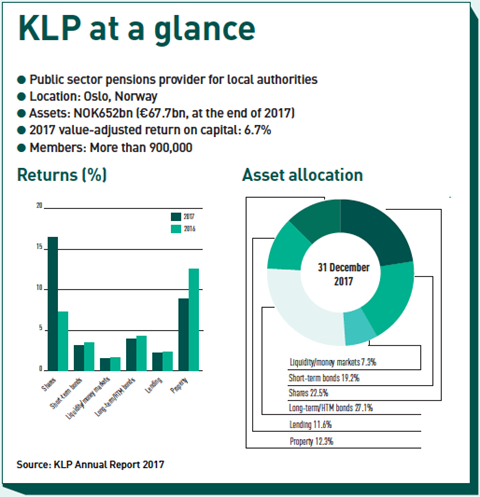 Building up infrastructure investments is a slow process, he says, at least when it comes to direct investment in Norway.
KLP makes infrastructure investments directly in Norway and Sweden but tends to link up with a partner when it comes to investments outside these countries.
Progress may be slow, but KLP is patient. "We take the time we need. We don't want to rush it, but we do have a focus on acquiring more.
"What is good about these investments is in addition to fulfilling our goals in the long term, they also have this green aspect which suits us very well," Koch-Hagen says.
Looking at KLP's overall investment portfolio, 2017 was not a year of many changes in asset allocation.
"There have been some changes, but not very big ones," Koch-Hagen says. The equity risk in the portfolio increased by 2.6 percentage points, but this was due to the fact the investment balance shifted towards equities as a result of the comparatively high return on equity markets rather than any share-buying spree, he explains."As long as the interest rate level remains the same as it is now, we will not make any major changes in the asset allocation," he says.
"We take the time we need. We don't want to rush it, but we do have a focus on acquiring more. What is good about these investments is in addition to fulfilling our goals in the long term, they also have this green aspect"

Harald Koch-Hagen
KLP is, however, planning to take on some new investments within its fixed-income allocation."We have been looking at debt investments in Norway in PPPs, and have already done some investments of that type.
"It will probably be easier for us to do more of those now, because these partnerships are becoming more common in Norway, so there will be more of this kind of opportunity where there is typically not much credit risk, but a lot of liquidity risk, as these assets can be very illiquid," he says.
The pension provider has also taken on export credit agency loans — a low credit risk investment guaranteed by the government – that carry some credit premium. "But, we are also looking at entering into private debt, in the bank space, and we are working on this.
"For a long time we have provided loans in the Norwegian market, for mortgages, not only for private individuals but also for companies," he says.
KLP also has a UK mandate for private credit given to a London-based asset manager, though it has yet to deploy any capital to the vehicle.
In addition to this, it is preparing a mandate in private debt, focusing on leveraged loans. "If everything goes to plan, we will have a mandate up and running soon," he says.
Iceland: Preparing for a second wave
1

2

3

4

Currently reading

KLP: Awash with cash, bereft of options

5