The European Commission's project to set up a pension scheme for research and development professionals whose careers take them across EU borders has finally reached its first stages of operation.
Plans for the Retirement Savings Vehicle for European Research Institutions (Resaver) scheme were originally set in motion in 2010. This was with support from the European Commission's Horizon 2020 programme, which is aimed at advancing research and innovation in Europe. The intention is to solve occupational pension problems experienced by mobile research professionals in the EU.
Their pensions can be seriously eroded as a result of cross-border career moves. As a result, they can be reluctant to move, a factor that, in turn, hits economic growth.
Europe's public sector employs 1.6m researchers. Four in 10 of them have moved across frontiers during the past decade.
The original membership criterion for Resaver was for research and development to be a primary activity of each organisation. But the programme has broadened its scope and administrative staff may be included.
The final legislative underpinning for Resaver fell into place last December but initial schemes for a small number of individual workers have already started in Italy and Hungary.
As other national regulators come on board, Resaver is expected to grow, achieving economies of scale by pooling assets.
Belgium's Financial Services and Markets Authority (FSMA), the country's financial supervisory body, gave home-country approval last October, followed by clearance to operate as an IORP in December.
Legal clearance also meant that the Resaver Pension General Assembly, or Consortium, comprising employer and employee representatives was able to approve public tenders to select providers. The result has been appointments to fill services for auditing, asset management, compliance, accountancy, actuarial work, and an online administrative membership portal developed by the Italian Previnet company, which has managed the NATO cross-border defined contribution scheme for some years.
Hewitt's responsibility is to build up a pan-Europe plan covering the 31 countries of the European Economic Area (EEA). BlackRock is the asset manager for the fund, under a four-year contract.
The consortium is chaired by Gabriella Kemeny, director, human resources, at the Central European University (CEU) of Budapest. The European Commission's role has been to facilitate rather than manage the initiative.
"Under existing pension schemes, there is very little transparency on how much a researcher would get at the end of the contract"
At the time of writing, the CEU had signed and had contributed the first payments into the fund.
Thierry Verkest, a partner in Aon Hewitt , who is leading the Resaver project for the firm, says 2017 will continue to be a "transition year" with client acquisition a priority. The objective is to achieve approvals from regulators in nine countries by the end of 2018, when the scheme should be recording solid growth, according to Verkest.
The nine countries include the Netherlands, Belgium, Luxembourg, Spain, Denmark, Norway, Austria, Ireland and possibly the UK, despite the Brexit factor. "It would be great to have Germany counted in," Verkest adds. He warns that it takes time to get a new pension plan established: "You don't do it over night."
Concerning different sets of national social and labour law, Verkest says Resaver, being fully compliant with the IORPs II occupational pensions directive, has to meet the needs of each country, which, he says, is achievable. In fact, Resaver is described as entirely 'neutral'. This means that it has been designed to cope with different practices across the different EU countries.
Membership is facilitated by each organisation, rather than the individual researcher, although some organisations will have to change collective labour agreements.
All providers have been appointed via public procurement processes, the first time that this process has been applied to pension management at EU level, according to the Commission. A source comments: "In this way we can sure of true transparency of the set-up procedure. It is a process that is completely different than what is applied to many existing pension funds.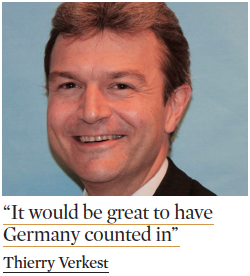 "Under existing pension schemes, there is very little transparency on how much a researcher would get at the end of the contract. There are several information services that try to address this by simulating contributions and transfers. But, as they only cover a limited amount of pension schemes, it is difficult to get a correct number."
Overall, Resaver's portability function will bring the EU closer to the US, where TIAA-CREF has covered academics for many years.
Stuart Jarvis, BlackRock's managing director, client solutions EMEA, says the firm has designed a flexible series of strategies in partnership with the Resaver consortium. Individuals are able to choose between different levels of risk, aiming to reduce risk as retirement approaches.
EU legislation applying to Resaver includes Directive 2014/50/EU on minimum requirements for enhancing worker mobility between member states by improving the acquisition and preservation of supplementary pension rights. It rules that the vested pension rights of a person who leaves a pension scheme because he moves to another member state must be preserved to the same extent as for a person who remains in the same member state.
Resaver's history dates back to a feasibility study by Aon in 2009. It found that tax equality and unlawful discriminatory national practices had been explicitly addressed by the European Commission and by the European Court of Justice, and were leading to changes in legislation and practices.
Recent activity has centred on communication and market promotion. This comprises a newsletter, brochures, and a travelling roadshow, with presentations at relevant conferences at universities and other potential supporters.
Resaver compares with other strategic moves in the EU's pension world. One is the Pan European Personal Pension Product (PEPP), for which a Commission proposal is expected in the second quarter of 2017. Here, Bernard Delbecque, senior director at the European Fund and Asset Management Association (EFAMA ), is encouraged by the cross-border portability of Resaver pension plans.
Better Finance, a Brussels-based advocacy group representing retail interests, is also heartened by the apparent wave of development across the EU's pension field. The organisation points to its own research over the past four years highlighting the often dismal returns of pension saving products across Europe, often because of high fees.
The European Insurance and Occupational Pensions Authority (EIOPA) has also initiated an on-going pan-European initiative focused on occupational DC pensions. Francesco Briganti, head of the Employee Benefits and Welfare Institute, is leading a working group within the Occupational Pensions Stakeholder Group (OPSG). He says: "Our aim is to make easier and feasible the goals of initiatives, such as for Resaver."