This year will be remembered as a tipping point for collective investment trust (CIT) flows from defined contribution (DC) pension plans. An increasing number of DC plans, including 401(k) schemes, are choosing CITs in the US, according to the latest report from Cerulli Associates, a global research and consulting firm.
CIT assets reached $2.8trn (€2.4bn) at the end of 2016, an 11.6% increase from 2015, which is the first year-on-year double-digit growth for this kind of investment. "While mutual funds represent greater than half of total 401(k) plan assets, the next-large investment vehicle by 401(k) plan assets is CITs, which hold almost one-fifth of their assets," says Jessica Sclafani, associate director at Cerulli. And there is room for CITs to expand their market share, she adds. "In a survey of 401(k) plan sponsors, nearly one in five indicate that they anticipate switching the vehicle of at least one investment option from a mutual fund to a CIT."
CITs are becoming increasingly popular because they "often are priced lower as compared to mutual funds of similar strategies", says Christopher Mason, a senior analyst at Cerulli. "However, when examining the driving forces behind the demand more closely, we see that the threat of litigation is putting pressure on plan sponsors to ensure that the related fees paid reflect the best interest of the plan participants."
One example is the Abbott vs Lockheed Martin lawsuit in which company employees accused the defence contractor of improperly selecting funds that charged excessive fees. Eventually, Lockheed Martin settled the case for $62m in 2015. It agreed to pursue CITs as a potential option for its plan.
On average, CIT fees can be 25 to 40bps less than mutual fund fees, because they typically have lower administration, marketing and distribution costs, according to the Coalition of Collective Investment Trusts (CCITs).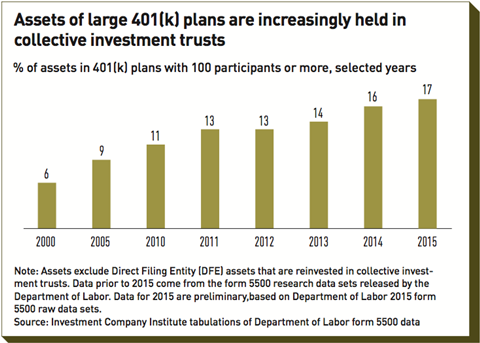 Another important characteristic of CITs is that they are pooled investment vehicles maintained by a bank or trust company exclusively for qualified plans, such as 401(k)s and also DB plans. As a result they are subject to banking regulations rather than the Investment Company Act of 1940. They are less regulated than hedge funds and they are not registered with Securities and Exchange Commission (SEC).
In the US, the Office of the Comptroller of the Currency (OCC) supervises CITs. According to Morningstar, the Pension Protection Act (PPA) of 2006 gave tailwind to CITs and approved them as default investment options for DC plans.
Today, about 44% of CIT assets correspond to DC plan sponsors, and another 44% belongs to DB plan sponsors, while the remaining 12% reflects other types of institutional investors, according to survey data obtained by Cerulli in partnership with CCIT. But most 2016 flows (51%) were into DC plans, owing to the larger growth in the DC marketplace compared with DB (which represented 36% of CIT net flows; 13% went to others, including 'grantor trusts' and government).
The underlying investments used in CITs include a wide range of asset classes and strategies. About 32% of total CIT assets were invested in US equity strategies at the end of 2016. Another 20% were in international equity strategies with 10% in cash, 10% in taxable fixed income, 9% in stable value, 4% in alternatives (such as direct real estate, hedge funds, and private equity), 5% in other strategies and another 10% in target-date funds (TDFs).
TDFs is one of the options garnering more flows: when isolating CIT assets in DC plans, TDFs rise to 20% of total assets. Cerulli anticipates that the percentage will increase for two reasons: "the ongoing concerns among DC plan sponsors to choose low-cost investment vehicles to fulfil their fiduciary duty, and the growing popularity of target-date strategies in DC plans as qualified default investment alternatives".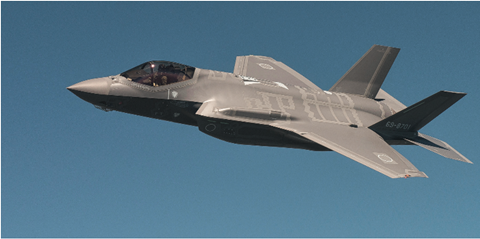 Another growing trend relating to CITs is managers engaging third-party trustee providers that specialise in launching or maintaining CITs. Large managers can do it in-house because most of them can rely on an affiliated bank or trust company in their group.
For managers who either do not desire or are unable to offer a CIT on their own, 'trustees-for-hire' – such as Global Trust Company, Hand Benefits and Trust, SEI, and Alta Trust Company – provide trustee and other administrative services.
"Mutual fund managers should evaluate whether creating a CIT version of an existing mutual fund-based investment strategy may offer the opportunity to drop fees and retain clients," says Cerulli's report.
Letter from Brussels: Opposition to mission creep
1

2

Currently reading

Letter from the US: DC plans shift from mutual funds