Could the massacre at a Parkland, Florida, high school be the turning point in the debate about state pension funds' investments in gun makers? One thing is for sure – it has started a discussion about the role of large passive funds that hold gun stocks via an index, including shares of the gun companies American Outdoor Brands (AOBC), Sturm Ruger (RGR), and Vista Outdoors (VSTO).
Many state pension funds own those stocks through their index investments. For example, the Florida State Board of Administration (SBA), which manages $191bn (€155bn) for the Florida Retirement System Pension Plan, has $1.7m in gun stocks as a result of its investments in the Russell 3000 index.
It has another $1m directly invested in Sturm Ruger and American Outdoor Brands. The latter is the company, previously known as Smith & Wesson, which made the semi-automatic AR-15 used by Nikolas Cruz to kill 17 people in Parkland in February.
The Florida Education Association (FEA), which represents educators, urged the state pension fund to sell its gun stocks. "Surely there are better places for the state to invest its public-employee retirement money than in companies that make products that harm our children," said Joanne McCall, president of the FEA.
But the Florida SBA spokesman, John Kuczwanski, replied that dropping gun stocks would conflict with the duty of the fund to get maximum returns for its members. "As fiduciaries, we must act solely in the economic interest of the participants and beneficiaries," he said.
The public pension funds of Colorado, Indiana, Iowa, and Texas are in agreement with Florida SBA. The most vocal of this stance is the Texas Permanent School Fund. "We don't kowtow to every special interest [group] that wants us to divest. We're in the business of making money for public education," David Bradley, a board member, told conservative American news site DCNF.
In some Texas schools, staff members are already armed, and the state pension fund is "proud" of its investments in the makers of the guns that can be used to "save lives", added Bradley.
By contrast, after the 2012 shooting at Sandy Hook Elementary School in Newtown, Connecticut, the $231bn California State Teachers' Retirement System divested from the makers of firearms that are illegal in the state, such as assault weapons. And in New York City three of five public pensions sold their gun stocks. However, New York State Teachers' Retirement System continues to hold shares in gun makers, as its investments track indices.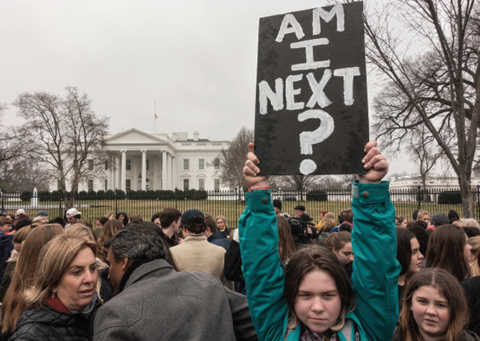 In other states, the discussion has just begun. Massachusetts treasurer Deborah Goldberg is drafting a bill that would prohibit investment of the state's pension fund in firearms or ammunition manufacturers. And the New Jersey State Investment Council is evaluating a policy prohibiting investments in gun stocks. "I can well understand why members of a teachers' pension fund might not want to own gun stocks," the chair of the Council Tom Byrne told the Wall Street Journal. "I don't see any conflict with the fiduciary obligation, frankly."
If the main objection to divesting from gun makers is that it could hurt the performance of a fund, managers might argue that those stocks are underperforming anyway. In the three years from March 2015, shares in American Outdoor Brands were down 20%, Sturm Ruger down 5%, and Vista Outdoors down 60%, compared with a near 30% rise in the S&P500 index.
If divesting gun stocks is impossible due to the stocks being owned through indices, then the responsibility falls on the asset managers who run the passive funds, claims Jon Hale, Morningstar's director of sustainability research, in an article on Morningstar News.
Hale stresses the impact of large index funds: for example, at more than $700bn in assets, the Vanguard Total Stock Market index is so big that even when it devotes less than 1bp (<0.01%) of its assets to take a position in American Outdoor Brands, it purchases 2.4% of that firm's stocks. "As major shareholders in the three gun makers, these asset managers have an obligation to engage with company management about their response to the Florida shootings, issues surrounding the safe and responsible use of their products, and their lobbying activities," says Hale.
"As long-term, permanent investors, giant asset managers like these have a stake in maintaining and strengthening the broader social systems within which they invest, because over the long run, healthy systems create the conditions for better investment returns."
BlackRock and State Street have already signalled their intention to follow this policy, while Vanguard and Fidelity apparently disagree.
Vanguard's spokesperson Laura Edling told IPE: "We regularly engage with companies and encourage boards to focus on societal risks and the disclosure of these risks, and we will follow this approach with gun manufacturers as well. We believe that boards and managements of gun manufacturers should disclose and mitigate the risks associated with gun violence and the ongoing national debate on gun safety and control. Greater focus and transparency on these issues will ultimately benefit society and investors alike. Our objective with engagement is to ensure that companies are governed in a way that maximizes long-term value for our investors."
Vanguard's general governance efforts are described in its annual Investment Stewardship report, but Edling added: "We believe that we can be more effective in advocating for change by not publicly naming specific companies or disclosing the details of our discussions."